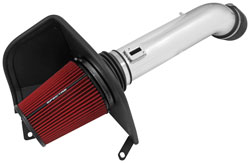 Spectre air intake systems get more HP from your truck while protecting your engine

The 2016 Silverado 2500 and 3500 and GMC Sierra 2500 and 3500 are among the most capable pickup trucks on the market, with trim ranging from the base level Work Truck to the luxurious High Country and Denali models. The available gasoline engine in all models is the 6.0L V8 Vortec L96 produced by General Motors for use in its full-size heavy duty trucks and SUVs.

The L96 is part of the Vortec engine family, which is also known as the Generation IV small block. Designed as a workhorse, the engine block features a deep-skirt, six-bolt main bearing caps, and a structural oil pan all of which provide reinforcement to the engine assembly.

GM engineers paid a great deal of attention to the L96 intake and exhaust airflow in an effort to make the engine as powerful and efficient as possible. The L96 features variable valve timing to match airflow to driving conditions. The air flow path was modified from intake manifold to the cylinder heads intake ports, which were derived from the C5 Corvette, while D-shaped exhaust ports have been optimized for greater out flow.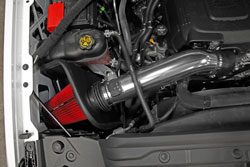 Installation of the Spectre 9058 kit takes less than 90 minutes and requires only a few hand tools

While much design attention has been paid from the intake manifold to the combustion chamber, there's little in either Chevrolet's or GMC's literature that addresses the optimization of air flow to the intake itself. That's where Spectre Performance comes in.

By installing a Spectre 9058 air intake system, you'll increase the horsepower and torque of your 2500 or 3500 pickup. The Spectre 9058 air intake system creates extra power by routing intake air away from the hot engine so cool outside air arrives at the manifold. As cooler air is denser, it has the ability to carry more oxygen, improving combustion.

The HPR9891 Spectre HPR air filter is the key to the system. The filter utilizes non-woven, washable synthetic media to help protect your engine from drawing in harmful dirt, dust, and debris. Further the synthetic media is less restrictive than traditional paper elements, but still assures excellent filtration.

The reusable pre-oiled seven-inch conical filter is manufactured using only the highest-quality materials like non-woven synthetic media, durable urethane, and powdercoated steel mesh. Completing the kit are the polished aluminum tubing (with a fitting for the MAF sensor), intake coupler, and a black powdercoated two-piece heat shield to isolate the intake inlet from engine-generated heat.



The Spectre HPR air filter is engineered for increased airflow and comes pre-oiled and ready to use

The 9058 Spectre air intake system comes complete with hardware required for an OE-style installation. Stock brackets and hardware are utilized, so drilling is not required, making installation a simple process, requiring the use of only a few simple hand tools.

The Spectre HPR air filter element is washable and reusable. To maintain its performance, clean your Spectre filter after every 30,000 to 50,000 miles of normal driving, or more frequently if you drive in dusty conditions. The Spectre HPR4820 AccuCharge precision air filter cleaning and oiling system was formulated specifically for Spectre HPR air filters and its precision oiling system features graduations on the bottle for precise measuring and an easy-to-use squirt top making the application a breeze. The system comes complete with a pump spray bottle of filter cleaner and one of filter oil.

The Spectre 9058 intake system is designed for the following vehicles:

2016 GMC SIERRA 3500 HD 6.0L V8 Fuel Injection - All Models
2016 GMC SIERRA 2500 HD 6.0L V8 Fuel Injection - All Models
2016 CHEVROLET SILVERADO 3500 HD 6.0L V8 Fuel Injection - All Models
2016 CHEVROLET SILVERADO 2500 HD 6.0L V8 Fuel Injection - All Models


---
---