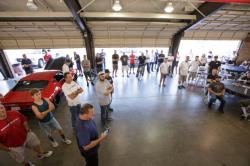 Autoclub Speedway in Fontana once again played host the OPTIMA's Search for the Ultimate Street Car

The Autoclub Speedway, in Fontana, California, played host to the final qualifier event of the season, OPTIMA's 2016 Search for the Ultimate Street Car held on October 8th and 9th. With five invitations on the line for the season finale, OPTIMA's Ultimate Street Car Invitational (OUSCI), the tension was so thick you could cut it with a knife! Those finals invites for OPTIMA'S Ultimate Street Car Invitational, were handed out at the close of the event on Sunday. Needless to say, with over 90 registered participants, we saw some extraordinary driving and a lot of drivers with their game faces on!

Over the course of this past season with 9 qualifying events already in the books leading up to the final event, forty-five invites have been awarded to the top drivers, including those participants who received the Spectre Performance Spirit of the Event Award. Add in the final five from this event and that leaves 15 invitations for the drivers at the top of the points list, pulling points from their best three events during the 2016 season. Mind you these invites are not class specific like the qualifier events have been so we could wind up with more participants from the GTL Class than GTV. It was anyone's guess!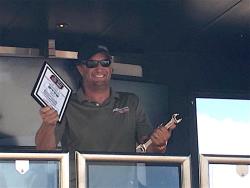 People like John McKissack, recipient of the Spectre Spirit of the Event Award, embody our goals

As we've watched the last few events unfold, we've witnessed a lot of upheaval in the standings and expected even more at Fontana. This final qualifying event was also the third event many West Coast competitors would run, which meant several of the drivers saw significant jumps in the standings. At the same time, that movement meant several other competitors could fall significantly in the standings.

At this final qualifier event, two of our Spectre Performance Team Driver's competed for a chance at the invite for OUSCI. Seasoned veteran racer, Mary Pozzi and 2015 OUSCI Golden Ticket recipient, Greg Thurmond were in attendance. Both driver's were entered in the GTV Class where they were up against almost forty other class participants. Pozzi and Thurmond are capable, competitive drivers who always excel in autocross and speed stop challenge so Saturday proved to be a real confidence builder for the two. Pozzi and Thurmond killed it in speed stop. However, Thurmond lost gears 2-5 during his speed stop segment leaving him only first gear to compete in autocross. Fortunately Thurmond didn't suffer too much with only first gear in the autocross. The course was technical with some high speed straights but overall Thurmond's gearing worked to afford him some pretty decent lap times.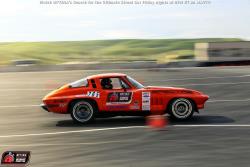 Spectre Performance Team Driver Greg Thurmond has worked hard all season long and is going to Vegas

On Sunday, the participants ran the Autoclub Speedway infield road course. Both Spectre drivers competed in the Intermediate Run Group for the Falken Tire Hot Lap Challenge. Neither had run this infield course and had to rely on common sense and talent to lay down their most impressive lap times on the unfamiliar road course. It wasn't certain if we'd see Greg Thurmond Sunday morning after his transmission issues but with this having been the final qualifier he and SCAR were at the track, raring to go. Thurmond spent Saturday evening after having successfully completed the Road Rally, in first gear, with James Crosby of Ridetech. The pair pulled and switched out the transmission having everything sorted so he could be competitive come Sunday on the road course. Thurmond had yet to win his class but stood to make it to the invitational based on accumulated points. This was Pozzi's first OPTIMA event of the season and in typical Mary Pozzi style her solid on track performance did indeed garner her the invite. However in a swift turn of events she declined the invitation stating that she wanted to allow for someone new to get a chance to attend the "big dance!" Friend and fellow competitor Nick Relampagos was next in line and this will be his first invite to the OPTIMA series grand finale.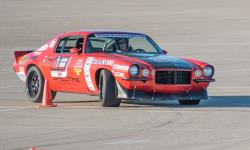 Mary Pozzi in her 1973 Inferno Orange Camaro RS is no stranger to OUSCI

Another Spectre Performance brand ambassador, Efrain Diaz, was a likely candidate going into the event based on points. You may recall his success in the Super Chevy Muscle Car Challenge that took place at the Autoclub Speedway just a few short weeks ago. This privateer gave the best of the best a hard run for their money in his 1969 "home built" Camaro RS coming in fourth place behind some heavy hitters in the racing world. In fact, he added a little aero to his ride and it appears to have worked out in his favor securing him an invite to Vegas as well.

There was destined to be a few upsets with so many participants hoping to have made the cut. It's safe to say that this season has seen some of the best competition the series has ever had. In fact, a number of the drivers have competed in multiple vehicles in multiple classes to see where there could potentially stack up.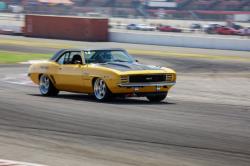 Privateer and brand loyalist, Efrain Diaz, proved to be the dark horse in this final qualifier event

If the incredible competition wasn't enough for the drivers, after a couple weeks of seemingly milder weather, the weather channel had called for triple digit heat out on the track and that too played a role in the end result. The hotter weather would wreak havoc on vehicles when they were pushed to the limit. We saw some on track slip and slides, a little fender bender, and a few transmission issues on track. All in all it was a very successful season for all involved and Spectre Performance was thrilled to have been part of another exciting year of competition.

Congratulations to all of the winners and invitees and we look forward to seeing you all at SEMA and OUSCI 2016.

---
---