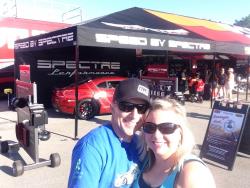 Kay and Jason Luebcke make up two quarters of the Spectre-supported Hang Time Racing Team

Spectre Performance has been supporting the pro-touring movement literally from the beginning. Whether through brand ambassadors or full sponsorships, the drivers are guaranteed to have the very best when it comes to intakes, accessories, and performance. In fact, Spectre Performance has been a part of racing and performance since 1983, fueling the Nation's car and truck obsession with innovative parts that equal a winning combination for car and driver.

Spectre brand loyalist, Jason Luebcke, along with wife, Kay, daughter, Victoria, and son, Tyler, make up Hang Time Racing. They are a family owned race team that enjoys autocrossing, road course events, car shows, and cruises all around the Midwest.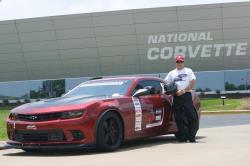 Nothing quite like running at the National Corvette Museum in your 5th Gen 1/LE Camaro.

Their "pro-touring" adventure began back in 2013. Jason's wife, Kay owned a 2011 Camaro Synergy Series Special Edition. Her Special Edition Camaro is one of 20 cars built, that the family enjoyed attending car shows, cruises, and day events. While attending the 2013 Camaro5 Fest in Indianapolis, the husband and wife duo were able to make some hot laps around the autocross course to "dry" the course from the overnight rain. Within 1 quick lap, Kay knew hubby Jason was hooked. Apparently this event had placed a smile on his face she hadn't seen in quite some time. After much discussion and giggles on the next few laps, they realized what they wanted to do next, go out and autocross. With Kay's Camaro being so rare, and the fact it had 21-inch wheels and very expensive Pirelli tires, this was not the car to be doing this with. As luck would have it during Camaro5 Fest the pair had the opportunity to test drive a car and fell in love with it, Jason says, as soon as he saw it, the 2014 Camaro SS 1LE. As soon as the test drive was over the decision was made. They would save their money and place an order for a 2014 to arrive in the spring.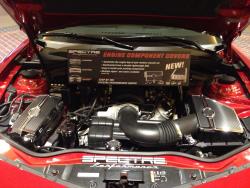 Bama's engine compartment featured on Chevy's The Block website, plus top pick at Holley's LS Fest

Early February 2014, they hit their local Chevy dealer and proceeded to place the order for their Camaro, the one with the 1LE package in Red Rock Metallic. The only additional options included the Recaro seats and dual mode exhaust. Jason and Kay recall that what seemed like an eternity due to the severe winter, delayed train transport, and a delay in moving the car to the dealer, the day finally arrived in late April, 2014. To pay homage to the University of Alabama, their 1LE 5th Gen is affectionately named "Bama" and their choice of color matches the school color.

During the long wait and winter for the car, Spectre's "Hang Time Racing" team had amassed quite the collection of parts that would slowly and methodically find their way on the car. Within hours of making the trip to the house, the changes began. They would pull the fuse for the exhaust so it was always open, cause that's the best way. Then they changed the oil and would begin the break in plan. Jason would drive it hard and fast and continue to do so until it was time to change oil and go racing. Though most of the car remains stock, the changes and parts swapped were all done for both aesthetics and performance increases.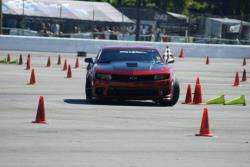 Luebcke having a blast hitting the autocross track at Holley's LS Fest!

Bama's current set-up from top to bottom end features the GM LS3 6.2L motor with 430 HP. Luebcke added a cold air intake, JDP Motorsports high output coil wires, Apex Motorsports oil catch can, Vmax ported throttle body, and Jannetty Racing tune, plus Spectre Performance engine compartment covers in black/carbon fiber finish. Getting all that power to the street is a Tremec TR6060 6 speed transmission. Bringing this set-up to life Bama has the new Blackheart system by Hooker with long tube headers, no cats, 3-inch x-pipe leading to full 3-inch dual exhaust with 4.5-inch quad polished tips. To stop all this rolling thunder are the OEM Brembo 4 piston front and rear brakes with G-LOC ceramic-kevlar race pads.

To maximize handling Jason stayed with the factory GM struts, arms, and rods, but added BMR front springs offering a slightly stiffer rate with a 1.2-inch drop in height. In the rear he added the BMR springs with a 1-inch drop and Pedders 32mm rear sway bar.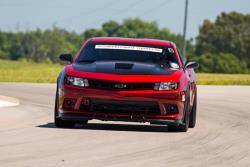 Trying his hand at the Hotlap Challenge at OPTIMA's Search for the Ultimate Streetcar Challenge

Depending on the weather, Hang Time Racing team is ready come rain or shine. For dry weather "Bama" sports a set of American Racing VF501 20×10 front and rear wrapped up with Goodyear Eagle F1 G2 Supercars in 285/35R20. For rainy track days they've got Hotchkis Y-Sport 20×10 front and rear, running Continental Conti-Extreme DW in 275/35R20.

Most of the body panels are covered in Xpel Ultimate self-healing paint protection film. The fender emblems were removed and a custom 1/LE logo on trunk lid was added. A front splitter is mounted under the factory splitter is a NASCAR Sprint Cup series component from Roush Yates racing, made of Tegris and functional for additional down force. An adjustable Z/28 rear spoiler and wickerbill were added to the rear. Front wheel flares from a 2015 Chevrolet Corvette Z06 add additional aero around the tires. To keep the brakes cool, brake ducts from 5star race bodies with full 3-inch NASCAR hoses were added.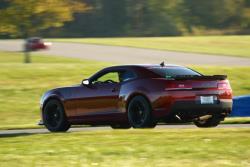 Putting the Hang Time Racing Team's 5th Gen Camaro through the paces on the Road Course at NCM

The factory Recaro seats remain intact and are trimmed in suede and leather. a set of Crow Enterprizes 6 point harnesses keep Jason and Kay planted and connect to a Cipher harness bar painted in factory GM color to match the exterior. A custom shift knob and adaptor from Bowler Transmissions helps with shifts. To lighten up the car a bit, the rear seat upper cushion was removed and replaced with a PVC panel that has been hydrodipped by Cornerstone Custom Coatings.

What began as just an autocross car has now grown into not just racing at multiple events, but driving to and from those events and enjoying every moment. They've had the honor of being selected to display Bama at Goodguys Columbus and the O'reilly Auto Parts Midwest convention. The Hang Time Racing Team's Bama has also been featured and talked about in both Super Chevy Magazine and Chevy High Performance magazine. In fact, the engine compartment has been featured on Chevrolet's The Block website, along with being chosen as a top LS engine pick from Holley's LS Fest.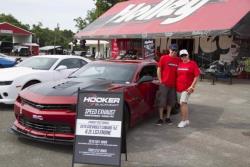 The Official Hooker Header's Exhaust Test Vehicle at Holley LS Fest, the Hang Time Racing 5th Gen

As they progress into 2017, their 4th year of events, they have a full schedule and are looking forward to every event possible. Jason's biggest thank you goes out to his wife Kay. She is a huge part of this and he says there is nothing like having your best friend by your side along for the ride.

Everyone at Spectre Performance looks forward to seeing what this incredible racing family comes up with next. They say the family that plays together, stays together. And it looks like this family will be hanging in for the fun of it.

---
---