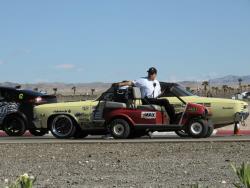 Jimi Day, President and CEO of FM3 Performance Marketing and OUSCI Director of Racing

This year, the OPTIMA Ultimate Street Car Invitational celebrates its 10th Anniversary. The event, OUSCI, immediately following the SEMA show at the Las Vegas Convention Center, is the brainchild of Optima's Director of Product Development and Marketing, Cam Douglass. Along with veteran racer and President/CEO of FM3 Performance Marketing, Inc. these two gentlemen changed the way many builders, vendors, and attendees look at SEMA today.

The "Invitational" has become the ultimate street car event by which a participant can earn his or her way in on points garnered at qualifying events. OR by receiving a golden ticket invitation, at the SEMA show, should your badass built streetcar capture the attention of the likes of Cam himself or partner Jimi Day.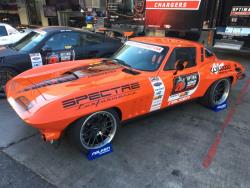 Greg Thurmond's 1965 Candy Tangerine Chevrolet Corvette - SCAR in Optima Alley at SEMA

And this year it seemed as though it was bigger than ever. The stakes were higher, the competition was stiffer and the drivers were ready to rock and roll.

Predicting a full week that began with a midnight load into Optima Alley at the Las Vegas Convention Center, the OUSCI participants spent time with their sponsors and other competitors. They attended SEMA build unveilings, stood in line to meet some iconic and legendary movers and shakers in the automotive industry. They attended educational seminars and mixers hosted by SEMA's 10 diverse councils learning and exploring all the workings that SEMA has to offer. They took part in OPTIMA's most recent virtual reality experience at the OPTIMA Booth and even made appearances of their own at OPTIMA's Annual SEMA Press Conference. Finally, these competitors would endure the gut-wrenching critique of the judges for the Lingenfelter Design and Engineering segment the first of five segments of this monumental event. Seriously this was a big deal! You can bet they were all itching to get out to Las Vegas Motor Speedway to see if the improvements they made to their rides would actually make a difference in their final position when it was all said and done.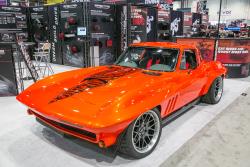 SCAR sitting front and center at the 2015 SEMA Show in the Spectre Performance Booth

This year, OUSCI saw a couple big changes starting with event format. The drivers would have the bulk of Saturday dedicated to autocross. The field was divided into their respective classes; GTV (Vintage), GTS (Sports Car), GTL (Lights), GTE (Electric), GTC (Compacts), GT (think Heavyweights like Camaro, Mustang, etc.) and to keep things fair, they would race in multiple run groups throughout the morning and afternoon in side by side competition. After a full day of Detroit Speed & Engineering Autocross to prove these drivers weren't simply slapping license plates on race cars, the competitors would prove the car's roadworthiness in the Lucas Oil/MAV TV Road Rally.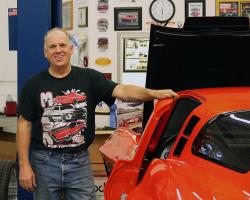 Greg Thurmond with SCAR in 2015 post SEMA Thrash

On Sunday, the participants would compete in the Powerstop Brakes Speed Stop and Falken Tires Hot Lap Challenges throughout the day, pushing the limits of braking and suspension in multiple run groups on road course and speed stop sessions, culminating in the OPTIMA Ultimate Street Car Invitational group photo and awards ceremony. One very exciting and very welcome change is the addition of the Class Cups awarded to the "Top Dog" in each class at this incredible event. Yes, that means not just one award, that means 7 very happy award winners.



The midwest sweetheart, Lynda Jacobs in "Wimpy" on the autocross track at OUSCI 2017

In fact, the 10th Anniversary of OUSCI saw a very diverse field of more than 100 competitors with the largest field in OUSCI history; the GTV Class with 34 registered drivers!

Spectre Performance had great representation at OUSCI this year in the GTV Class with returning competitor Greg Thurmond in his 1965 Candy Tangerine Corvette Stingray Resto-Mod known throughout the pro-touring world as SCAR. Along with midwest sweetheart, Linda Jacobs and her incredible Spectre Performance-equipped 1966 Butter Yellow Convertible Chevelle affectionately named "Wimpy". Both Greg and Linda came to the 10th Anniversary ready to race with their "A" Game.

This is the third consecutive year that Spectre Performance team driver Greg Thurmond made the big show. You might remember in 2015, Thurmond's Vette sat front and center in the Spectre Performance booth at SEMA where it did indeed catch the eye of possibly tens of thousands of SEMA show goers. More importantly, he nabbed a golden ticket invite. For 2016 and 2017 Thurmond raced his way into OUSCI and has been a force in the GTV Class each time, bringing home an 8th place GTV overall finish at this years OUSCI. When we caught up with him he shared that the Detroit Speed and Engineering Autocross, "was a bit tougher for us this year and finished up 11th in the GTV Class," Thurmond said. However, he was rather pleased with his success at the Powerstop Brakes Speed Stop securing a 6th Place position in his class.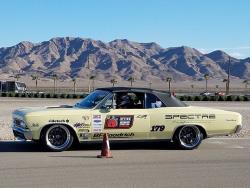 Jacobs 1966 Butter Yellow Convertible Chevelle Wimpy

Husband and crew chief, Chris Jacob's, had this to say about his and Lynda's experience at OUSCI, "This year's event had it's ups and downs, but we had a great time. Lynda constantly improved and her Chevelle performed flawlessly. Always great to head home with a car that just requires a wipe down." But Lynda's no stranger to OUSCI. In fact, this was her second go-round behind the wheel but her first driving this new and improved OUSCI format. Also a GTV Class competitor, Lynda has proven she can throw down with the best of them. Maneuvering her Chevelle with ease and confidence Lynda would come away with a fantastic finish and was one of only three female competitors. That's definitely something to brag about!

This year OUSCI saw the crowning of a new Grand Champion, Ken Thwaits in his 2006 Mitsubishi EVO. The racing was tight and the competition worthy. Ken also took the GTL Class Win.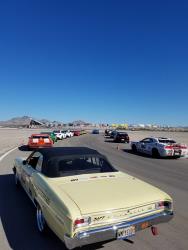 Jacobs at grid for the Falken Tires Hot Lap Challenge

Additional class champions are:

GTV: Larry Wood, 1968 Chevrolet Camaro

GTS: Austin Barnes, 2010 Dodge Viper

GTL: Ken Thwaits, 2006 Mitsubishi EVO

GTC: Scott Budasalich, 2006 Honda S2000

GTE: Matthew Scott, 2017 Hyundai Ioniq

GT: Bryan Johnson, 2013 Chevrolet Camaro

---
---