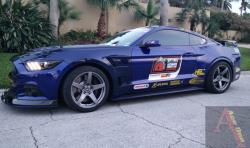 Code_blu, the heart pounding 2016 Ford Mustang GTPP of Spectre-sponsored Cliff Elliott

In the medical field the term Code Blue refers to the "declaration of or a state of medical emergency" as in response to a patient who is in cardiac arrest. Spectre Performance ambassador, Cliff Elliott, pilots his heart pounding 2016 Ford Mustang GTPP that if lucky enough to ride shotgun will elevate your blood pressure and may even elicit a figurative code blue for some lucky passenger!

In all seriousness Spectre Performance Driver Cliff Elliott's 2016 Ford Mustang GTPP, affectionately referred to as Code_Blu is a force out on the course. Whether he's behind the wheel attacking the autocross, pulling out all the stops on the Texas Mile reaching speeds of 170 mph and more, or stopping Code_blu on a dime in the Speed Stop Challenge putting his Brembo 6 piston calipers with Girodisc 15" rotors to the test on his meaty BFGoodrich Rival S tires that feature 315s up front with 335s out back! This combination is made for the track!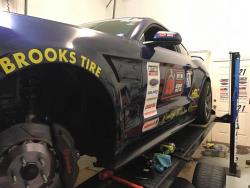 A little pre-race car prep for Code_blu

Originally Code_blu was Cliff's second choice. You see he had ordered a Ford Shelby GT350R to play with at the OPTIMA Search for the Ultimate Street Car Series and other events like the Texas Mile, the Sand Hills Open Road Race, Shelby Mid-America, and more. But waiting became very hard to do and it seems our friend Cliff needed an "in the meantime" car to putter around with as to not miss any great events. That's where the 2016 Mustang GTPP came in.

And so began the metamorphosis and birth of Code_blu. He started where every racer starts, with the engine and drivetrain. Cliff took a 2016 Ford 5.2L Voodoo engine with aluminum block and fully customized, balanced, blueprinted, polished, and lightly ported this bad boy to lay down some serious power to the tune of 600 hp and 465 lb ft torque. Then he added a crank balanced by Nickens Brothers. Using the OEM heads and cam with 14mm lift and 270 duration he maintained the Ford Voodoo spec for the conventional Coyote firing order. He upgraded to a billet oil pump and gears along with a billet crankshaft gear. A Getrag MT82 transmission get's all that mind bending horsepower to the wheels. He maintained the OEM driveshaft and rearend but did upgrade the headers to 1-7/8" longtube versions and added a 3-inch MBRP Custom exhaust. Did we mention that he did all of the mod assembly himself in his home garage?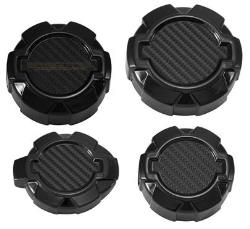 To shave as much weight as possible, Elliott prefers the lightweight Carbon Fiber Spectre Caps

Elliott takes weight seriously and shaves it wherever he can to keep his competitive edge. He opted to swap out the original body panels, deck lid, and hood and added carbon fiber duplicates by Anderson Composites everywhere and anywhere including the grille! And that weight loss has paid off in spades for him. Code_blu comes in at a paltry 3595 lbs, allowing the GTPP to be lightweight and nimble on the big track or the autocross. In fact, Spectre-supported team driver Cliff Elliott has 3 different lightweight carbon fiber deck lids: an OEM style, one w/ a wing, and one w/a built in spoiler. Each of them serving a different purpose come race day depending on the event. But he didn't just leave the carbon fiber exposed. In the OPTIMA Series drivers are rewarded for style in the Lingenfelter Design and Engineering segment of the event. Elliott, having a clear understanding of what looks good, and has the potential to earn some style points, opted for Deep Impact Blue Pearl and House of Colors Blue Candy to make the body lines pop on this heart stopping 2016 Ford Mustang! Painted by Larry's Paint and Body out of Rockport, Texas, it's easy to see where the name Code_blu came from! For the uncarriage, the swaybars and suspension links were powder coated by Protective Powder Coat to match. In fact the interior trim along with the rollbar features DIB powder coating really tying in the theme of this incredible ride.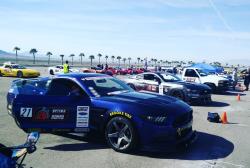 Staged for AutoX at Las Vegas Motor Speedway. Let the games begin!

Finally, you can't have great looks and all that power without considering how the car handles. This Mustang GTPP came with a pretty substantial frame and merely needed some tweaks to get it to handle just the way Cliff wanted. He started by lowering the stance just 1-1/2 inches from stock. Then he added some RideTech goodness. In the front he added the RideTech Coilover Triple Adjustable shocks with Hyperco springs. Then for good measure installed a BMR adjustable 35mm swaybar. In the rear, he stuck with the same RideTech Coilover Triple Adjustable shocks, Hyperco springs, and added a BMR 25mm 3-way adjustable swaybar.

You're probably wondering if all the off-season modifications and effort were worth it. And the answer is a resounding YES. In fact you might even wonder how the GTPP stacks up against the Shelby GT350R that Elliott had ordered initially. Well, according to Elliott, Bloo_Doo, the Shelby GT350R, is a great looking car but doesn't hold a candle to Code_blu.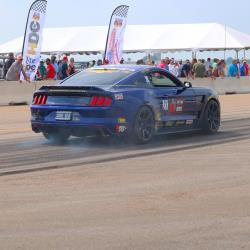 On track at LVMS at the Powerstop Brakes Speed Stop Challenge

March was a big month for Cliff and Code_blu starting with the 2017 season opener for OPTIMA's Search for the Ultimate Street Car held at Las Vegas Motor Speedway, where Cliff came in 2nd in GT Class with 446 points beating his friend, yet worthy adversary, Jordan Priestley in his 6th Gen Camaro, and coming in just one point behind fellow competitor, Mike Maier in his 2017 Ford Mustang. He earned a 1st Place in D&E in his class yielding him a 4th Place overall. He placed First in the Powerstop Brakes Speed Stop Challenge, 3rd in the Falken Tires Hotlap Challenge and 5th in the Detroit Speed & Engineering AutoX in the Franklin Road sponsored GT Class. He did suffer a couple of minor set backs with going off the track on the road course messing up his splitter, and a minor oil issue with his catch can. But all in all he is thrilled with how the car came out of the gate at the season opener. It was the perfect shake down event to carry him into the Texas Mile where he came in 1st Place in his Class and threw down an incredible run at 171.0 miles per hour!

Looks like Spectre driver, Cliff Elliott and his heart pounding Code_blu are on course to have an incredible 2017 race season. Congratulations Cliff on a great start and being such a great ambassador for Spectre Performance.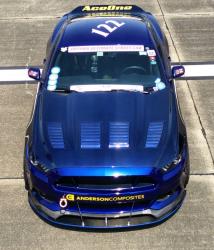 The Deep Impact Blue paint makes this 2016 Mustang GTPP a real stand out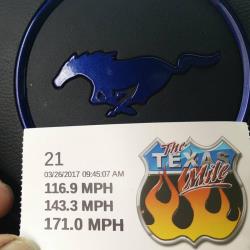 No stranger to speed or the Texas Mile, Code_blu and Elliott and their first pass at the mile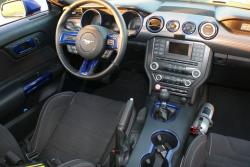 Having done 95% of ALL the work and mods made to Code_blu, Cliff is pleased with this interior!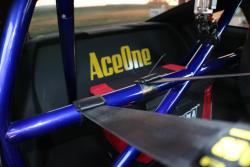 Down to the last detail, Code_blu features a powder coated matching Deep Impact Blue roll-bar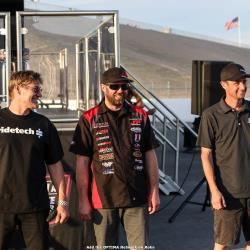 Cliff Elliot, left, in 2nd, Jordan Priestley, middle, w/ 3rd and the winner by 1 point, Mike Maier

---
---