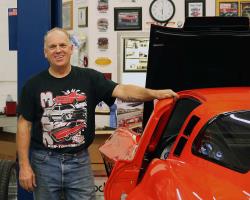 Greg Thurmond and his beauty, the 1965 Candy Tangerine Chevy Corvette, SCAR

Have you ever stopped to think where beauty comes from? Really, so many beautiful things we see, day in and day out, come from nature. A beautiful sunrise or sunset, flowers, a smile, CARS! Okay, so cars are not from nature, but still.

Greg Thurmond, owner of GTS Customs Corvette Specialists, showed up to the 2015 SEMA show with one of the sweetest vintage Corvettes we'd ever seen. Shining bright like a diamond under the unforgiving fluorescent lights at the Spectre Performance booth, his fifty shades of orange Candy Tangerine custom paint job made most people stop dead in their tracks. Now that's sweet!

Truth be told that insane 1965 Corvette resto-mod, pro-touring machine didn't start its life as it sits now. No, it started as a factory build, then morphed into a gasser, that sat and sat for more than thirty-five years. It sat as a project hopeful. It sat as the, "One day when I find the time" car that almost didn't get to see its full potential. Almost culminating into a day of reckoning.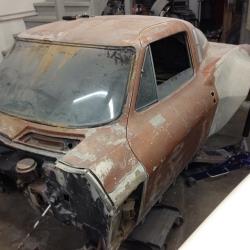 SCAR sat in disrepair for more than 35 years before being resurrected by Thurmond

So began the life or rather the resurrection of one very amazing piece of automotive machinery! This candy tangerine beast, the 1965 Corvette nicknamed SCAR, was seriously plucked out of a line up of about twenty or so desert derelicts that came across the desk of our Spectre Performance-sponsored driver's desk. Who, as luck would have it, happens to be one of the nation's premier Corvette builders!

The story goes something like this. A guy walked into GTS Customs announcing that he had stumbled upon a near Holy Grail of Corvette finds. Not in a barn, nor at an auction. But laid out in the desert amidst the sand and dust, blistering sun and heat, and the more than occasional wind storm. He was fixing to make an offer on the whole lot and needed some assistance establishing a value for this group of misfits. In exchange for his help, Greg encouraged this "guy" to give him first crack at buying the 1965 Vette if and when the deal went through. And the deal almost didn't go through. Obviously it did eventually, otherwise you'd be reading an entirely different story! Anyway that is how it all started! Just two short years ago.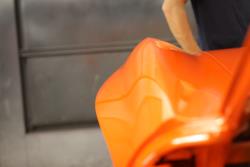 Over a thousand hours creating the perfect profile without compromisingthe already killer body lines

Greg mentioned that while breaking bread with some of the industry elite, Jim McIlvaine and Cam Douglass, he was inspired to get moving on the build. In fact with the intention of having it finished for SEMA 2015. One conversation led to another, and before long sponsors like Lingenfelter, RideTech, and Centerforce were on board to assist with the build. Then the good folks over at Wilwood Disc Brakes, Falken Tires, and Legend Gear and Transmission got in on the fun! Before long Thurmond had more than 20 sponsors on board for what would become a featured build at the Spectre Performance booth. Tension mounted, excitement ensued and talk about seemingly endless amounts of work began to erupt.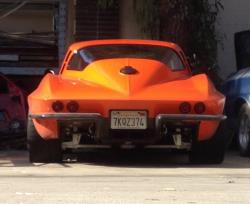 Wider is better according to Thurmond. The extra width allows for updated suspension.

This would be his first Corvette that was actually purpose built for the pro-touring scene, specifically autocross. Thurmond would build this car, SCAR - Southern California Autocross Racer - the way he felt it needed to be built to be competitive as well as showcase his talent and abilities as a Corvette builder. Every detail, every bit of prep and finish work done by hand, done solely by Thurmond. He takes great pride in being able to say that he did the work. Every late night made worth it at the reveal in Las Vegas at SEMA 2015. One of his favorite parts of this car is the Stinger Hood. Look closely and notice that every sponsor who participated in this build has been included in that custom candy paint job right there on that hood. No folks, that's not a wrap. Thurmond's wife obtained or recreated each logo, set the layout, contracted a local company to create a stencil that would be used to mask the hood so he could pay homage to ALL of the brands that supported and partnered to make this build possible in under a year and of course SEMA worthy. With more than a thousand hours in the modified quarters and front end he feels he hit the nail on the head with the choices he made. We couldn't agree more.

Specifications:

BODY:

Modified with 4-inch front and 6-inch rear widened fenders. Over one thousand hours of fiberglass, body, and finish work before paint.

PAINT:

A custom 5-stage candy, plus pearlescent paint supplied by Martin Auto Color. Nicknamed "Fifty Shades of Orange" this candy tangerine paint job has more than fifty coats of color, pearl, and candy tint. Custom Stinger hood features sponsor logos in negative sprayed in black with candy pearl.

CHASSIS:

A Newman Car Creations customized original frame with factory C4 Corvette forged aluminum suspension components. Custom mid-chassis aluminum differential torque arm. GTS Customs design, engineered, and fabricated 6061-T4 aluminum adjustable rear suspension complete with transverse mounted shocks and cantilever rockers with 8 quick change wheel to shock ratios. Ridetech TQ adjustable coilover shocks. Rolling on custom Forgeline racing wheels with FALKEN Azenis RT-615K 315/30R18 all around. Stopping power provided by Wilwood superlight brakes with added Bosch ABS System.

POWERTRAIN:

A 630 HP Lingenfelter LS7 dry sump engine with Aviaid oil sump baffle system with K&N oil filter, Spectre Performance intake system, managed by Holley HP EFI, fueled by a Vaporworx modulated fuel pump system. Legend Gear high torque, high RPM shifting LGT 5-speed overdrive transmission with lightweight, high performance Centerforce DYAD clutch. Hedman headers and 3-inch pipes feed into the Black Widow Venom Mufflers to create a beastly rumble. All fired up by the ultimate in power the OPTIMA Red Top Battery.

AERO:

GTS Customs designed, engineered, and fabricated carbon fiber front air dam to reduce high speed front end lift. Carbon fiber rear diffuser to eliminate rear body lift at high speed.

SAFETY:

GTS Customs designed, engineered, and fabricated 6-point roll cage with frame strengthening design complete with black and candy pearl paint, DJ Safety three nozzle fire suppression system and five point harnesses with Corbeau Racing Seats.

INTERIOR:

Carbon Fiber dash and headliner with custom door panels complete with carbon fiber inserts. Autometer GT series instruments including vital wideband O2 and fuel pressure gauges.

EXTERIOR:

GTS Customs designed LED headlamps, LED taillamps, and carbon fiber rear bumpers.All powdercoat provided by powdercoatwheels.com.
Thurmond "tattooed" or rather painted the names of those brands that made this build possible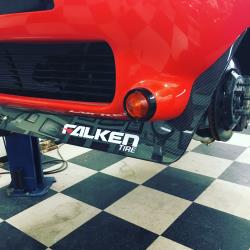 Carbon fiber front air dam provides downforce at high speeds and looks good doing it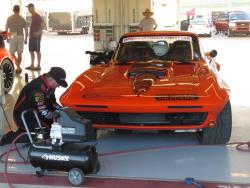 Thurmond's car was built to be driven and driven hard as seen here at COTA, in Austin, Texas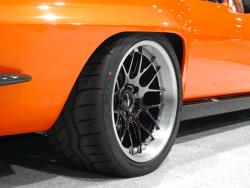 Forgeline Wheels look amazing and can handle the Falken Azenis RT-615K 315's all around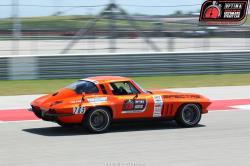 A real stand out anywhere, SCAR looks most at home out on course
The reveal of SCAR at the Spectre Performance booth at the 2015 SEMA show.

---
---