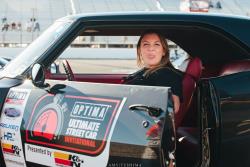 Spectre Performance-sponsored driver, Brandy Morrow Phillips, being her silly self!

Imagine that you grew up around cars and most of you probably did. Now imagine for a moment that your dad worked for one of the nation's leading brands of intake and performance parts. Now just for giggles, let's say your dad was a former competitor in the SCCA and he taught you everything he knew about competition, speed, and handling. Then you had a chance to go balls to the wall and throw down with ole pops at the industry's most talked about series finale. You'd do it wouldn't you?

Well that's just what happened at the 2016 OPTIMA Ultimate Street Car Invitational at Las Vegas Motor Speedway immediately following the 50th Anniversary SEMA show at the Las Vegas Convention Center.



Spectre Performance Brand Manager Mike Morrow

You may recall the Spectre Performance recap of the 6th NMCA West Coast Nationals and Hotchkis Cup Challenge that took place in June. Spectre Performance-sponsored driver, Brandy Phillips along with her husband, Rob, her brother Ryan Morrow, and their long time family friend, Matt Briggs, had done an update on our very own Brand Manager, Michael Morrow's, Fox Body Mustang that hadn't seen a course since 2012. Mike didn't have a clue what was happening and that made this particular Father's Day that much more special. After the "kids" presented him with his ride, Briggs informed him that they had secured him an entry to the weekend event. That my friends is what you call "game on"!

Little did we know what would happen in the months to come. We caught a little glimpse of the future when we saw Mike get behind the wheel of the C10R, built by the husband and wife team of PCHRods, also known and Brandy and Rob Phillips! You see it turns out that Mike was getting comfortable with the truck as he would be driving the C10R at the 2016 OPTIMA Ultimate Street Car Invitational immediately following the 50th Anniversary SEMA Show. He would be driving for the series sponsor, Spectre Performance. But this left a whole lot of folks confused and a little concerned. People were use to seeing Brandy wheel that custom pro-touring truck around. Why wouldn't she be racing?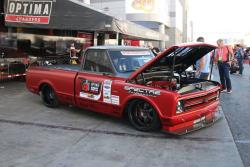 The PCHRods C10R with a bold new color scheme on OPTIMA Alley

For the latter part of the race season the team over at PCHRods was elbow deep in a SEMA build for Intro Wheels to be featured at the Hedman Headers booth. But this build was shrouded in secrecy and the only morsel of information we were fed? It's a 1969 Camaro! As we discovered at the unveiling at SEMA, it was a rather special 1969 Pro-touring Camaro. But what of Brandy and her C10R?

Since its inception 9 years ago, the OPTIMA Ultimate Street Car Invitational has been the crown and glory of the SEMA show and the culmination of an exciting race season. During SEMA week, OPTIMA Batteries hands out certificates of consideration for a chance to be one of the 10 Golden Ticket winners. It has been OPTIMA'S contention to see if these insane builds can perform on the track, not just sit pretty! So it should come as no surprise that indeed the build by PCHRods for Intro Wheels that graced the red carpet of the Hedman Headers booth would in fact be a Golden Ticket contender.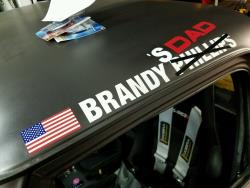 Since Brandy wouldn't be behind the wheel of the C10R, her name above the door didn't seem fitting

Fast forward to the OPTIMA Batteries press conference where the 10 Golden Ticket winners would be announced along with some other very exciting race season news. And yes, you've guessed it, Brandy Phillips would be competing in the PCHRods-built 1969 Pro-touring Camaro for Intro Wheels. Hey wait a minute, that means she got to throw down with her pops!

One very important consideration that people may overlook. Many of the builds that come to SEMA go through what folks in the industry refer to as the SEMA thrash. That means using every last minute, right until the transport arrives to pick up the build, the builder is putting on the final touches. And in many instances that beautiful hardware flanking the aisles of SEMA may not even run. Or maybe it runs, but it hasn't had its shakedown time. Imagine that you are holding a Golden Ticket for the most coveted event of the year and you have no idea if your build can even compete! Yeah this was definitely going through Brandy's mind. But would she miss the opportunity to challenge dad? Not a chance. It was time to throw caution to the wind and RACE!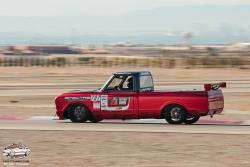 Mike Morrow tearing up the Falken Tire Time Trial Road Course at Las Vegas Motor Speedway

Needless to say racing is in their blood and neither would be willing to throw a race so this made for some very playful banter. Mike knew he hadn't had the seat time he needed and realized there may be folks with some expectations. But to see him back behind the wheel being competitive had everyone on their feet as they watched him compete. Brandy is always a crowd favorite in her C10R and even more so to see her running what her team at PCHRods built was even more gratifying. It gave her the perfect opportunity to log some new ideas and even tweak things to make the Intro Wheels 1969 Pro-touring Camaro perform even better.

Take a peek at some of the weekend highlights from OUSCI of Brandy Phillips and her dad Mike Morrow showing all of us what this pro-touring life is all about, family and friends. And maybe even going fast!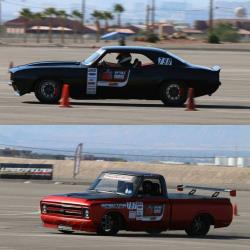 The Intro Wheels 1969 Camaro and PCHRods C10R on the Detroit Speed Autocross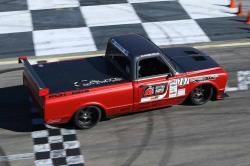 Morrow mastering the Powerstop Speed Stop Challenge in the C10R
Two-tone Graphite and Black paint, with cherry red leather interior and graphite Intro Wheels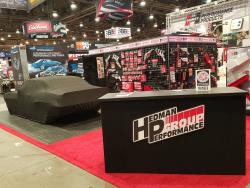 Ready for the unveiling at the Hedman Headers booth at SEMA 2016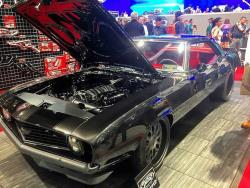 Intro Wheels 1969 Pro-touring Camaro features an LS Motor and Spectre Intake

---
---