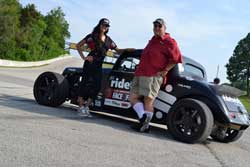 The Ridetech 1933 Ford has seen its share of success, winning several events during the 2012 and 2013 seasons

Those in the business of building hot rods are likely familiar with Ridetech, and rightfully so. The Jasper, Indiana based company specializes in the manufacture of high-performance suspension systems.

The company takes pride in the fact a vast majority of their components are researched, developed and manufactured on site. These capabilities lend to "complete control over every aspect of design, quality and delivery."

Although suspension is their game, the Ridetech crew is talented in many other aspects of building rods. In fact, they have been assembling project cars for the past 17 years.

When asked how he originally got interested in these mechanical undertakings, business owner Bret Voelkel said, "Always been a gear-head. And having the talent to do what we do at Ridetech allows us to build some of the coolest cars out there. Just keeps me going."

Voelkel recently embarked upon a journey to Nevada, where he would dazzle the attendees of SEMA 2013 with a vehicle that epitomized design and performance. The car had already proven its capabilities numerous times prior to rolling to a stop at the Las Vegas Convention Center.

The Ridetech 1933 Ford's portfolio of achievements dated back to 2012. One would suspect Voelkel and his crew glimmered with pride after a win at the Optima Ultimate Street Car Invitational Brake Stop Competition. The hot rod was also victorious at the 2012 Goodguys Pro Series, and the Goodguys Street Rod Series.

The project car saw its share of success in 2013 as well. It earned a checkered flag at the Optima Face Off at Road America Brake Stop Competition, and a victory at the 2013 Optima Face Off at Road America.

With such an impressive track record, it's only fitting that this ride receives a variety of media coverage. The 1933 Ford graced the cover of the July 2013 issue of Hot Rod Magazine, a feat dreamed of by all builders and car owners. The publication also dedicated a 10-page article pertaining to the Ridetech project.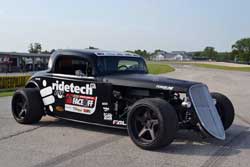 Although Ridetech is noted for producing high-performance suspension systems, the Ridetech 1933 Ford is a great example of the crew's ability to build a hot rod from stem to stern



The car received it's much-deserved television airtime, as it was featured on five Optima Street Car TV shows.

The Ridetech 1933 Ford project was a result of dedication and perseverance. In fact, the team dedicated a staggering excess of 6,000-hours into the build. Beginning with a Factory Five kit, the Ridetech crew began working their magic, in the process, executing a few new ideas.

And as one would suspect, Ridetech manufactured parts were well represented during the assembly of the muscle car. This rig was destined to sport a suspension system, unsurpassed.

They opted to go with a "wishbone" design for the rear suspension. "Two bottom Links and a single "A" arm in the top, to control both lateral and axial rotation" provided the car with stability, predictability and speedy response.

Using the original pivot points, the crew fabricated and installed new control arms. They went with a Woodard rack and pinion front steering system, lending to greater handleability. With intentions of a means to set the car up more accurately in various conditions, the builders modified the spring rate drastically and bolted on front and back swaybars.

Although specializing in high-performance suspension systems, Ridetech had no intentions of stopping with a great ride and maneuverability. It was time to focus on the drive train.

Dropping an aluminum block, Ford, 427 small block engine, equipped with a Holley EFI fuel system, under the hood, lent to 580 horses of raw power. A three-inch exhaust system would ensure minimal resistance.

Acutely aware of the importance of maintenance, it was essential to take all precautions to ensure the engine remained contaminant free. That in mind, they turned to Spectre Performance for their filtering needs.

Bolting a magnesium NASCAR 4-speed to the back of the block, they could focus on other aspects of the drive train without concern of a subpar transmission. Installing a Winters quick-change rear end, they moved on to the braking system.

Lurking behind Forgeline wheels, 14" baer brakes provided impressive stopability. With other aspects of safety also in mind, the 1933 Ford was equipped with a full stainless roll cage, fuel-safe fuel cell and an onboard fire suppression system.

The Ridetech team also had the opportunity to showcase their fabrication skills with a plethora of aluminum fasteners, handles, latches and trim work on the body's exterior. They played a huge role in the modification of the interior as well, as it is completely hand-formed, double-wall, aluminum shielded.

Brett Voelkel and his talented crew at Ridetech turned the first wrench on the 1933 Ford project in January of 2010. Due to a vision, and countless hours of hard work and perseverance, the project is still paying dividends, and is yet turning heads today.

One might ponder why a man and his team would embark upon such a demanding project. However, building enthusiasts like Brett Voelkel and his crew might beg to differ. When asked the most enjoyable aspect of the project, the business owner suggested the brightest moment was hearing it run for the first time, and ensured it's first jaunt around the track ran a close second.

With SEMA 2013 behind him, one has to wonder what Voelkel has in store for the upcoming year. However, one can rest assured he and his crew will be well represented when the next event rolls around. "We will always be very active with the SEMA show," he ensured. "Either with company or customer cars."

Browse all Spectre automotive products by category at SpectrePerformance.com. While you are there use the Products by Vehicle Search to find Spectre performance products specifically made for your vehicle. To find a Spectre dealer near you use the Spectre Dealer Locator.