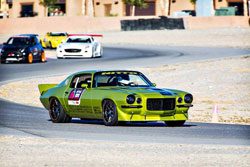 Randy Johnson's 1972 Chevy Camaro attracted visitors at SEMA 2013
One would suspect that Randy Johnson has many passions, and after learning a little about the Kewaskum, Wisconsin native, it would be safe to say his family and custom cars are two very important elements of his life.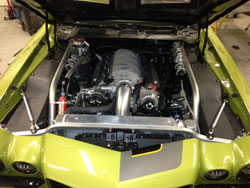 Johnson designed a dual Spectre air filter intake system using several Spectre components for his 1972 Camaro at SEMA
Johnson realized his inclination to gravitate toward building cars early on in life. Assisting friends with builds was enjoyable to him, and with every moment he spent around vehicles came more knowledge- a knowledge that would eventually prove essential in his occupation. "I've always loved the automobile," recalled Johnson. "I find it a great way to express myself through the build of a custom car."
As an adult, Randy Johnson's enthusiasm for building custom cars remained steadfast. In fact, in 2007, he and his wife, Tobie, embarked upon a journey. Their new business would be dedicated to customizing vehicles. When the paperwork was done, D&Z Customs was born.
Of course, the builder is heavily into providing his clients with a one-of-a-kind product. However, he has partaken in several personal endeavors as well. Throughout the years, he has built eight project cars, the latest, a 1972 Camaro - a project that would wow the crowd at SEMA 2013.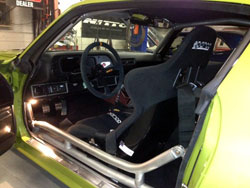 SEMA featured 1972 Camaro is equipped with custom seats, steering wheel, Tiger Cage, Autometer guage, shifter, shifter boot, floor pedals, rear view mirror, fire extinguisher and more
When in the market for their next vehicle, some custom car enthusiasts search for a rig void of blemishes. But as a builder, Randy Johnson's mind set is a great deal different. While in pursuit of a car fitting the needs of his most previous project, the wheels likely began to turn upon locating a 1972 Camaro that was a far cry from eye candy. The body was painted with grey primer and the car was literally in pieces. A project that had proven overwhelming for the previous owner was viewed as an opportunity for Johnson.
Shortly thereafter, the builder put his nose to the grindstone. Dropping a Wagner Automotive-built 441 cubic inch LS7 in the engine compartment, he clearly had ample horsepower at his disposal. The engine was designed and built to perform. It sported a Comp cam, RHS LS7 R heads, a FAST 102 intake, a Callies crankshaft and rods and Wiseco pistons.
Regardless of an engine's components, it's life expectancy is short if proper lubrication isn't ensured. That in mind, the builder opted to install a Daily Engineering 3-satge dry sump system. This modification ensured a steady flow of oil in all conditions, which in turn, lent to a more consistent oil pressure and optimal horsepower.
Throughout the years, Johnson had depended upon Spectre products, and this build would prove no different. He designed a dual Spectre air filter intake system using several components.
"Spectre products have always been a natural choice for me in my builds," explained Johnson. "With all of the great aluminum tube pieces, it makes it easy to build a custom intake for whatever your car is.
"Great working and many filter options," he continued. "I'm very happy with the Spectre product line. I was very satisfied with the quality, and plan to continue using Spectre products in future builds."
With the drive line behind him, Randy Johnson cast his thoughts to a dependable suspension, capable of performing in a racing environment, yet lending to good handleability on the highway.
He chose a Heidts Pro-G suspension on the front and a Heidts Pro-G G.I.R.S. in the back. Installing Ridetech triple adjustable coil-overs all the way around the Camaro, he had the comfort of knowing the car could handle a plethora of conditions.
Of course, safety is always an issue, and the braking system plays a huge role in the well-being of the car, it's driver and those around them. Johnson chose to bolt on Wildwood 6-piston 14" brakes in the front. The rear brakes were also manufactured by Wildwood - the 10.5 4-piston models.
Aesthetics were also of great importance. In fact, when asked some of the more challenging aspects of the project, Johnson said, " Building the custom hood, rear spoiler and front spoiler."
Following the exterior modifications it was time to dress the Camaro up with a paint job And Randy Johnson had no intentions of doing anything other than providing onlookers with a product that was both exhilarating and pleasant to the eye. In fact, he suggested the paint scheme he chose was well accepted at SEMA 2013.
Making a few modifications to the lighting system, and bolting and adding impressive wheels and tires to the mix, he centered his attention to the car's interior. Sparco seats and steering wheel added to the overall comfort and look, while a Ridetech/DZ Customs full-custom Tiger Cage lent to an extra element of safety. With the installation of an Autometer guage display, shifter and shifter boot , Wildwood pedals, a rear view mirror and a fire extinguisher, the project was all but done.
Randy Johnson's build was not only a beautiful piece of work, but was built with performance in mind, as it finished 35th in the Ultimate Street Car Challenge."
Although countless hours were dedicated to this particular project, one can rest assured that Johnson considers his labors and well worth the effort. In fact, the builder likely gleamed with pride when his 1972 Camaro earned the Good Guys Gold award at the most recent SEMA convention. The car has also been featured on You Tube interviews with Power Media TV and high performance University and most of us can only imagine what it's like to see our ride featured in Popular Hot Rodding magazine. Johnson's car was in a feature photo shoot for Camaro Performers and was included in Top 10 Chevrolets by Block Forum.
While tinkering with automobiles as a youngster, Randy Johnson likely had aspirations of embarking upon his own projects as an adult. But little did he know that he would eventually set standards in the world of building custom cars.
Browse all Spectre automotive products by category at SpectrePerformance.com. While you are there use the Products by Vehicle Search to find Spectre performance products specifically made for your vehicle. To find a Spectre dealer near you use the Spectre Dealer Locator.