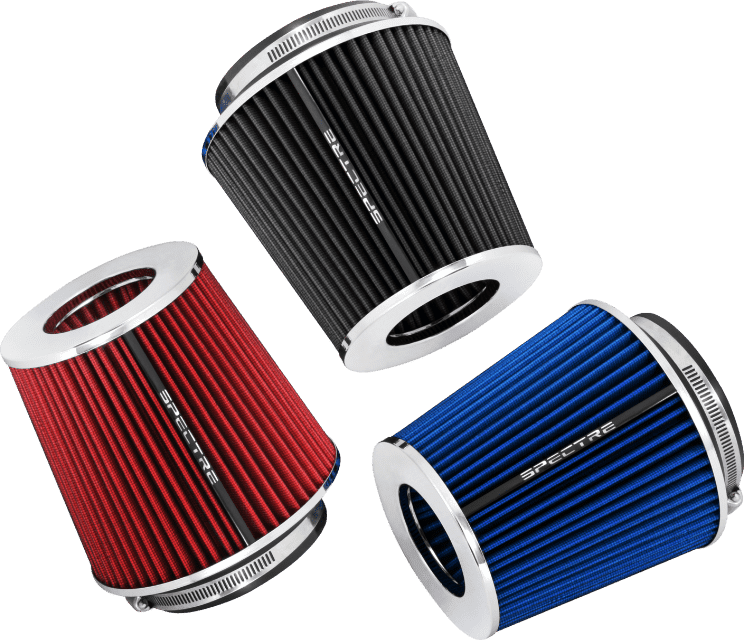 Spectre Performance Air Filters
POWER AND PROTECTION FOR YOUR ENGINE
Spectre air filter products are designed to increase power and torque for your engine. Spectre offers multiple styles and sizes of air filters to fit almost any configuration and vehicle. Spectre HPR air filters feature a pre-oiled, synthetic filer media that provides exceptional airflow for increased performance without sacrificing engine protection.
OE REPLACEMENT AIR FILTERS
Available for Cars, Trucks & SUVs.
DURABLE CONSTRUCTION
Premium urethane frame, pre-oiled with steel reinforced mesh.
TRUSTED QUALITY
Will Not Void New Car Warranty. Emissions Legal In All 50 States.
BETTER ENGINE PERFORMANCE
Increases flow for greater performance and torque.

---
---
Air Filter
Types
Spectre Performance Air Filters provide exceptional airflow for increased performance. You can reduce the airflow restriction without sacrificing engine protection with a Spectre HPR air filter. These HPR air filters are legal in all 50 states.
---
---
---
---
Air Filter
Cleaning
The Accucharge Precision Air Filter Oiling System is designed specifically for the cleaning and care of all Spectre HPR filters. The cleaning system comes complete with 12 fluid ounces of cleaner and 8 fluid ounces of oil.
Shop Air Filter Cleaners >
---
---
---
Warning!
We have detected that you are using an outdated browser that will not allow you to access certain features of our website. We strongly recommend installing an updated browser, such as Google Chrome, for an improved browsing experience.