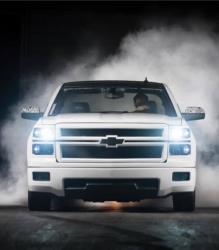 The supercharger, intake, and exhaust add well over 100 rwhp, keeping the wheels spinning all day

Imagine that you've been handed a power jigsaw and instructed to cut a large circle in a sheet of plywood. But there's no pattern or even pencil marks to follow. You can only calculate by eye where you start and where you (hopefully) end. That gives you a sense of what artist Chad Carothers accomplished in illustrating his amazing 2015 Chevy Silverado.

"Everything art related is freehand, painted directly onto the truck and its parts, meaning nothing was pre-drawn or really mapped out. It was all spur of the moment as I went along, basically like a high stakes game of chance. Trusting my vision in my mind to transform into real life. Glad it worked out," Chad said with a laugh.



A peek under the hood at the supercharged 5.3 L. Can you spot the Inkabot in the drawings?

Chad is the owner and creative brains behind the lifestyle brand Index Ink. You'll find several motifs on both the Index Ink site and on the truck, like the robot. Chad explained "the Robot, or Inkabot as I call him, is kind of like a mascot of mine and Index Ink designs, so he tends to find his way into a lot of my art."

Chad's illustrations can be found under the hood, on the dash, on the headliner, and especially throughout the bed of the Silverado.

We asked Chad how he accomplished the amazing results. "I use really thinned out auto pinstriping paint with a variety of sign/fine art brushes and felt nibs to get it to flow effortlessly. This also makes it very easy to mess up, drip and so on so. Focus is pretty important," he replied.



Chad drew on the aluminum wheel rims, which were then cleared to protect the art

He told us he'd spent over 500 hours on the illustrations alone. But how did he know when enough was enough? When too much would start to be overkill? "Knowing when and where to have restraint is really important," the self-taught artist explained. Like most artists he believes in the power of white space, and that's particularly evident when you examine the exterior of the truck. But first a trip under the hood.

Restraint applies to the modifications he's made under the hood, as well. Only those items with the greatest potential for increasing performance were replaced. The base is a stock Ecotec3 5.3L V8, now fed by a Magnuson supercharger drawing air through an intake built from a kit of Spectre Performance components, like the 97990. Exhaust gasses pass through an all-Gibson exhaust, with stainless steel headers and pipes that exit on the right side of the truck, just in front of the rear wheels.



One needs to look up when seated in the cab to spot Chad's work as it covers the entire headliner

The truncated exhaust provides plenty of room for modification to the rear suspension. In lieu of the traditional street truck air bag setup, Chad went with a narrowed rear end equipped with Posi positioned by an All Star Customs three-link set-up. The frame was notched and lowered 10-inches. Ride is controlled by Viking coilover shocks front and rear. And on the front Street Edge spindles and DJM upper control arms drop the steering end of the truck by seven-inches.

From American Racing came VF 502 26×9-inch front and 26×12-inch rear concave billet wheels onto which Chad added his artwork. The wheels then received a clear powdercoat over the brushed aluminum hoops and a Candy Blue finish over the centers by New Year Coatings, in Santa Ana, California.

Explaining his decision to draw on the wheels, Chad said "people get happy just to change the color of their wheels, so I figure why not go the next few steps further and really do something different." Behind these utterly unique wheels are 15-inch rotors with StopTech six-piston calipers all the way around.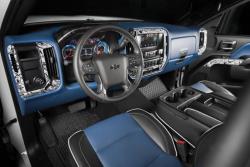 The seats were recovered in blue leather, the dash was dyed blue, and Chad provided his own accents

To achieve the super-clean results he sought from the exterior, Chad had all trim removed and color-matched to the truck. Rather than a full paint job, Chad went the body wrap route with a satin vinyl from Avery. The rear wheel wheel wells were removed and replaced with wider examples from a Chevy C10, maintaining an OEM look.

According to Chad "normal automotive clear coat was then applied to everything on the truck's body, a combo of gloss and matte finishes."

A bedliner product was sprayed on, then covered in white automotive paint. Finishing off the bed, Chad added his illustrations and a carbon fiber floor with aluminum rails.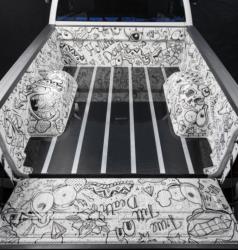 The preponderance of drawings are within the bed, every one from Chad's own hand.

On the inside you'll find he same attention to detail as is evident on the exterior of the truck. The blue accents on the exterior are matched by the dash and door panel dyed blue while seats were re-covered with black and blue leather. Then Chad selected a number of interior trim pieces to be painted white, to which he added his hand-drawn illustrations. The centerpiece of the interior requires you to look up, as Chad has replaced the stock headliner panel with a yet another large illustration.

So will Chad Carother's highly-personalized 2015 Silverado mark the start of a new trend in sport trucks, or will it remain a singular example of what happens when an artistic mind combines DTM and JDM inspiration with an American sport truck? There's really no way of knowing until we start to see sport trucks on coilovers instead of airbags and more Euro-style bodywork, but in the meantime we're happy to admire Chad's singular piece of automotive art.

---
---