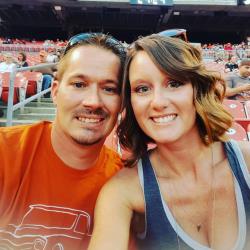 Behind every great man is a great lady. Chris Smith featured with wife, Lynn

Spectre Performance teamed up with the suspension experts at RideTech to sponsor multiple performance vehicles with some of the industries top drivers from all over the nation. RideTech's 48 Hour Corvette, 1969 Mustang, and 1st Gen Camaro are not only marketing vehicles, but rolling product development test beds to boot. In fact, last year Spectre Performance elected to be a part of another RideTech collaboration with Chris "Smitty" Smith of Smitty's Custom Automotive to get a 2nd Gen Camaro out on the track. Spectre Performance, RideTech, and these vehicles are regulars at Goodguys Rod and Customs shows and OPTIMA events nationwide, along with being featured in national ads year after year. Then, throw an accomplished driver like "Smitty" behind the wheel and you have got yourself a serious show stopper and crowd pleaser all rolled up into one. Not only is he an incredible driver and car builder, he is happiest when he has a chance to share his setup and suspension knowledge and experience to make his competition faster, making it more fun for everyone. The 48-Hours series of builds have garnered so much press coverage as part of the Spectre Performance race team partnership, it's fitting that Chris Smith is the object of our affection this month having dominated the Goodguys events while the 2017 race season has literally just begun.



Smitty's first go at the road course at Putnam Park for the inaugural Street Car Challenge

Smitty's Custom Automotive was established in 1999 by Chris and Mike Smith. Smitty's dad, Mike, toyed around with cars and was the occasional drag racer who could seriously make anything go fast on a shoestring budget. When Smitty was 12 or 13 years old his dad picked up a 1967 GMC truck that would haul dad's 1956 210 wagon to the drags. Smitty recalls dad lowering that truck and adding pinstripe tape to make it just a little cool.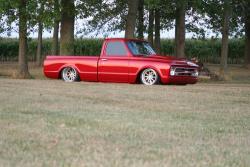 Chris really out did himself when it came to this 1967 C-10. Stance is everything!

When Chris was just 14 years old he managed to get himself a job at McDonald's and by the time he was 15 he had saved enough money to buy that old black truck from dear ole dad. Wanting to make his new truck look really cool, Chris taught himself how to do paint and body work. By his freshman year in high school he discovered he was less impressed with status, clothes, or sports and found his fit in the car culture. As a junior he was able to enter the high school's auto shop program and within 7 months wound up working at a bodyshop as a result of his natural talent. By the time he was a senior, he had far surpassed what the shop teacher could offer and he was perhaps the youngest employee running the collision department at a local dealership, putting in 7 hours a day at work with just one class at school. Quite the achiever then and still now.



Making over 700 HP, this C10 features a 434 cubic inch small block with all the bells & whistles

In no time it seemed that dad's friends and friends of friends wanted Smitty to do a little work on their cars. It started with a repair here and there then turned into paint jobs on classic cars and trucks. Lucky for Chris that dad's friend, Gary Holman, had an old farm shop where he could go to paint and hone his skills.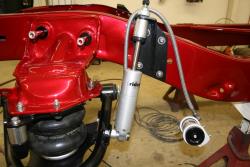 Triple adjustable Shockwaves from RideTech made Smitty's C10 handle the big track like a pro

In 1999, due to union contracts, Smitty's dad, Mike found himself forced into early retirement. He was only 50 years old. An accomplished and certified welder and fabricator, this man was not ready to stop. That's when Smitty and dad decided to take that leap of faith and open their own shop. Dad would do the welding and fab, along with managing the paperwork and Chris would handle the artistic stuff, like body and paint. In fact, 1999 proved to be an amazing and memorable year for Chris as this was the year he opened his shop, finished the 1967 pickup and married Lynn, the love of his life.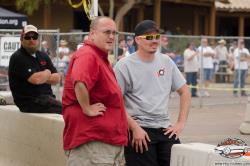 Part of being a great race team leader means watching how your driver's cars handle on track

In no time the 1967 GMC truck built by Smitty's Custom Automotive was seriously sought after. With 11 full magazine features it seemed Smitty had taken the truck world by storm. But this truck wasn't just about looks. It functioned like a modern truck, not the old sixties truck that was simply in service for hauling bales of hay. No, Smitty knew a thing or two about handling and chose parts and products that allowed him and his customers to actually enjoy the ride. Air Ride Technologies afforded folks a comfortable ride and Smitty offered their products and parts at his shop. Fast forward to 2003 at one of the first Street Car Challenges that Chris would take part in, held at Putnam Park where RideTech, formerly Air Ride Technologies, featured their suspension on three of Smitty's builds. Turned out this was just the beginning of what would become a business relationship that would afford Smitty an opportunity to race, head an amatuer race program, and be an integral part in advancing the RideTech catalog of performance suspension parts. What's more, Smitty had never even been on a road course before that event, much less race a car or truck that actually turned! Needless to say as time progressed he figured out that running a car through the cones or on a road course was a lot of fun and he got pretty darn good at.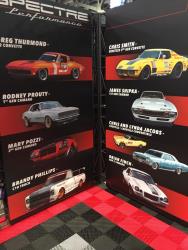 Spectre Performance and the 48-Hour Corvette along with the rest of the Spectre/RideTech team

In 2012/13, Chris built a 1967 Chevy C10 that featured a 434ci dry sump small block that made over 700hp. Complete with No Limit Engineering suspension and RideTech triple adjustable Shockwaves, Forgeline wheels, Wilwood disc brakes, Flaming River steering components, a Tremec T-56 transmission with Moser rearend. This gorgeous build seemed to aid in revitalizing the truck scene. This happened about the same time OPTIMA Batteries introduced the USCA Series that spearheaded the ever popular OPTIMA'S Search for the Ultimate Street Car series. This street car race reality show features some of the coolest builds from around the country, being pushed to the limits at renowned venues. Drivers compete on acclaimed road courses, epic autocross tracks, punishing speed stop segments, and road rallies testing the roadworthiness of the wannabe race cars on city streets. Not your ordinary weekend hobby. But for an enthusiast like Smitty and hundreds, if not thousands, of other drivers, the pro-touring movement has spawned the need for great equipment that the average Joe or weekend warrior can install him or herself. Between Smitty's interest and talent coupled with RideTech's expertise and experience, it seemed only natural that Bret would reach out to Chris to have him officially join the RideTech Team.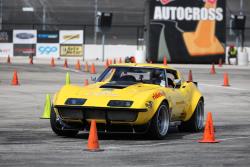 Smitty was tearing up the track at the 8th Spring Nationals in Scottsdale, Arizona

In 2014, RideTech sought the help of Chris to assist in the build and ultimately race the 48-Hour Corvette. Smitty had enjoyed success in his 1967 C10 in events like Goodguys, Motorstate Challenge, Midwest Musclecar Challenge, American Street Car, and OPTIMA's series. But when time came to get behind the wheel of the 48 Hour Corvette he jumped at the chance. He knew that short wheel base would be nimble on track and with improved suspension and shock technology the Corvette had was a winning combination. Smitty alongside RideTech, Bret, and the crew would use the Corvette as an opportunity to fine tune their products, their skills, and even bring new and exciting trends to market, like the Instinct Electronic Shocks introduced on the 48-Hour Camaro. mid 2016 race season. This partnership would indeed propel RideTech to the next level. Enter Spectre Performance to round out the ultimate race team program headed by none other than Chris "Smitty" Smith.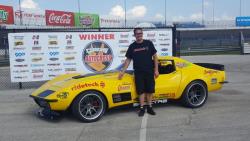 Winner winner chicken dinner! Or, if Smitty prefers, winner winner steak dinner!

The 2016 race season was nothing short of epic for Smitty. He saw success both on the race track and in the pits. He effectively helped his RideTech/Spectre co-drivers achieve new heights on the track and masterfully fulfilled customer's expectations. It was clear that he was in his element as a result of his partnering with two nationally recognized performance brands. His dynamic personality and straightforward no nonsense approach is just what competitors are looking for when it comes to having an edge against the competition.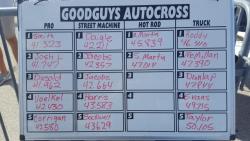 The Goodguys leader board from the 7th Spring Lone Star Nationals, with Smitty at the Top!

As we begin the 2017 race season with the season opener for Goodguys in Scottsdale we saw Smitty in the 48-Hour Corvette set the bar high. The PRO Class action was intense. Smitty took a commanding lead early on and the 48-Hour Corvette drove away with a 1st Place finish at the season opener at the 8th Spring Nationals in Scottsdale. Four of the top five PRO drivers were running RideTech's new Instinct Electronic Shocks. The new shock design has been in the research and development stages for the past three years and practical testing began in June, 2016, on a 1968 Camaro at RideTech's Indiana headquarters. But the true test would be seeing how the team would do at the Goodguys 7th Spring Lone Star Nationals the following weekend. Certainly the question that crossed their mind was whether it was luck or if they really did have a product that could outperform the competition. Chris had some seriously stiff competition rolling into Texas with Josh Lysinger and Mike Dusold ready to give him a run for his money. Calm, cool, and collected, Smitty went to work and came out on top, close to half a second ahead of second place finisher Josh Lysinger and more than half a second ahead of third place finisher, Mike Dusold.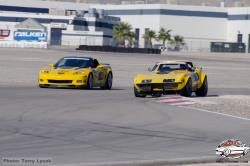 Chris Smith behind the wheel of the 48-Hour Corvette getting after it on the road course at LVMS

With two 1st place finishes and more than 20 race events on the schedule, it's all but certain that Chris Smith is bound to see a few more podium finishes with the RideTech 48-Hour Corvette as part of the Spectre Performance race team. Making this season a bit bittersweet as the team prepares to retire the 48-Hour Corvette and makes available this incredible beast to the highest bidder at the Barrett-Jackson Auction at Westworld in Scottsdale, AZ come February 2018. Not to worry though, Smitty will be behind the wheel of the 2nd Gen Camaro build that will debut at the 9th Spring Nationals in 2018.

---
---