The stainless Spectre 4256 Hood Pin Kit offers form and function in one package.
The Spectre 6284 Large Shifter Boot helps to add some flair to an otherwise forgotten area.
Money was scarce during the Great Depression, so car enthusiasts had to get creative. Most couldn't afford a new car, let alone the parts. They had to make stuff, from other stuff. These new creations were called 'hot rods', and they consisted of a bunch of junkyard parts, bolted to a lightweight body. The parts they used were often homemade, and many of the custom details were truly extraordinary. There was real craftsmanship back then, because people took pride in their work. Today's car enthusiasts are no less talented, but they no longer need to scour the salvage yard for the thing they need to make the other thing, that eventually becomes the finishing detail. Hot rodders can simply go to Spectre Performance and browse their catalog of stainless and aluminum interior/exterior accessories. Let's look at a few of them now:
When you're looking for the perfect automotive accessory, you want something that functions as good as it looks. The Spectre Performance catalog is stuffed with things like the Spectre 4256 Hood Pin Kit, the Spectre 6280 Aluminum T-Bar Shifter, and the Spectre 6288 Chrome Gas Pedal. All of these accessories are designed to make any vehicle look good. But Spectre also has specialty items like the Spectre 90022 Aluminum Rear Wing for the 1969 Chevy Camaro, and the Spectre 90104 Aluminum Door Panels & Handles for the 1964-1965 Chevy Chevelle.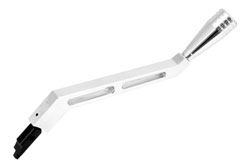 The Spectre 4982 Billet GM Column Shift Lever is milled from a single piece of aluminum and made to fit in place of the OE shifter.
What's so special about billet aluminum parts and stainless steel parts?
High quality automotive accessories should be able to withstand lots of abuse. That's why premium auto part manufacturers like Spectre Performance, use durable metals like stainless steel and billet aluminum. These materials come at a higher cost, but the strength and finish are second to none. Billet aluminum auto accessories for example, are made by milling or machining a solid aluminum blank (billet), into the desired part. This allows the particular accessory to be made from one solid piece of aluminum, improving both the strength and number of finish options. Stainless steel auto accessories are made in much the same way, however these parts are often laser cut from a thick sheet of steel, then chrome plated, polished, or a brushed finish is applied.
Examples of different Spectre billet accessories & Spectre stainless accessories: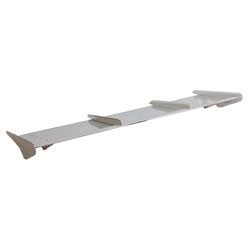 The Spectre 90022 Aluminum Rear Wing for the 1969 Chevy Camaro will add style and added downforce to the rear of your car.
Under the category 'Shifters', you'll find the Spectre 4982 General Motors Billet Column Shift Lever. Designed for an OE fit in 1973-1994 GM vehicles, this handsome column shifter will add a custom touch to any style interior. It is precision milled from a solid aluminum billet, and features an attractive polished double slot design, capped off by a polished shift knob. Thanks to its OEM replacement design, all you have to do is remove the old shift lever and slide this one into place.
Under the category 'Shifter Boots', you'll find the Spectre 6284 Large Shifter Boot. If you drive a manual transmission vehicle, you may have never considered the shifter boot to be a design element. Until now that is. The Spectre Large Shifter Boot features a soft black rubber shifter boot, accented by a triple chrome plated stainless ring at them top of the boot beneath the shifter, and one at the base. Not only does it look elegantly understated, the rugged construction will probably outlast the factory shift boot.
No matter what you drive, Spectre Performance can make it look and perform better. To check out the complete line of Spectre interior/exterior accessories, visit the interior/exterior accessories page. Or, you can enter your year/make/model into the search by vehicle tool, to discover everything that Spectre makes for your ride.