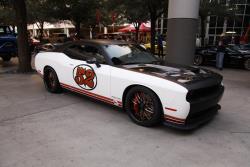 Spectre used this Hellcat Challenger to display their underhood accessories at the 2016 SEMA show

There's no argument that you'd have to cross the six-figure barrier to find a car more powerful than the Dodge Challenger SRT Hellcat. Producing 707 horsepower and 650 lb-ft of torque, the 6.2L V8 approaches the output of the 7.4 L monster motors used by McLaren in their Can-Am series race cars. And while the performance is there, and the styling is a dramatic interpretation of the original Challenger design, a look under the hood of a Hellcat is a bit of a disappointment.

Whereas in the past, you'd pop the hood on a Mopar muscle car and be greeted by massive Hemi valve covers and a chromed air cleaner housing or a 440ci Six Pack with its oval air cleaner cover, it's pretty staid under the hood of the Hellcat. With the exception of the supercharger much of what's underhood is molded plastic, which doesn't convey the brutal power that lurks underneath.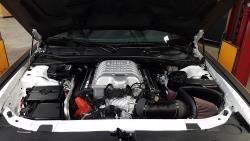 Spectre underhood accessories in black add interest under the hood of the Hellcat show car

If this is the dilemma you face with your 2011 – 2016 Challenger (Hellcat or not), Charger, or Chrysler 300, Spectre Performance has a solution for you. It's a series of caps and covers, available in a range of finishes, that add luster and sparkle when you lift the hood at the next cruise night or wherever you like to show off your car.

To demonstrate in person what a massive impact these covers can make on your car, Spectre developed a 2016 Dodge Challenger SRT Hellcat show car and displayed it at the 2016 SEMA Show in Las Vegas. The concept of the car is similar to that of the Spectre covers: minimum changes for maximum impact. For example, Eibach lowering springs instead of coilovers, a wrap by Frontier Graphics rather than custom paint, an aggressive Anderson hood, and Savini 20-inch wheels that complement the graphics.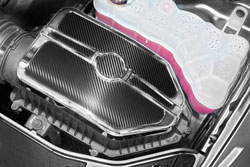 The Spectre air box cover creates quite an impact in the otherwise mild-looking engine bay

These caps and covers are designed to fit directly on top of the OEM part so that you needn't worry about an aftermarket replacement cap or cover stripping, failing, or leaking because Spectre components utilize the factory caps as their base. So you know there'll be no interference with any mechanical functionality or cause any issues with your new vehicle factory warranty.

Available from Spectre in Chrome include the following: 42826, a washer fluid reservoir cap; 42823, a radiator overflow cap cover; 42825, an oil cap cover; 42831, a dipstick handle cover; and 42821, an air box cover accent; and 42827 and 42837 fuse box covers (depending on year). In addition, there's a three cover kit available, part number 42829. For Silver, Bronze, and Black, the part numbers are the same except that a suffix is added to identify the finish.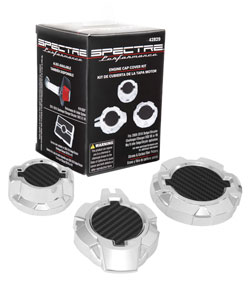 Available as a set of three, the most popular covers can be purchased together at a discount

These components are designed and tested on numerous different Challengers and Hellcats to check fitment, they're heat tested both in the lab and on the road to make sure they can withstand the brutal environment under the hood, and finish testing is done to make sure the shine lasts through everyday driving and normal cleaning with approved products.

Furthermore, Spectre offers their covers in a wide variety of colors and finishes. You can choose from several finishes in the sleek Modern design line, available in a range of four colors: silver, chrome, black, and bronze.

And even though these upgrades make a big impact when you pop the hood, they make only a small impact on your wallet. Most of the products in the line have a suggested retail price of $19.99 and the most expensive part is only $69.99. It's pretty unlikely that you'd be able to add that level of underhood interest for that kind of budget.

But wait, we haven't forgot Ford and Chevy fans. Spectre Performance also offers a series of caps and covers in the same finishes and colors for recent model Camaros and Ford Mustangs

The Dodge and Chrysler line of Spectre under hood caps and covers is designed to fit the following vehicles:

2016 DODGE CHARGER 6.4L V8 F/I - All

2016 DODGE CHARGER 6.2L V8 F/I - All

2016 DODGE CHARGER 5.7L V8 F/I - All

2016 DODGE CHARGER 3.6L V6 F/I - All

2016 DODGE CHALLENGER 6.4L V8 F/I - All

2016 DODGE CHALLENGER 6.2L V8 F/I - All

2016 DODGE CHALLENGER 5.7L V8 F/I - All

2016 DODGE CHALLENGER 3.6L V6 F/I - All

2016 CHRYSLER 300S 5.7L V8 F/I - All

2016 CHRYSLER 300C 5.7L V8 F/I - All

2016 CHRYSLER 300 3.6L V6 F/I - All

2015 DODGE CHARGER 6.4L V8 F/I - All

2015 DODGE CHARGER 6.2L V8 F/I - All

2015 DODGE CHARGER 5.7L V8 F/I - All

2015 DODGE CHARGER 3.6L V6 F/I - All

2015 DODGE CHALLENGER 6.4L V8 F/I - All

2015 DODGE CHALLENGER 6.2L V8 F/I - All

2015 DODGE CHALLENGER 5.7L V8 F/I - All

2015 DODGE CHALLENGER 3.6L V6 F/I - All

2015 CHRYSLER 300S 5.7L V8 F/I - All

2015 CHRYSLER 300C 5.7L V8 F/I - All

2015 CHRYSLER 300C 3.6L V6 F/I - All

2015 CHRYSLER 300 6.4L V8 F/I - All

2015 CHRYSLER 300 3.6L V6 F/I - All

2014 DODGE CHARGER 6.4L V8 F/I - All

2014 DODGE CHARGER 5.7L V8 F/I - All

2014 DODGE CHARGER 3.6L V6 F/I - All

2014 DODGE CHALLENGER 6.4L V8 F/I - All

2014 DODGE CHALLENGER 5.7L V8 F/I - All

2014 DODGE CHALLENGER 3.6L V6 F/I - All

2014 CHRYSLER 300S 5.7L V8 F/I - All

2014 CHRYSLER 300C 5.7L V8 F/I - All

2014 CHRYSLER 300C 3.6L V6 F/I - All

2014 CHRYSLER 300 6.4L V8 F/I - All

2014 CHRYSLER 300 3.6L V6 F/I - All

2013 DODGE CHARGER 6.4L V8 F/I - All

2013 DODGE CHARGER 5.7L V8 F/I - All

2013 DODGE CHARGER 3.6L V6 F/I - All

2013 DODGE CHALLENGER 6.4L V8 F/I - All

2013 DODGE CHALLENGER 5.7L V8 F/I - All

2013 DODGE CHALLENGER 3.6L V6 F/I - All

2013 CHRYSLER 300S 5.7L V8 F/I - All

2013 CHRYSLER 300C 5.7L V8 F/I - All

2013 CHRYSLER 300 6.4L V8 F/I - All

2013 CHRYSLER 300 3.6L V6 F/I - All

2012 DODGE CHARGER 6.4L V8 F/I - All

2012 DODGE CHARGER 5.7L V8 F/I - All

2012 DODGE CHARGER 3.6L V6 F/I - All

2012 DODGE CHALLENGER 6.4L V8 F/I - All

2012 DODGE CHALLENGER 5.7L V8 F/I - All

2012 DODGE CHALLENGER 3.6L V6 F/I - All

2012 CHRYSLER 300S 5.7L V8 F/I - All

2012 CHRYSLER 300C 5.7L V8 F/I - All

2012 CHRYSLER 300 6.4L V8 F/I - All

2012 CHRYSLER 300 3.6L V6 F/I - All

2011 DODGE CHARGER 5.7L V8 F/I - All

2011 DODGE CHARGER 3.6L V6 F/I - All

2011 DODGE CHALLENGER 6.4L V8 F/I - All

2011 DODGE CHALLENGER 5.7L V8 F/I - All

2011 DODGE CHALLENGER 3.6L V6 F/I - All

2011 CHRYSLER 300C 5.7L V8 F/I - All

2011 CHRYSLER 300 3.6L V6 F/I - All

---
---