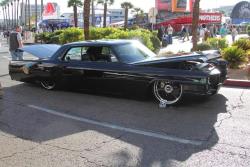 The lines of the 1965 Cadillac Coupe don't need much help, with a tasteful grille and minimal fins

One of the greatest opportunities for a custom car builder is to correct, modify, or upgrade a vehicle as they perceive it should have been delivered from the factory. That's pretty much what we have here in this 1965 Cadillac DeVille owned by James Chamberlain, of Select Auto Glass and built by Tre 5 Customs.

Tre 5 Customs is a small, two man operation, Jeremy Rice and Hector Garcia, in the suburbs on Phoenix with cars like this Cadillac.

The selection of a 1965 Cadillac is inspired, all on its own. It's the first year of the stacked front headlights, which allowed for a smaller, less ornate grille than previous models, and the tail fins were now just the horizontal line atop the back of the car, with no real reminder of the baroque fins of a decade earlier, like you find on the 1964. All that adds up to clean crisp lines, plenty of interior room, and a jumping off point for an original project. Unfortunately this particular 1965 required a ground-up rebuild that took six months.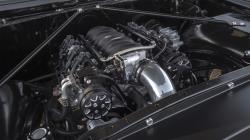 The engine in the Caddy is an LS7 unit with an LS1 intake, fed by a Spectre 8138 conical air filter

Take a walk around the car and you won't find any exotic lighting, no all-aluminum V8, a trick automatic transmission, or other upgrades that you might find on customized cars of the period. Instead what you'll find is solid workmanship and an exceptional eye for details.

Under the hood, for example, is a 5.3L GM LSX motor. No aluminum block or heads, no displacement pushed out to 7 liters. The motor is all cast-iron American torque needed to push this 2.25-ton behemoth down the road. There has been maintenance and upgrades, of course, like a more aggressive cam and pretty much every part that touches the cam, an LS-1 intake has been added, flowing through a Spectre 8138 conical filter. Headers are at the other end, pouring spent gases into a custom-fabricated three-inch system built in the shop by Hector and Jeremy moving out through a pair of Black Widow mufflers.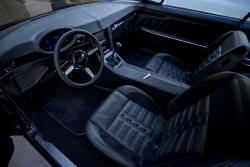 Hard to beliieve that the interior is a 1965 Cadillac and not a more contemporary car

Air conditioning had been added, driven by an All American serpentine billet pulley system.

Underneath, the suspension has all been converted to air, starting with Choppin' Block components. AccuAir controllers keep tabs on the system while VIAIR compressors provide the lift. Disc brakes are fitted all around. The rig rolls on 22" American Racing wheels.

The interior is most impressive. Gone is any hint of a bench seat, split or otherwise. In their place are four TMI bucket seats, turning the already massive interior into an even more comfortable spot for the three passengers. The steering wheel has been replaced by a unit more in keeping with the 21st century. There's a center console that's been custom fabricated that runs from the dash all the way to the rear bulkhead. The craftsman behind this piece is Steve from Definitive Audio who also created the custom door panels, converted the dash to Dakota Digital, and installed the stereo.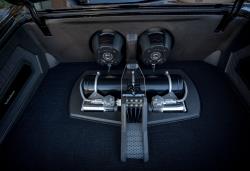 The hydraulics are neatly packaged in the trunk, just behind a pair of 12" Rockford subwoofers

Opening the trunk lid gives you a good look at Steve's handiwork, as you're looking at the backside of two 12" Rockford subwoofers, two amplifiers, the VIAIR compressors, air tank, and controllers. There's probably still room for a couple of golf bags back there.

Paint was applied by the artist-next-door Frank Rechlin at IKandy Paintworks, who has been painting custom cars for 25 years, who must have sprayed industrial quantities of paint on the Cadillac to get a color that deep. One thing's for sure, no one is going to mistake this for Don Draper's 1965 Cadillac.

The car was unveiled at the 2017 SEMA show and spent the whole week snapping necks. Almost nobody could walk by it without taking a picture or turning around to take the beauty in for an extended period of time. And just about everybody walked away from it with a grin from ear to ear. How can you not love a big, black Cadillac laid out in the Las Vegas sun?

Photos by Auto Revolution

---
---