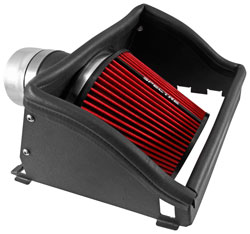 The Spectre 9034 air intake system includes a Spectre HPR9892 universal air filter.

The 2015 Ford F150 represents the 13th generation of the F-Series pickup that has been dubbed the best selling pickup ever. It has gone through a refreshing that includes a fully aluminum body, which makes it lighter than any previous F150 and sheds as much as 700 pounds from the Super Crew model. The new front grille and headlight design are reminiscent of the 2013 Atlas concept vehicle. The body also has more angles and sharper lines than any previous model.

The truck comes in five trims and three cab configurations. Each cab style offers more cabin space and visibility than the previous year's model due to a wider frame and changed door and window styling. In fact, more visibility is offered for driver and passengers throughout the truck because the belt lines of the doors have been dropped about an inch. Better side access to the bed has been achieved because it has also been dropped about 2-inches.

Four engines, two carryovers and two completely new, power the vehicle. A new, naturally aspirated 3.5-liter V6, a 2.7-liter twin-turbocharged V-6 EcoBoost, a 3.5-liter V-6 EcoBoost, and the venerable Coyote 5.0-liter V-8. A previous engine option, a 6.2-liter V8, has been discontinued.

Inside, the truck has been equipped with a MyFord Touch infotainment system that includes an 8-inch screen between the tachometer and speedometer. The system provides access to more engine and vehicle information, allows you to track maintenance and long- and short-term fuel economy, and more.

The 2016 version of the Ford F150 has more technology than any other previous model and includes things that help make it a work truck, play truck, tow truck and muscle truck.

For the work truck incarnation, there are loading ramps that lock into the bedsides so the owner can load an ATV, a BoxLink System including cleats and brackets to divide the bed and anchor cargo, LED headlamps and lighting for the cargo box, a deployable bed step, and steps with a post that serves as a handrail slides out of the tailgate to assist in loading the bed.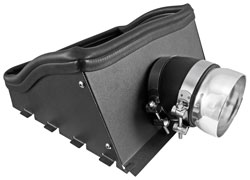 The Spectre 9034 air intake has a heat shield that prevents hot engine air from entering the intake

A new Pro Trailer Backup Assist option makes it easier to backup into tight spaces or back up to a boat launch if the truck has a trailer. Activate an in-dash knob and the system does the steering or counter steering.

The same engines that work the 2015 Ford F150 are again available to run the 2016 model. The 3.5-liter V-6 produces 282 horsepower and a maximum tow rating of 7,600 pounds. The 2.7-liter turbocharged V-6 generates 325-horsepower and 375 lb-ft of torque as well as a tow rating of up to 8,500 pounds. A stop/start feature is included on this engine. The 5.0-liter V-8 offers 385-horsepower, and 387 lb-ft of torque and has a payload rating of 3,300 pounds and the 3.5-liter twin-turbo V-6 delivers 365-horsepower and a payload rating of 12,300 pounds. A 6-speed automatic transmission integrates with the engines and there are 4x4 and 4x2 drive configurations available. Electric power steering is standard on all models.

The same trim packages that were sold on the 2015 Ford F150 are available for the 2016 version.

Ford's Sync 3 infotainment system replaced the MyFord Touch system that was on the 2015 version.

The Insurance Institute for Highway Safety (IIHS) rates the Super Crew F-150 a Top Safety Pick award. The Top Safety Pick award is limited because of the "Basic" forward-collision prevention system, added IIHS. The agency did not rate the Super Cab and Regular Cab models. The National Highway Safety Traffic Administration (NHSTA) rates the F-150 five stars overall and five star ratings in the subcategories except rollover resistance.

Spectre offers the Spectre 9034 air intake kit for the 2015 and 2016 Ford F-150. The intake kit is designed to offer more horsepower and torque. The kit includes a Spectre HPR9892 red washable and reusable air filter that features a non-woven synthetic media and a flat black top.

The intake system also features three stainless steel clamps, polished aluminum tube and a black powdercoated heat shield that stops hot engine air from entering the intake inlet, ensuring better performance.

Spectre also offers the Spectre Accucharge precision air filter cleaning and oiling system that have been specially formulated to cleanse and recharge the Spectre air filter so that it can be reused. The kit includes two bottles - a spray bottle that contains the cleaner and a squeeze bottle that holds the filter oil.

The Spectre 9034 cold air intake system fits the following vehicles:

2016 FORD F150 3.5L V6 Fuel Injection - All Models
2016 FORD F150 2.7L V6 Fuel Injection - All Models
2015 FORD F150 3.5L V6 Fuel Injection - All Models
2015 FORD F150 2.7L V6 Fuel Injection - All Models


---
---