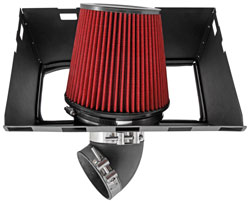 The Spectre 9035 air intake system will add horsepower and even more torque to your RAM 1500 V6 diesel pickup.

The RAM 3.0L EcoDiesel turbocharged V6 is the first light-duty, small displacement diesel engine developed for the light truck market. The engine features such sophisticated components as a block cast of compacted graphite iron and double overhead cam aluminum cylinder heads.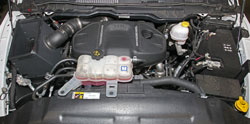 Spectre provides all components for an OEM-grade installation.
Integral in the development process was the inclusion of advanced clean diesel technology and B20 biodiesel capabilities. The result is a light-duty diesel engine that, when paired with the 1500 HFE model, provides the best fuel economy of any full-size pickup. While this award-wining engine provides ample torque and good fuel mileage, power is a rather lowly 240hp, 28 ponies less than a V6 Toyota Camry.
For 2014, 2015 and 2016 RAM 1500 diesel owners who are seeking both more horsepower and torque from their V6, there is a solution. For less than the cost of an upgraded electronic control unit or high performance exhaust system, a Spectre air intake system can increase both horsepower and torque in your RAM 1500 pickup truck.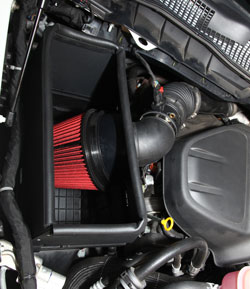 Thanks to the heat shield and weather stripping that seals against the hood, the 9035 prevents hot air from the engine bay from being sucked into the engine.

And while you'll need an expert to recalibrate your engine's ECU if you add a high-performance module, there's no need to do so with an air intake system. Likewise, a performance exhaust will need to be installed by a muffler shop – at shop rates.
Instead, the Spectre 9035 air intake system for diesel RAM 1500 pickups brings performance increases that can be achieved by a DIY installation that takes about 90 minutes with simple hand tools and no need to re-calibrate engine electronics.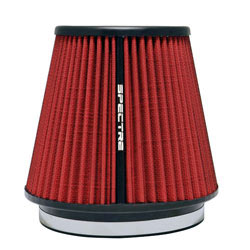 If you ever need a replacement air filter for the 9035 system, the part number for the filter is HPR9892.
How this works is that the Spectre 9035 moves the air intake away from the hot engine and protects it with a heat shield so only cold, fresh, outside air can reach the air filter. Cooler air is denser, carrying additional oxygen prompting your ECU to add more fuel, thereby increasing horsepower. You've probably noticed the effect when driving your truck on a cool morning.
The Spectre 9035 air intake system utilizes a seven-inch non-woven synthetic filter media to help protect your engine from harmful dirt, dust, and debris. In addition the air filter is available in three different colors: HPR9892B (blue), HPR9892K (black), and HPR9892W (white).
The system comes with a reusable air filter, intake coupler, and black powder coated heat shield to help prevent hot engine air from entering the intake inlet.
Spectre cold air intake systems come complete with all required clamps, screws, and bolts for the look of an OE installation. OEM brackets and hardware are used so that no holes need to be drilled, making for a quick and easy installation. The kit also accommodates all factory emissions and vacuum lines.
The 9035 intake fits the following vehicles:
2016 RAM 1500 3.0L V6 Diesel
2016 Dodge 1500 3.0L V6 Diesel
2015 RAM 1500 3.0L V6 Diesel
2015 Dodge 1500 3.0L V6 Diesel
2014 RAM 1500 3.0L V6 Diesel
You can view all the air intakes that Spectre Performance makes for these vehicles at the Air Intake Systems for the RAM 1500 page and Air Intake Systems for the Dodge 1500 page. You can view all the air filters for these vehicles at the Air Filters for the RAM 1500 and Air Filters for the Dodge 1500 page. You can view all the Spectre Performance products for any vehicle by using the Search by Vehicle tool and you can find a local Spectre retailer by plugging your location into the Spectre Dealer Search as well.