Owning a Jeep Wrangler opens the invitation to seek adventure in the great outdoors. When you hear the word Jeep you might think desert, mountains, canyons, and off-road. Jeep has built its reputation as one of the most capable sport utility vehicles available on the market. Many Jeep purists would arguably state that Jeep is not what it used to be. Since 1987, when the Wrangler was first released, Jeep has made several modifications to appeal to a wider audience.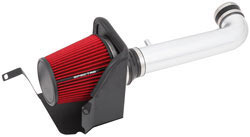 Air Intake Kit 9007 from Spectre Performance will improve performance in 2012-2015 Jeep Wrangler 3.2L V6 models
Options like four doors, power windows and door locks resulted in Jeep purists claiming that Jeep was redirecting their audience away from the off-road market. Jeep listened, adding features to the Wrangler that are appealing to extreme adventure seekers. The Wrangler includes features like a fold-down windshield, a removable top, as well as the ability to have power windows, but still remove the doors when summer arrives. Over the years Jeep has continued to make the Wrangler appealing to those who are a little more daring, taking their vehicle places they have never gone before, as well as those consumers who simply like the idea of owning a Jeep.
The Jeep Wrangler has both on and off road capabilities. This is a huge selling point for the Wrangler. From mountain climbing to daily driving, there isn't much a Wrangler can't do. Though most people purchase a Jeep for its dual purpose nature, the infinite amount of upgrades available for these vehicles only encourages Jeep owners to make continuous modifications. Taking a Jeep Wrangler though different terrains from pavement to dirt can leave Jeep owners wanting more power for better performance. Regardless if you are driving to work or navigating through canyons, durability and power are two important features you want as a Jeep owner.
The Jeep Wrangler features both on and off road capabilities that require necessary upgrades for maximum performance
A Spectre High Performance Air Intake System can easily increase power and add protection to your Jeep Wrangler. Replacing your stock intake with a Spectre Performance Air Intake Kit, part number 9007, can help increase airflow resulting in added horsepower for 2012-2015 Jeep Wrangler 3.6L models. This added power could easily make a difference when testing the Jeep Wrangler's off-road capabilities.
If you are an adventure seeker that prefers the trails less traveled by the general population, then your Jeep will see dirt and debris more often then during its daily driving routine. By upgrading your air intake to a Spectre Performance Air Intake System, you are helping protect your engine from harmful dirt and debris while increasing air filter maintenance intervals.
The Spectre High Performance Air Filter included in the Spectre Performance 9007 air intake kit can be easily removed and washed, cleaning the dirt off your filter from your off-road adventure. This easy step ensures the best possible performance for your next outing. For those who put their Wrangler though tough terrain, the ability to wash and reuse the included Spectre Performance High Performance Racing (HPR) Filter, part number HPR9892, can help save time and money during your regular maintenance.
Spectre 2012-2015 Jeep Wrangler V6 air intake 9007 includes a heat shield and a low restriction air filter, designed to increase power and protect a Jeep Wrangler's engine
The Spectre Performance 9007 Air Intake Kit is available for 2012-2015 Jeep Wrangler 3.6 V6 models. The Spectre air intake comes with the necessary couplers, clamps and hardware for an OE-like fit and finish. With basic hand tools, replacing your stock Jeep Wrangler air intake with a Spectre Performance air intake kit is easy and quick to install. Owners of a 2012-2014 Jeep Wrangler V6 can rest assured knowing that Spectre Performance warrants all its products to be free from workmanship and material defects with a limited 90 day warranty.
Spectre Performance air intake 9007 is designed to increase the performance of the following Jeep Wrangler Models:
2015 JEEP WRANGLER 3.6L V6 F/I - All
2014 JEEP WRANGLER 3.6L V6 F/I - All
2013 JEEP WRANGLER 3.6L V6 F/I - All
2012 JEEP WRANGLER 3.6L V6 F/I - All
Since 1983 Spectre Performance has designed and offered unique, innovative, parts and components to fuel your car or truck obsession. Whether your fixation happens to be a classic muscle car or a trail rated Jeep Wrangler, Spectre will help fuel your passion for performance. Please visit the Spectre Jeep Wrangler Air Intakes, or Spectre Air Filters for the Jeep Wrangler page, for additional Jeep Wrangler performance upgrades, or browse the wide array of custom Spectre Performance products. If assistance is required please feel free to call Spectre Performance at 909-673-9800.