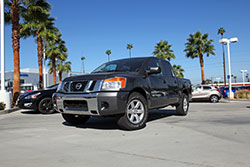 Your 5.6L will be able to breathe easier with the help of the Spectre 9951 intake kit
A cold air intake system is a relatively inexpensive modification, adding horsepower and torque to your ride but is much easier to install than most other engine modifications. Here's how it helps gain power: recall the last time you had a cold and you felt all stuffed up? After you felt better, you could breathe clearly, right? That's sort of the effect that installing a cold air intake system has on your vehicle. The Spectre 9951 air intake system for 2005 – 2014 5.6L Nissan Titan and Armada, and 2004-2010 Infiniti QX56, brings performance increases that can be achieved by a DIY installation that takes around 90 minutes with simple hand tools and no re-calibration of engine electronics required.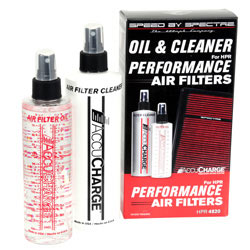 Caption: Clean and recharge your Spectre air filter with our AccuCharge easy-to-use cleaning kit
The Spectre 9951 moves the air intake away from the hot engine and protects it with a heat shield so cooler outside air can reach the air filter. Cooler air is denser, carrying additional air molecules to the engine, increasing horsepower. If you've ever driven your car on a cool morning and noticed it seemed a bit more powerful -- that's the effect we're talking about.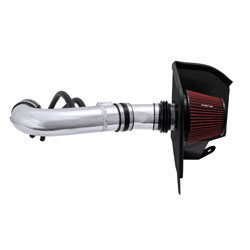 A Spectre Air Intake System will add horsepower and torque to your 2005 – 2014 5.6 L Nissan Titan and Armada, and 2004-2010 Infiniti QX56
If you've ever looked under the hood of your Nissan 5.6L V8 and traced the path the air intake hose travels to reach the throttle body, you'll see that it's less than a straight line. The 9951 air intake kit uses a large diameter aluminum intake tube that's smoother with fewer bends providing higher airflow capacity than the OEM hose.
The Spectre 9951 air intake system utilizes a non-woven synthetic filter media to help protect your engine from harmful debris. In addition, the filter is available in four colors: 9951 (red), 9951B (blue), 9951K (black), and 9951W (white).
The air intake system comes with the above-mentioned reusable low restriction air filter, high quality tubing, and a black powder coated heat shield to help prevent hot engine air from entering the intake inlet. Spectre air intake systems come with the necessary boots, clamps, and hardware for an OE fit and finish. The kit also accommodates all factory emissions and vacuum lines. OEM mounting brackets and hardware are utilized to allow for quick and easy installation.
To find out what products Spectre makes for your vehicle, visit the vehicle search tool and too find your local Spectre dealer use our dealer locator tool.