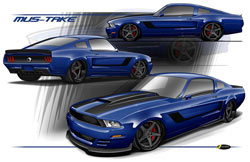 Brian Finch released a rendering of his latest build, which combines a 1967 Mustang body with a 2011 Mustang front end
Brian Finch is a name many are familiar with in the pro-touring community. Finch's Spectre Performance equipped 1970 Camaro was quickly recognized as one of the fastest cars on the pro-touring race circuit in 2009 and 2010. Finch and the Camaro traveled across the country racing in events like the Goodguys Autocross, the Optima Series, Holley's LS Fest, and the Midwest Muscle Car Challenge. As the years passed, competition grew, new performance parts became available and cars essentially got faster. Though the Camaro had a very well established reputation, Finch decided it was time for something new. This is where the creation of the Mus-Take began.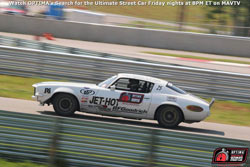 The Spectre Performance equipped 1970 Camaro went viral in 2009 and still competes in race events across the country today
What happens when you take a 1967 Mustang and combine it with a 2011 Mustang front end? No one was quite sure what to expect when Brian announced his new project. No builder had taken these two models and molded them into one vehicle. When Finch publicized the project, many people had their doubts on the build. Once the rendering was released to the public, the vision started to form and word spread. This would either turn out to be an amazing one-off build or a complete disaster.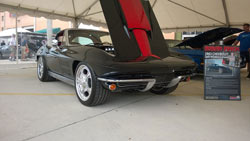 Brian Finch has built several muscle cars over the past years including the 1963 Split Window Corvette that will make an appearance in an upcoming episode of Competition Ready on Velocity
Finch is an amazing builder and fabricator. His name is behind several builds including his 1970 Camaro, a 1967 Mustang Coupe and the 1963 Split Window Corvette that will be featured in an upcoming episode of Competition Ready on Velocity TV.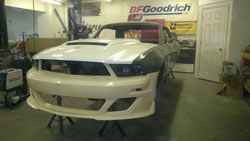 The first step in the Mus-Take build started by working the 2011 front end to fit the 1967 Mustang body
When it came time to plan the Mus-Take build, Finch made sure to use the best performance parts available. As parts started to arrive for the Mus-Take project, Finch shared teaser photos with his online followers. The car would get a brand new 5.0L Coyote motor along with a Holley EFI system, a Holley digital dash and a fully customized Spectre Performance Air Intake setup. These were only the first of several parts to arrive in order to complete the build.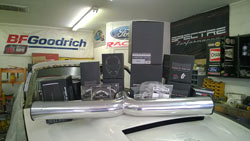 Mus-Take will feature a complete Spectre Performance Custom Air Intake set-up that will be designed to draw cooler air to help increase horsepower
Creating custom air intake setups is one of Finch's specialties. Finch has stood behind the Spectre Performance name for several years using Spectre's Air Intake Components to create one-off air intakes for his custom builds. Throughout the years, builders have designed their own air intakes or have settled with using only a filter when building cars with custom applications. Spectre Performance developed a system that offered several different components including different bent aluminum tubing, couplers and various sized filters to help accommodate those who wanted to create a custom air intake. Just as Finch has done with past builds, he is using the Spectre Air Intake Components once again with the Mus-Take build in order to design a custom air intake that not only looks good, but draws in cold air to help increase horsepower.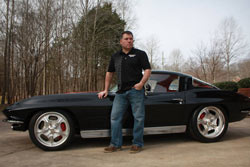 Though the Mus-Take will not be ready for the 2016 race season, Finch will represent Spectre Performance on the race and show circuit with his 1970 Camaro and 1963 Corvette
A date has not been set for the final debut of Brian Finch's Mus-Take. Though it is not ready for the 2016 race season, we will see the Spectre Performance driver in his 1970 Camaro and possibly in the 1963 Split Window throughout the year.
Since 1983 Spectre Performance has designed and offered unique, innovative, parts and components to fuel your car or truck obsession. Whether your fixation happens to be a classic muscle car or modern muscle, Spectre will help fuel your passion for performance. Please use the vehicle search tool to find additional vehicle specific parts, or browse the wide array of custom Spectre Performance products. If assistance is required please feel free to call Spectre Performance at 909-673-9800.