Spectre driver, Rodney Prouty, one of pro-tourings must meet drivers in his 1968 Camaro

Rodney Prouty was just 15 years old when his neighbor 'Rocky', in Moreno Valley, California, taught him how to paint cars in his home garage. Before that he had rebuilt a couple of motorcycles and done everything he could to get his Honda Express as fast and nimble as possible - which is not that fast or nimble, but for a 15 year old, he thought it was pretty badass.

A few years later Rodney worked in Stanton for a van conversion shop and for extra cash he would walk across the street and sweep up chips from the mill machines and the old man would give him 10 bucks. That 'old man' was Boyd Coddington.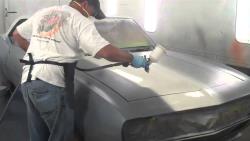 "Plain Jane" getting a makeover for the 2016 race season, Rodney with spray gun in hand

From about age 16 to 19, he spent summers working part time at Riverside Raceway on the track repair crew; it was big money back then, at six bucks an hour with free entry into every race and a pit bike for events!

Later, after getting married and having children, he went to work in a factory and even then, cars still found him. He was making gas cylinders for prototype CNG cars. He didn't have a full size car to race, so he raced competitive RC cars for Team Losi. He cut, designed, built and tested his own parts out of carbon fiber and high tech plastics. The RC car had titanium hinge pins, nitrate coated shock shafts, hard anodized shock bodies, a carbon fiber chassis and all kinds of crazy stuff. Rodney even had the top ten at the "Nationals" a few times. His understanding of suspension and how it relates to speed was definitely born at the RC track.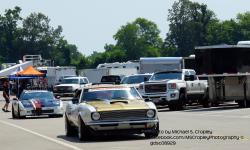 Prouty debuted Plain Jane's new paint and color scheme at the National Corvette Museum

It seems Rodney has raced something his whole life. Whether BMX, motocross, RC cars or jet skis, anything he could make go fast he would! He was even a competitive speed skater, telling us, "I guess we raced everything!"

Rodney has had many influences in his life but he really can't point to one person. Certainly his autocross family is key in his enjoyment of the sport. He always tells people that "autocross isn't fun if you're doing it alone."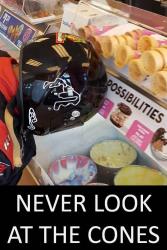 Prouty, the consummate joker, that is until you get him behind the wheel of his car!

It wasn't until he was in his mid thirties, after marriage and children, that he returned to the automotive industry and began restorations on 1st Gen Camaros. He fell in with a great group of industry people and made some great friends. In fact, it was those same friends that convinced him to take Plain Jane out to an autocross, where he quickly fell in love with the sport. But it wasn't just the driving alone that hooked him, it was the people. The friendships he's forged was unexpected and one of the best parts of racing.

Rodney Prouty has been a brand loyalist with Spectre Performance for about 8 years now! He met Mike Morrow with Spectre performance back at a Goodguys event where they tested a new air cleaner on Plain Jane, took pictures of the install, and even filmed the install for a TV show pilot.



"Plain Jane" looking stellar and representing on the Spectre Performance booth banner

Now a Spectre Performance team driver, Prouty takes his role quite seriously. He believes that it is his duty to positively represent the brands that have so faithfully believed in him. No doubt, Rodney is a character. He is the one you'll find in the pits rallying excitement and creating a jovial environment. Funs and games and selfies, laughter always ensues. But as soon as our friend dons the Spectre Performance driving suit and helmet and tucks in behind the wheel of his 1968 Chevrolet Camaro, he is a force to be reckoned with. Prouty is an accomplished driver that once behind the wheel is driven to compete and win!



Prouty's main squeeze and partner in life, Suzy Bauter behind the wheel of Plain Jane having fun

"Plain Jane" the "$100 Basket Case" that Rodney initially came into possession of needed virtually everything. At the time it had no interior, just one seat, no suspension, no drive train, no front or rear glass, and even some parts that belonged on a few different cars, not on Camaros. His list of needed parts was quite extensive, suggesting that his entire car is one big modification! But this "DIY" guy has done all the mods with his partner in crime, Suzy, in his garage on a shoestring budget. For the 2016 season Rodney made a few modifications to Plain Jane that really impressed at the Lingenfelter Design & Engineering segment of OPTIMA's Search for the Ultimate Street Car qualifier in Kentucky at the National Corvette Museum. "Plain Jane" debuted this year with a fresh and tastefully updated paint scheme. He traded the classic hockey stick side stripe for a more bold metallic gold stripe that extended from the nose to the deck lid, complemented by a carbon fiber detail. He swapped out the 9.5-inch solid, 5-spoke, gold wheels for a slightly different 10-inch dual 5-spoke gold wheel that matched the new paint flawlessly. It's subtle updates like these that can make a big impact. Suzy updated the Camaro's interior to coordinate with the exterior. And as for handling, Rodney had Fox change his shocks from linear pistons to digressive and re-curved the valving on his rear shocks. Additionally he made the change to the Detroit Speed sway bars, and custom built link ends for the suspension by UMI.



Do it yourself or have Suzy do it! Rodney explains that she is the BEST Crew Chief

Prouty started on this path in California and is now in Tennessee so he's had a chance to check out some the Midwest's most talked about events including the Goodguys events in Nashville, Tennessee, Columbus, Ohio, and Bowling Green, Kentucky. He participated in this years Holley LS Fest, and NSRA Louisville and Springfield, Missouri. He managed to get in a couple of Kentucky Region SCCA events and of course the OPTIMA Search for the Ultimate Street Car qualifier at the National Corvette Museum in Bowling Green, Kentucky, where he placed in the top five in ALL segments of that event. Not a professional driver, with a stock LS motor that produces just 350hp, proving once again that it's not just power that succeeds in races, but suspension and driver ability.

Rodney credits his personal success in this sport to those people who make up his autocross/racing family that have been along for the ride and held him up even when he didn't know they were there. His love, his partner Suzy Bauter has always respected what he loves to do and has been by his side for the long hauls, long track days and blown trailer tires. "She supports me the most," Rodney said. He's made some significant changes in his life over the past few years and has learned most important to have humility saying, "you really have to be humble or you'll eat that pie eventually."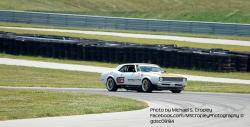 Prouty on course at the OPTIMA event that took place at the National Corvette Museum in Kentucky

Looking forward to race season 2017, in the short-term he plans to get back to racing more frequently and get a couple more cars out and racing that have been sitting, waiting for his attention. Looking long-term he'd like to add some more horsepower and even improve the suspension on ole Jane! We asked Rodney, alive or dead, who would he choose to sit down with and share a meal or conversation. Imagine our surprise when he responded with, "I suppose I could say Gandhi - isn't that what I'm supposed to say? I think I might like to have a meatball sandwich with George Carlin and then take him for a ride on the autocross at Goodguys. I am so fortunate to have a couple of Camp Autocross families that I get to sit down to a meal with regularly and those are usually the best meals I have when it comes down to it. A cold beer, a hot meal, a camp chair, armchair race talk and a lot of laughter-- what more does a guy need?" And with that we will say thank you to Rodney Prouty. It's people like you that make this sport as memorable on the track as it is off.

---
---