K&N Nine Inch Air Filters
K&N Nine Inch Chrome Air Filters
Ideal when space is a problem. K&N Filtercharger® element provides superior airflow. Five flange sizes and various heights assure a wide number of applications. Polished stainless steel construction for top and base plates. Can be mounted on most dual carb setups.
---
Nine Inch Tall Velocity Stack Air Filters - Stainless Steel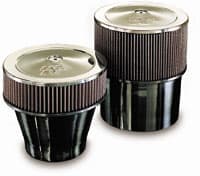 Open 360° free breathing 9" Filtercharger® element on top of a 5" high stainless steel velocity stack base. Draws cooler air up and away from engine heat. Engines equipped with the K&N Tall Velocity Stack Air Filter can actually produce MORE horsepower than those with no filtration at all. All stainless steel top and base, highly polished to a mirror finish. Available with 5-1/8" flange to fit Holley, Carter or Rochester carburetors. Choice of two element heights assures proper airflow for virtually any engine. Also available with 7-5/16" flange to fit Holley Dominator carburetors. Note: These K&N assemblies are not U.S. Coast Guard approved for use as a flame arrestor.
---
Note: Legal in California only for racing vehicles which may never be used, registered, or licensed for use upon a highway. See knfilters.com for CARB status on each part for a specific vehicle.
FOOTNOTES 1) Includes vent kit 2) Vent kit available, P/N 85-1190 3) 1/2" vent tube on base 4) 3/4" vent tube on base 5) Top is chrome & base is hi-temp nylon 6) Stainless Steel top & chrome base. * Will not fit Edelbrock carbs with electric choke. ** Total Height = minimum clearance required above carburetor flange.