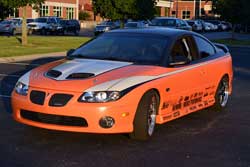 Wally Olczak's 2006 Pontiac GTO

Grant Park, Illinois native, Wally Olczak's passion for upgrading his rides began at an early age. "I have been a car guy my entire life," recalled the owner of FM3 Performance Marketing. "I started by upgrading my BMX bicycle as a kid and moved to bigger toys as I got older. I've been in the automotive business since 1989."

Although Olczak has dabbled in many makes and models, the Pontiac GTOs have a special place in his heart. At the age of 19, he purchased and built his first GTO, a 1966 model.

"I built that car from scratch," said Olczak. "Life got busy, and I sold that car to build my house. I was raising a family and didn't have the extra time or money," he continued. Finally, as I get older, I'm able to do that again.

One-and-one-half years ago, the business owner purchased another GTO, However, this vehicle differed a great deal from his first, as it came off of the floor in 2006.

When asked if he bought the car with a project in mind, Olczak said, "Yes and no. I was looking for a clean, late-model GTO to take to some track days and maybe do a few upgrades. After a few outings, I discovered that it handled like a dump truck on gravel. I contacted Bruce Raymond and Mike Norris, at Raymond/Norris Performance, and asked for their help improve its handling. As with most car guys, the project took a life of its own from there.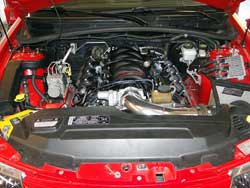 Wally Olczak showing off his Spectre air intake and the engine of his 2006 Pontiac GTO



"I have been a part of several builds in my lifetime," he explained. "But the last big build I did for myself was my '66 GTO."

Although the project was in good hands, there would obviously be obstacles along the way. The weight of the car was a definite concern. At 3,900-pounds, the task was creating an all-around street legal car that would prove competitive on the track.

That in mind, the build began with a suspension upgrade. The team turned to Pedders Suspension to provide them with a plethora of components. Many of which were prototypes built specifically for the project. However, they have since been added to Pedders product line.

To ensure a smoother ride and better handling, they went with differential bushing inserts, coil-overs and front adjustable sway bars. A front hub bearing package was essential while a number of well-designed bushings were utilized from front to back.

The company also provided the builders with lower ball joints, outer tie rods, shock bolts, and a 19mm adjustable rear sway bar. When the parts were installed, the effects were tremendous. Olczak and his fellow builders noticed a vast improvement in the performance of the car's overall ride.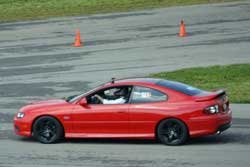 Wally Olczak's 2006 Pontiac GTO on the track



One would only suspect a sigh of relief came with the completion of what they considered the greatest challenge of the build behind them. The suspension was the most radical modification," said Olczak. "Many at SEMA were very excited about it."

Although Olczak's GTO sports some of the most up-to-date suspension parts on the market, the car also benefits from several other modifications as well. The crew turned to Wilwood for a dependable front brake kit.

Eager to enhance performance, they went to work under the hood. Keeping a stock block and rotating assembly, they went with a FASTLXS 92mm black intake manifold package, Fuel Rail adapter and intake gasket kits.

They increased performance with a cam shaft, rocker arms and push rods produced by Comp Cams. Regardless of what lurked in the internal compartments of the engine, it was of utmost importance to ensure the exhaust system lacked any restriction. That in mind, they attached Dynatech headers to the Landspeed Development CNC ported and polished heads that they had previously attached to the block. And for looks, a pair of Holley Aluminum LS valve covers were bolted to the heads.

Searching for a great sound and adequate air flow entering the engine, they chose a cold air intake, produced by Spectre. "This is the first time I personally installed a Spectre intake," explained Olczak. But it came highly recommended. It's a quality product; simple installation, with an increase in performance."

Bearing in mind the importance of durability and performance, the team incorporated a Centerforce twin disk clutch system into the project and attached a Hurst competition Plus shifter to the transmission. Having upped the car's performance it only made sense to include rear end and axel into the mix that would exceed the stock component's performance and dependability. That in mind, they went with a G Force Rear end and axels.

With the suspension and drive train aspects of the build behind them, the team focused on comfort and safety, installing Recaro Sport TopLine seats, and chose Ridetech to provide the muscle car with safety features, including a Tiger Cage and 5-point harnesses.

Aesthetics were also essential. Dressing the car's exterior with a full vehicle wrap by Fetchgraphics, they accentuated the look with Ring Brothers hood pins. Black anodized 5-spoke wheels by Weld Racing and BF Goodrich G-Force Rival tires and the project was all but complete.

Upon purchasing his 2006 Pontiac GTO, one would suspect that Wally Olczak had aspirations of making a few modifications here and there. But little did he know that he was on the verge of embarking upon a 300-hour undertaking that at the project's end would dazzle attendees at SEMA 2013.

Browse all Spectre automotive products by category at SpectrePerformance.com. While you are there use the Products by Vehicle Search to find Spectre performance products specifically made for your vehicle. To find a Spectre dealer near you use the Spectre Dealer Locator.