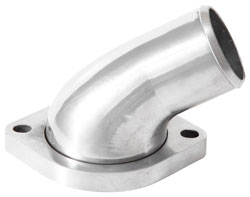 The Spectre Performance LSX water neck 4939 swivel design water neck can accommodate engine conversions that are limited in space.
It was common to see a big block, small block, or even an LT motor under the hood of most Chevrolets, but this would soon change with the growth of the pro-touring movement. The introduction and popularity of the LS motor would revolutionize the automotive aftermarket industry. LS motor swaps have become a common sight over the years. Several advantages including a wide variety of upgradable options, better fuel economy, more power, and major technology advancements have all contributed in making LS motors some of the most sought after motor conversions.
It is not uncommon to see LS motors in several of your late model muscle cars, many of your classics, a handful of import cars, and even a small selection of Fords. Yet, installing these motors is not just a direct replacement to the original big block. Over the years those who have converted to LS power know that some customization is always required. Depending on your application, clearance can become an issue, resulting in little to no room for your OEM water neck. Upgrading to an aftermarket water neck may be required depending on the type of application.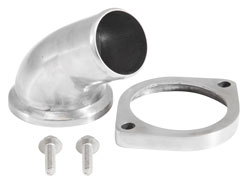 The Spectre swivel design LSX water neck is made from polished aluminum and includes two stainless steel bolts
The Spectre Performance 4939 swivel design LSX water neck can be used on any 1997 or newer LS vehicle application. The swivel designed thermostat housing allows you to position the outlet of the water pump to your desired location for the best fitment. The 30-degree neck can be rotated 360 degrees to point in any direction, accommodating LS engine conversions where the water pump thermostat housing may be in a position other than the factory location.
The polished aluminum Spectre swivel design water neck is designed to use the OEM style thermostat. Radiator hose inlet sizing for the Spectre 4939 water neck fits the standard 1.5-inch diameter. The Spectre Performance swivel neck LSX water neck also includes two stainless steel bolts for a proper fit and finish.
Regardless if you are retrofitting an LS motor into an older vehicle or upgrading your current modern muscle, the Spectre Performance 4939 water neck is designed to work under pressure while also looking great.
Browse all Spectre automotive products by category at SpectrePerformance.com. While you are there, Search by Vehicle to find Spectre Performance products specifically made for your vehicle. To find a Spectre dealer near you use the Spectre Dealer Search.