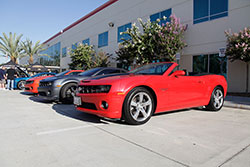 Spectre held an exclusive launch event for fifth gen Camaros to launch their new line of underhood caps and covers.
The latest news from Spectre Performance is their line of underhood caps and covers. Currently available for the fifth generation Camaro, the line is aimed at helping to break up the sea pf black plastic under the hood of modern day muscle cars. To get word out to the public about this, Spectre held a special launch event at their headquarters in Riverside, California.
Even an engine bay this nice could use some help with caps and covers from Spectre.
The event was targeted at introducing the media, industry partners, and select enthusiasts to this new line of engine accessories. There were several fifth gen Camaros on hand for install demonstrations, and some lucky fans even got to take a kit home for their vehicles.
The overall response was a positive one. "I think this is a really good idea," said one attendee. "The problem is there isn't a whole lot you can do to spruce up the engine without dropping some serious coin." He isn't wrong. A supercharger for a 2010-2015 Camaro is quite an investment. You could also do a simpler install of an intake system, say like a 9908 Spectre intake for the fifth gen. But that doesn't address the ugly brake reservoir or radiator cap, for instance.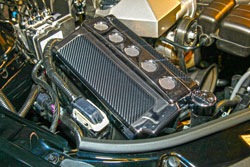 The fuse box cover was a popular one at the event. Being able to add some flash to a normally forgotten piece is something that a lot of people are interested in.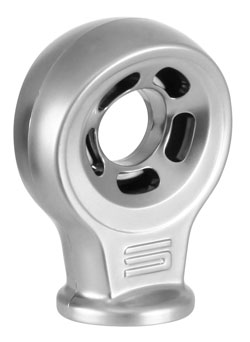 A very unique piece offered is the oil dipstick cover. That ugly yellow handle can be an eyesore under the hood of even the cleanest Camaros.
Thanks to parts like 42724S, which is the radiator cap cover in silver or 42727K, which is the fuse box cover in black, you can add some flair to some of those forgotten pieces. Or you can spend tens of thousands of dollars relocating them to your trunk for an equally clean look - your choice. The pieces come in two different styles and four different colors for a total of 8 options to really make your engine bay pop. And Spectre hasn't forgot about Ford and Mopar owners, check back for more info on this line available for the Ford Mustang, Dodge Challenger and Charger, and Chrysler 300C.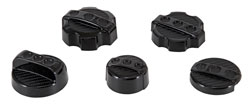 Some lucky attendees got the chance to win the whole cap cover set, 42729K, to install on their car.
For more information on this brand new line of products, visit the Spectre Engine Dress Up Cover page and see the difference you can make with a little time and at a fraction of the cost of other upgrades. You can also use the search by vehicle tool to see what we make for your vehicle.
Here is a list of all the caps and covers currently available for 2010-2015 Chevrolet Camaros:
Modern Design
| | | |
| --- | --- | --- |
| Part Number | Description | Color |
| 42731K | AIR BOX COVER | Black |
| 42732K | BRAKE FLUID CAP COVER | Black |
| 42739K | CAP COVER KIT | Black |
| 42737K | FUSE BOX COVER | Black |
| 42735K | OIL FILLER CAP COVER | Black |
| 42733K | OVERFLOW CAP COVER | Black |
| 42734K | RADIATOR CAP COVER | Black |
| 42736K | WINDSHIELD WASHER CAP COVER | Black |
| 42731G | AIR BOX COVER | Bronze |
| 42732G | BRAKE FLUID CAP COVER | Bronze |
| 42739G | CAP COVER KIT | Bronze |
| 42737G | FUSE BOX COVER | Bronze |
| 42735G | OIL FILLER CAP COVER | Bronze |
| 42733G | OVERFLOW CAP COVER | Bronze |
| 42734G | RADIATOR CAP COVER | Bronze |
| 42736G | WINDSHIELD WASHER CAP COVER | Bronze |
| 42731 | AIR BOX COVER | Chrome |
| 42732 | BRAKE FLUID CAP COVER | Chrome |
| 42739 | CAP COVER KIT | Chrome |
| 42737 | FUSE BOX COVER | Chrome |
| 42735 | OIL FILLER CAP COVER | Chrome |
| 42733 | OVERFLOW CAP COVER | Chrome |
| 42734 | RADIATOR CAP COVER | Chrome |
| 42736 | WINDSHIELD WASHER CAP COVER | Chrome |
| 42731S | AIR BOX COVER | Silver |
| 42732S | BRAKE FLUID CAP COVER | Silver |
| 42739S | CAP COVER KIT | Silver |
| 42737S | FUSE BOX COVER | Silver |
| 42735S | OIL FILLER CAP COVER | Silver |
| 42733S | OVERFLOW CAP COVER | Silver |
| 42734S | RADIATOR CAP COVER | Silver |
| 42736S | WINDSHIELD WASHER CAP COVER | Silver |
Circular Design
| | | |
| --- | --- | --- |
| Part Number | Description | Color |
| 42721K | AIR BOX COVER | Black |
| 42722K | BRAKE FLUID CAP COVER | Black |
| 42729K | CAP COVER KIT | Black |
| 42727K | FUSE BOX COVER | Black |
| 42725K | OIL FILLER CAP COVER | Black |
| 42723K | OVERFLOW CAP COVER | Black |
| 42724K | RADIATOR CAP COVER | Black |
| 42726K | WINDSHIELD WASHER CAP COVER | Black |
| 42721G | AIR BOX COVER | Bronze |
| 42722G | BRAKE FLUID CAP COVER | Bronze |
| 42729G | CAP COVER KIT | Bronze |
| 42727G | FUSE BOX COVER | Bronze |
| 42725G | OIL FILLER CAP COVER | Bronze |
| 42723G | OVERFLOW CAP COVER | Bronze |
| 42724G | RADIATOR CAP COVER | Bronze |
| 42726G | WINDSHIELD WASHER CAP COVER | Bronze |
| 42721 | AIR BOX COVER | Chrome |
| 42722 | BRAKE FLUID CAP COVER | Chrome |
| 42729 | CAP COVER KIT | Chrome |
| 42727 | FUSE BOX COVER | Chrome |
| 42725 | OIL FILLER CAP COVER | Chrome |
| 42723 | OVERFLOW CAP COVER | Chrome |
| 42724 | RADIATOR CAP COVER | Chrome |
| 42726 | WINDSHIELD WASHER CAP COVER | Chrome |
| 42721S | AIR BOX COVER | Silver |
| 42722S | BRAKE FLUID CAP COVER | Silver |
| 42729S | CAP COVER KIT | Silver |
| 42727S | FUSE BOX COVER | Silver |
| 42725S | OIL FILLER CAP COVER | Silver |
| 42723S | OVERFLOW CAP COVER | Silver |
| 42724S | RADIATOR CAP COVER | Silver |
| 42726S | WINDSHIELD WASHER CAP COVER | Silver |
Universal Pieces
| | | |
| --- | --- | --- |
| Part Number | Description | Color |
| 42752K | BRAKE FITTING COVER | Black |
| 42753K | BRAKE RESERVOIR COVER | Black |
| 42751K | DIPSTICK COVER | Black |
| 42752G | BRAKE FITTING COVER | Bronze |
| 42753G | BRAKE RESERVOIR COVER | Bronze |
| 42751G | DIPSTICK COVER | Bronze |
| 42752 | BRAKE FITTING COVER | Chrome |
| 42753 | BRAKE RESERVOIR COVER | Chrome |
| 42751 | DIPSTICK COVER | Chrome |
| 42752S | BRAKE FITTING COVER | Silver |
| 42753S | BRAKE RESERVOIR COVER | Silver |
| 42751S | DIPSTICK COVER | Silver |