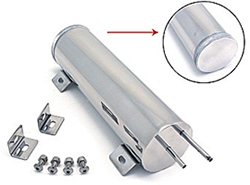 Easy installation, included mounting hardware, and a securely fastened lid ensure that Spectre Performance universal polished stainless steel radiator overflow tanks keep things flowing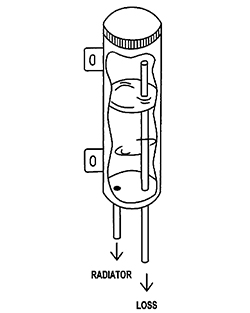 Spectre Performance polished stainless steel radiator overflow tanks incorporate a built in loss tube eliminating the unsightly rubber hose exiting the lid of most factory overflow reservoirs
A radiator overflow or recovery tank is necessary as fluid in the cooling system heats up and expands, causing pressure to build up in the radiator. In a properly functioning cooling system the radiator cap is the only place where this pressure can escape. When the pressure reaches the PSI rating of the radiator cap it forces open a valve allowing coolant, and pressure, to escape from the radiator. By incorporating a coolant overflow or recovery tank this coolant will flow through the overflow tube into the bottom of the overflow tank. This set up keeps air out of the cooling system while allowing the radiator to suck water back in by the vacuum created as it cools back down. This helps maintain proper coolant levels in the radiator by continually replacing fluids that were expelled.

A radiator overflow tank or recovery tank is standard equipment on most cars and trucks. Overtime though, the typical plastic overflow bottle will crack and deteriorate. Additionally, many custom hot rod or race car builders are searching for a functional and attractive coolant overflow tank to install on their build. Spectre Performance has a solution to these problems with its line of universal polished stainless steel radiator overflow tanks. Spectre Performance coolant overflow tanks are offered in a 2" or 3" diameter, and lengths between 10-inches and 17-inches. With five different sizes and a universal mounting system with brackets, Spectre Performance polished stainless steel recovery tanks are sure to meet the needs of most car owners and builders.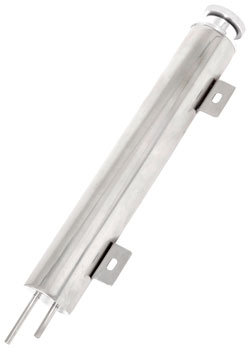 Spectre Performance universal radiator overflow tank, number 4179, is 2" in diameter by 13" in length and will hold 18.27 fluid ounces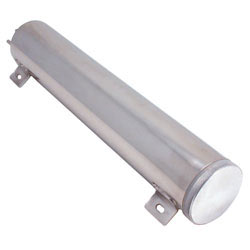 Spectre Performance 3" diameter x 16 long" stainless steel radiator overflow tank, number 4194, offers high capacity at 52.80 fluid ounces
Spectre Performance radiator overflow tank, 4179, is two inches in diameter and 13-inches in length. It is designed to hold 18.27 fluid ounces before exiting through the built in loss tube. The built in loss tube eliminates the unsightly rubber hose which exits from the lid of most factory coolant overflow reservoirs. Spectre Performance radiator recovery tank, 4180, is also 2" in diameter but it's 15" long and holds 21.75 fl-oz of coolant. Spectre Performance radiator reservoir tank, 4189, takes capacity up to 24.36 fluid ounces by retaining the 2" diameter but an increased 17' length.
In addition to the Spectre Performance 2" radiator overflow bottle options, Spectre has 3" diameter overflow tanks that are designed to hold more fluids without increasing the length. Spectre Performance 3" diameter x 10 long" radiator overflow tank, 4192, will hold over 31 ounces of coolant. Spectre Performance 3" diameter x 16 long" radiator overflow tank, 4194, offers the greatest capacity with a rating of 52.80 fluid ounces.
Easy to follow installation instructions, the included mounting hardware, and a securely fastened lid ensure that Spectre Performance universal polished stainless steel radiator overflow tanks will keep things flowing. Additionally, Spectre Performance warrants all its products to be free from workmanship and material defects with a limited 90 day warranty.
Since 1983 Spectre Performance has designed and offered unique, innovative, parts and components to fuel your car or truck obsession. Whether your fixation happens to be a classic American muscle car or pickup truck, Spectre will help fuel your passion for performance. Browse all Spectre automotive products by category at SpectrePerformance.com. Or use the Products by Vehicle Search to find Spectre performance products specifically made for your vehicle. To find a Spectre dealer near you use the Spectre Dealer Locator.