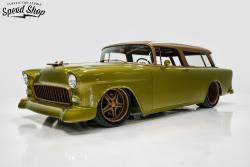 Built by Classic Car Studio, the 1955 Chevy Nomad of Art Boze, "GONE-MAD"

Over the past few years, Spectre Performance has featured some pretty sick builds in their SEMA booth and this year is no exception. Rumored to be a bit of a departure from past builds, this 1955 Chevy Nomad is anything but typical. Inspired by a childhood memory turned desire that took more than sixty years to fulfill.

To say Art Boze is just another car enthusiast would be an understatement. This automotive devotee and seasoned car guy out of Swansea, Illinois, has finally built the car of his dreams. As a youngster Art recalls his neighbor had a '55 Chevy Nomad that he routinely ran around town in. Art fell in love with that car and it was right then and there he made a vow to someday own one of those wagons.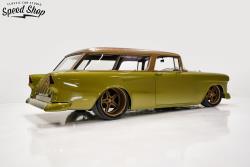 Inspired by a childhood memory, this bodacious beast has found permanent residence in Art's garage

He's had his share of hot rods and muscle cars and of course some noteworthy daily drivers, but none seemed to hold a candle to the Nomad of his neighbor's from sixty plus years ago. Fast forward to present day and now seemed the perfect time to build the wagon of his dreams.

No stranger to custom builds, he was aware of what it would take to create a very forward-thinking, innovative design. Having worked with Classic Car Studio in the past on other projects, Art placed the call. Classic Car Studio president, Noah Alexander, and the crew were stoked to get on board. Before long they got started on Art's vision.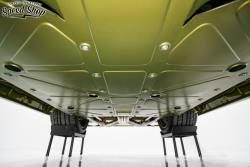 Classic Car Studio custom fabricated details like this belly-pan offer form and function

First they would need to find a "roller" or at the very least a project car. This task alone could take months or even years. But as luck would have it, Noah found the perfect donor, dusty and neglected in the dry, arid climate of Arizona. It was the "someday" project that never saw someday until Noah came knocking. With Art's blessing, Noah secured the purchase and the wagon was shipped to the shop in St. Louis, slated for immediate disassembly.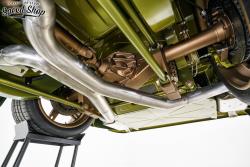 Powder coated and painted, every finish flawless, every weld seamless, every nut and bolt polished

Work started almost immediately after Classic Car Studio took delivery of the Nomad. The body was disassembled and stripped down, the trim pieces removed, then sent out for media blasting. Upon its safe return there really weren't too many surprises from this sixty year old car. There was poorly repaired body damaged, small rust holes that had eaten away at the floor panels, and a doorjamb repair that would simply need to be replaced. The Nomad needed some serious love but nothing the professionals couldn't handle.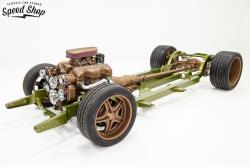 Roadster Shop REVO chassis supports Gone-Mad's massive drivetrain

The next step would be to get the body over to fabrication to begin the overhaul. Old, rusty floors would give way to new, custom fabricated floors. To accommodate a larger, tougher transmission, the fabrication team designed a new tunnel that was added to the new floor. A custom trunk panel was designed and fabricated specifically for this build, as well. While they were at it, mods were made to the floor creating a mini-tub to support chassis modifications plus bigger, wider rubber that would later be added to the rear. The fab team was also responsible for re-creating the wagons doorjamb. Finally, they designed and created a one-off bellypan, adding to the custom look from the ground up. After all the fab work was complete the exterior panels were filled where necessary and smoothed in preparation for custom paint. Close to 2,000 man hours went into the wagons body and sheetmetal work to create the flawless body panels that now show off that green pearl paint!

For a body as big as the '55 Chevy Nomad you need a chassis that won't buckle under pressure. Boze and the team at Classic Car Studio selected the sturdy Roadster Shop Revo chassis that comes with 10-gauge fully boxed 4x4-inch framerails. They installed a Flaming River power rack-and-pinion up front with a triangulated four-link rear suspension and Afco coilovers in the rear to provide a comfortable ride. Wilwood Pro spindles, master cylinder, and 13-inch brakes (six-piston front, four-piston rear) give this heavyweight all the stopping power she'll need.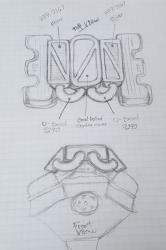 Classic Car Studio rendering of custom intake concept for "GONE-MAD"

When it came to deciding what would power the '55, they chose to have an engine built that would be worthy of the teams eye-catching design. The result? An insane big-block created for this diamond in the rough by Shafiroff Racing Engines (SSRE) out of Bohemia, New York. SSRE started with a World/BMP 509ci aluminum block with steel billet caps. They added a Scat 4340 4.250-inch steel crank to the bottom end, plus a Comp "round lobe" billet hydraulic roller cam, along with Comp 1.7 Ultra Pro Magnum roller rockers. Custom 10.75:1 aluminum forged pistons with coated skirts connect to Scat 4340 6.385-inch H-beam steel rods. The motor features SSRE proprietary CNC ported Edelbrock 409 aluminum heads complete with Manley custom stainless 2.25/1.75 valves and Isky "Endure Design" premium roller springs. A pair of Edelbrock Vintage Finish 600-cfm carbs with electric choke are connected by an Edelbrock progressive throttle linkage. Possibly the jewel atop the crown, Classic Car Studio is in process of fabricating a custom intake for the Spectre Performance filter to help this beast breathe. To bring this big-block to life a set of custom 1 7/8" stainless headers feed a 3" exhaust system with Black Widow mufflers adding a throaty tone as they terminate into 3-inch exhaust ports. A Moroso race prepped oil pump keeps the motor cool and lubricated. They've added an MSD Ready to Run billet distributor for spark and finally, added a polished aluminum front cover with billet timing pointer, along with a set of GM cast aluminum valve covers, to make this beast of burden beautiful.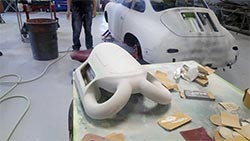 Custom intake to house the Spectre Performance filter in the '55 Nomad

This 509ci SSRE built big-block with all the impressive upgrades is rated at 625 hp with 638 pound feet of torque. Backed by the very capable Bowler 4L80E transmission, complete with Bowler Compushift computer, coupled to a Billet 9x11-inch triple-disc lockup stall converter. This setup ties into an ironclad Ford 9-inch rear diff with Pro Iron Case and Truetrac posi. The wagon sports Billet Specialties SLG 15 wheels: 18x8 in the front and 20x12 at the rear all wrapped in Pirelli P Zero tires; 255/40R18 and 335/35R20 respectively.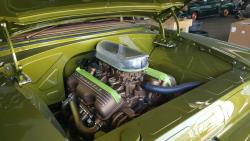 Checking the fit on the custom Spectre Performance intake on big-block in "GONE-MAD"

Looking more like a piece of jewelry than an old wagon, this build evolved in three phases. "First it was going to be a Gypsy Red car with an Indian Ivory top and all the chrome. Next, it changed to a green car with a tan top and the chrome. And finally, after it was all said and done, it was going to be a green car with the gold top and all gold everything," states Noah. "We have all the renderings lined up still, and the final car is definitely the best. It's green and gold! You've got to be pretty confident in a shop to let them lead you in that direction," he continued. Custom builds of this caliber take patience and perseverance, from both the builder and the customer. It took over a year for Art to finally come on board with the overall final rendering of the exterior of the wagon. So in the end "Gone-Mad" was dressed in Rescue Green by BASF Glasurit paint and accented with Mercedes Benz Gold Metallic by BASF Glasurit on all the trim.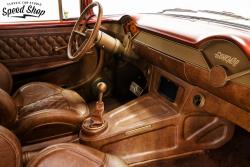 The interior of the Tri-Five was inspired by old Italian speedboats and cigar lounges

When you go this big on the outside you most assuredly can't drop the ball on the inside. The interior required thinking outside of the box. Thinking beyond just the interior of a car, Classic Car Studio sought inspiration from some very unlikely places. They created art boards filled with pictures of old Italian speedboats and cigar lounges, bringing to mind a bygone era emphasizing rich masculine tones and amenities. The interior features custom fabricated sheetmetal door panels and console, meticulously covered with the same Relicate leather used on the custom Scat racing seats. The interior trim pieces, dash, and headliner were painstakingly hand painted by a local artist utilizing an airbrush and dry bristle brush technique that mimics the richest of Burl woods. The end result nothing short of amazing. "The devil is in the details," according to Noah Alexander. "It's the little things, like the intake, the custom firewall, the interior, all that metal work took probably 800 hours to complete but it makes the biggest impact."

Classic Car Studio and Art Boze are thrilled to be a part of the Spectre Performance booth at the 2016 SEMA Show. With over 1.5 years into the build, they'd both tell you it didn't come easy or cheap, but in the end the hard work and dedication paid off in spades. This 1955 Chevrolet Nomad, affectionately nicknamed "Gone-Mad", is truly a work of Art. It is a statement or rather a testament to making dreams come true. If you will be attending the 2016 SEMA Show, be sure to stop by the Spectre Performance booth, #22755, in Central Hall to see this beautiful creation for yourself.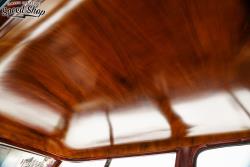 The headliner was painted to look like a real wood panel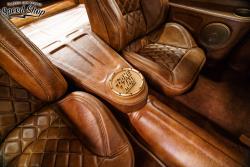 Every surface, every stitch, meticulously tended to creating a one of a kind, jaw dropping interior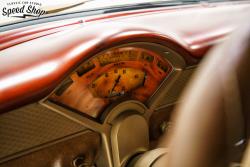 More than 800 man hours make up the exquisite interior from the dash to the gauges
Creature comforts include Vintage Air A/C, Kenwood head unit, plus custom Scat race seats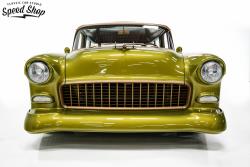 Classic Car Studio & Art Bose succeeded in creating the perfect blend of modern and vintage

---
---