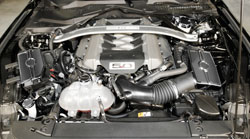 The 2015-2016 Mustang GT engine is perfectly offset by a touch of chrome from Spectre

Engines today are just insane. Back in the 1970s when fuel economy and emissions controls first came into force, no one thought they'd ever see cars as powerful as the muscle cars of the 1960s ever again. Right now, the base engine in the Ford Mustang is a 3.7 L V-6 that produces 300 horsepower (SAE net). In 1970, the 302 Mustang was rated at 290 horsepower (SAE gross), with an estimated SAE net horsepower, for comparison's sake, of 240 horsepower.

And when you go to the other end of the spectrum, the goal line moves even further away. Take the 2017 Shelby GT350. With its 529 net horsepower, it easily tops the legendary 425 Gross horsepower 427 V-8 as installed in the Shelby Cobra starting in 1965, despite having 122ci less displacement.

But with all of this performance and the hardware required to achieve it, something has been lost. Open the hood of a 1960s Muscle Car and you'll likely see a chrome air cleaner cover, painted engine, zinc chromate carburetor, colored plug wires, maybe tubular headers, and countless other interesting bits that make your eyes dart around like watching a pinball machine. Today, crack the hood of a modern muscle car and you'll be greeted by a sea of black and grey plastic. Thankfully Spectre has the cure for the 2015 – 2016 Ford Mustang under hood blues.

The answer is a series of caps and covers, available in a range of finishes, that add luster and sparkle when you lift the hood at the next cruise night or wherever you like to show off your car.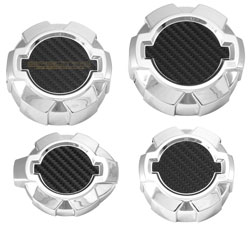 Spectre kit 42929 includes 4 chrome covers: brake fluid, overflow, oil filler and windshield washer

These caps and covers are designed to fit directly to the OEM component which eliminates any concern over an aftermarket replacement cap or cover stripping, failing, or leaking. The reason is that Spectre components utilize the factory caps as their base, so you can be assured that there'll be no interference with any mechanical functionality or create any issues with your new vehicle factory warranty. And Spectre dress-up covers are available in a very cool modern design and in three colors: bronze, chrome, or silver.

Parts available today from Spectre include the following (all part numbers are for the modern design chrome finish): cap cover kit, which includes covers for the brake fluid cap, overflow cap, oil filler cap, and windshield washer cap. All with a carbon fiber look inset. There's also a dipstick cover that's an easy-to-install two-piece design that snaps into place over the OE dipstick. In addition to the cap covers, Spectre also offers an air box cover, a fuse box cover, and a brake reservoir cover that dresses up your stock brake reservoir which is quick and easy to install with its secure adhesive backing.

These components are designed and tested on numerous different Mustangs to assure they fit all the models listed. In addition, each part is heat tested both in the lab and on the road to make sure they can withstand the brutal underhood environment, and rigorous finish testing is conducted to assure the shine lasts through everyday driving and normal cleaning with approved products.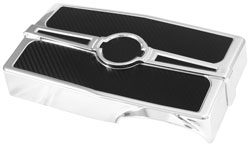 The air box cover alone adds a great deal of visual interest under the hood of a 2015-2016 Mustang

And even though these upgrades make a big impact when you pop the hood, they make only a small impact on your wallet. Over half of the all the products in the line have a suggested retail price of $14.99 or less, and the most expensive part is only $49.99. It's pretty unlikely that you'd be able to add that level of under hood interest for that kind of budget.

But wait, we haven't forgot Chevy and Mopar fans. Check out the Spectre site for dress-up covers for Chevrolet Camaros and for Dodge Challenger, Charger and Chrysler 300 models.

These cap covers are designed to fit the following models:

2016 FORD MUSTANG GT 5.0L V8 Fuel Injection - All Models
2016 FORD MUSTANG 3.7L V6 Fuel Injection - All Models
2015 FORD MUSTANG GT 5.0L V8 Fuel Injection - All Models
2015 FORD MUSTANG 3.7L V6 Fuel Injection - All Models


---
---