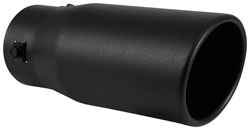 The Spectre 22360 black powder-coated exhaust tip features stainless steel construction and offers all the advantages of a stainless steel exhaust tip with a different cosmetic option.
Under that sharp black powder coating is a true stainless steel exhaust tip with all the advantages of other Spectre bare stainless steel tips. Just as in the case of the bare stainless steel tips, the Spectre 22360 black powder coated stainless steel exhaust tip features a built-in acoustic resonator that reduces noise by canceling out sound waves and offering a deeper and less harsh tone.
Designed to fit 1-3/4-inch to 2-3/4-inch exhaust tubing, the 8-1/2-inch long exhaust tip weighs 1.9 pounds and has three mounting screws or it can be tack welded in place. It also includes a rolled edge and slant cut design with an outside diameter body that measures 3-1/2-inches. It is compatible to a maximum pipe size of 2-3/4-inches.
The stainless steel construction assures that the exhaust tips can take care of themselves regardless of the conditions. That's why Spectre Performance backs the tips with a limited 90-day warranty.
Spectre also offers five bare stainless steel universal exhaust system tips in three styles and three sizes. Styles include pencil and slant tips and oval body.
Spectre Performance has been designing and selling innovative parts and components for cars and trucks since 1983 and has a part for almost any car, be it a classic muscle, modern pickup truck, or import.
Check out Spectre Performance automotive products category list at SpectrePerformance.com. You can use the products by vehicle search to find Spectre Performance products specifically designed and manufactured for your vehicle. To find a Spectre dealer near you use the Spectre Dealer Locator.