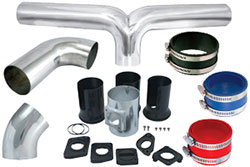 Spectre's line of air intake components offer performance that works on nearly any application.
At the turn of the 20th century, automobile engines were largely custom one-off's. Various models may have used the same type of engine, but the parts were typically machined by hand. This meant that an intake manifold or carburetor from one Buick engine, probably wouldn't fit onto another without a lot of filing and fitting. Cadillac solved this issue in 1909, by introducing the idea of standardized parts that could easily be swapped between cars. Building a custom car however, often requires the same amount of individualized craftsmanship that was once put into a 1901 Autocar Phaeton, or a 1908 Pope-Toledo Touring. When you put a big powerful engine into a car that it wasn't originally designed for, you usually have to fabricate things like motor mounts, wiring, and cooling system components. Fortunately, Spectre Performance can help you craft a custom air intake system that will increase your horsepower, without decreasing your budget.
When it comes to performance intake systems, you need lots of cold air, and minimal airflow restrictions. To achieve this in a one-off custom application, Spectre offers all of the air intake components that you'll need: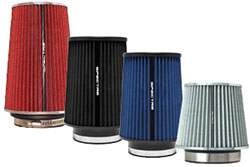 Spectre Performance air filters are available in a wide variety of shapes, colors, and sizes.
Spectre Universal Air Filters
The heart of any performance intake system is the air filter, and Spectre makes some of the most advanced performance air filters on the market today. They are made from a proprietary oiled synthetic material that can remove airborne contaminants that could harm your engine. As a result, more clean air can get to the motor, and your right foot will have more power to play with. Spectre Universal Air Filters are available in a wide variety of shapes, lengths, flange diameters and colors. Visit the Spectre air filter page to find the right filter for your application to see the selection.
Spectre Air Intake Tubes
Once air enters the intake system, it has to travel down an intake tube to reach the motor. If there's a bunch of narrow bends or uneven surfaces, the air will become turbulent. To keep this from happening, Spectre offers a huge selection of intake tubes that are available in a variety of diameters, angles and lengths. From 2.5 to 5 inches in diameter, straight to 180-degree mandrel bent aluminum U-pipes, Spectre has air intake tubes that can feed air to any motor, while minimizing restrictions and turbulence. Visit the air intake tube page to see all of the offerings from Spectre.
Spectre Plenums are designed to deliver air even in tight spaces.
Spectre Plenums
Getting air to your engine is one thing, getting air inside your engine is entirely another. That's why Spectre manufactures a selection of single and dual inlet plenums. Designed to securely attach to your carburetor or throttle body, Spectre plenums are available in low-profile and standard height. So your engine can breathe, no matter how tight the hood clearance.
Spectre Heat Shields
Hot air is the natural enemy of performance, so Spectre makes a wide range of heat shields to fit popular Chevy muscle car and pickup applications like Camaro, Chevelle, Impalla, Nova & C/K series trucks. Designed to work for carbureted or fuel injected motors, these Spectre heat shields are made from powder coated 5052 aluminum and come with a thick rubber gasket that seals against the hood to keep out hot engine bay air.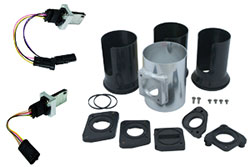 Spectre carries Mass Airflow Sensor Adaptors for late-model Ford, GM, and GM LS7 engines.
Sensor Adaptors & Mounting Accessories
To enable a secure installation for your custom intake system, Spectre carries a huge assortment of mounting plates, adaptors, couplers, and brackets. They also make sensor kits for late model Ford, GM, and GM LS & LS7 crate motors. If you're ready to find out exactly how Spectre can make your custom build perform as good as it looks, visit the Spectre Performance air intake components page.
You can view all the Spectre Performance products for any vehicle by using the Search by Vehicle tool and you can find a local Spectre retailer by plugging your location into the Spectre Dealer Search as well.