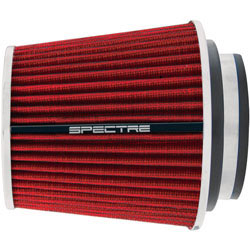 Spectre Performance air filters, number 8132-L and 8136-L, have a 6" base diameter, 4.75" top diameter, are 5.5" tall and can be used for applications with a 3", 3.5" and 4" flange
The two 5.5" tall High Performance Racing air filters, 8132-L and 8136-L are identical to existing performance filters offered by Spectre Performance with the exception that these filters feature multi-lingual packaging which makes them friendly to English, Spanish, French, and German language consumers. These HPR air filters have a unique multi-fit clamping surface for a larger range of uses. Spectre Performance adjustable flange, clamp-on cone air filters are designed with inserts providing flexibility to use them for 3", 3.5" and 4" flanges.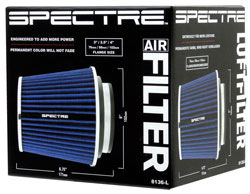 HPR air filters, numbers 8132-L and 8136-L, by Spectre Performance feature multi-lingual packaging to make them friendly for English, Spanish, French, and German language consumers
Spectre Performance cone style air filters are pre-oiled at the factory, so they're ready to install. They have an inverted air filter top for a large air filter surface area resulting in high air flow potential and long service life. Spectre Performance High Performance Racing air filters feature a highly efficient, pre-dyed synthetic filter media that will retain its color. Spectre Performance cone filter 8132-L uses a red synthetic filter media, and cone filter 8136-L uses a blue synthetic filter media.
Spectre Performance HPR synthetic air filters are designed for high airflow without sacrificing engine protection. A Spectre HPR performance air filter is manufactured using high quality materials throughout, including top quality urethane, and steel mesh. Spectre Performance warrants all products to be free from workmanship and material defects with a limited 90 day warranty.
Spectre High Performance Racing air filters are pre-oiled and ready to use. A Spectre HPR reusable air filter can be serviced when dirty, using part number 884820, and used again. Since 1983 Spectre Performance has designed and offered unique, innovative, parts and components to fuel your car or truck obsession. Whether your fixation happens to be a classic muscle car or a souped-up import, Spectre will help fuel your passion for performance.
Browse all Spectre automotive products by category at SpectrePerformance.com. While you are there use the Products by Vehicle Search to find Spectre performance products specifically made for your vehicle. To find a Spectre dealer near you use the Spectre Dealer Locator.