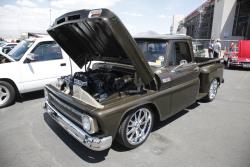 Mark's truck looked gorgeous under the sun at the Las Vegas Motor Speedway for LS Fest West
Automotive enthusiasts are a different breed. We always find a way to customize something on our vehicles and we don't own a vehicle that's stock. Because stock sucks. We may get rid of a vehicle and get a new, stock vehicle, but it doesn't take long to change that up. Mark Postula, of Prescott Valley, Arizona, is one of those that can't seem to leave his vehicles alone. Luckily for Mark he owns an auto restoration shop. This makes customizing his personal vehicles a little easier.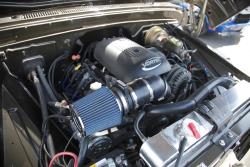 The 5.3L LS was dropped in to the 1965 C10 and gets fresh air through a Spectre filter
After selling his then shop truck, Mark needed something cool to cruise around in and found this 1965 Chevy C10 down in Phoenix. Since his dad had one when Mark was growing up, he decided to make that his next shop truck. After getting the truck back to his shop, he got right to work turning it into a driver. His first change was swapping the tired 292ci engine and Powerglide transmission for a 5.3L LS and 4L60e out of a 2004 Suburban. To make the engine work in the new truck, Mark had to modify the factory harness and then tuned the engine with HP Tuners on his laptop. For breathing duties, Mark built a custom intake capped off by a Spectre air filter.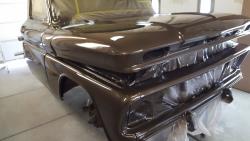 The C10 receiving several coats of Honda CR-V brown paint
Mark then got to work on the suspension. The factory suspension sat a little too high for Mark's liking. To give the C10 a better stance, a set of McGaughys drop spindles and CPP drop springs were bolted to the 1972 C10 disc brake crossmember that Mark installed in the truck. This setup brings the truck down 3.5 inches up front and a full four inches in the rear. Mark then pulled the rear axles out of the 12 bolt rearend and had them redrilled to the more popular 5 on 5-inch lug pattern. This allowed him a greater selection of wheels. Speaking of wheels, Mark wanted the classic hot rod look and picked up a set of 20x8-inch US Mags in gunmetal gray with a polished lip. These were wrapped in a set of 235/45R20 Nitto tires.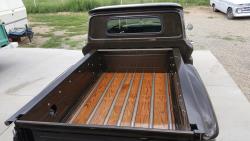 Mark made a wood floor for the bed from Red Oak he purchased at Home Depot
Inside the regular cab, Mark went simple with a bench seat out of a 1995 Silverado and a new tilt column and steering wheel that he picked up off Ebay. After spraying the exterior with primer, he drove the truck around and used it a shop truck and daily driver. Then the customization bug bit him again.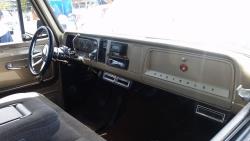 The interior is clean and simple with a bench seat out of a 1995 Silverado and a new steering column
Since the body was just about the only thing that hadn't been touched, Mark decided to pretty up the old girl and give her a fresh coat of paint. A quick trip to the local paint shop and Mark found a gallon of Honda CR-V brown paint sitting on the overstock shelf. After tearing the truck apart and shaving the gas filler, Mark sprayed it with his budget paint and sealed it with several coats of clear. He then reassembled the truck and made a wood bed floor from wood he bought at Home Depot and took the truck on its first road trip. That first trip was a 1,500-mile roundtrip drive to Pleasanton, California for the Goodguys event there.
Mark couldn't be happier with his truck and how it turned out. We think it is the perfect tribute to his dad's C10 that Mark loved riding in all those years ago. We asked Mark what his next modification would be and he said he was just going to drive it. But there was a sparkle in his eye that said otherwise. We're sure that whatever Mark decides to do to the old C10 would make his old man proud.

---
---