Shipka debuted his "One Lap Camaro" at the Inaugural Optima Event in 2008 with just 25 miles under its belt. Originally slated to be a Pro-Street car, we're thrilled he chose to make this build a Pro-Touring ride.
What makes the Optima Search for the Ultimate Street Car series unique? And more over, how do you win? Optima Search for the Ultimate Street Car (OSUSC) features (5) components for racers. The participants compete in the Detroit Speed Autocross, Powerstop Brakes Speed Stop Challenge, Falken Tires Road Course Hot Lap Challenge, Lingenfelter Design & Engineering, and the Lucas Oil Road Rally, earning points for each segment based upon class and finish. With four different car classifications, this series doesn't simply cater to one year, make, or model of car, but to all years, makes and models. Optima wants to find the Ultimate Street Car, new or vintage.
James Shipka in his Spectre equipped and sponsored 1967 "One Lap Camaro" came to WIN. Expert, Shipka, leading the pack in GTV Class on the road course.
To be competitive in this series drivers must consider car setup, driver ability, environmental conditions, including air and track temperature as well as elevation. To be unprepared can potentially knock a driver from a podium finish, end their day, or even their weekend. A driver like James Shipka comes to Optima Search for the Ultimate Street Car with years of experience and relies on Raymond Performance to make sure the One Lap Camaro is ready for anything.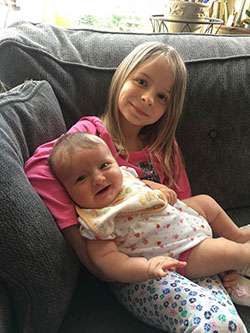 This would be James' first event for 2016 as priorities found him tucked away in Calgary, Alberta expecting a new bundle of joy to add to the Shipka Clan.
His Spectre Performance equipped and sponsored, Lingenfelter built LS7-powered One Lap Camaro (OLC), complete with T-56 Magnum transmission and Centerforce DYAD Performance Clutch has seen three Silver State Classic Challenges, competed and won four times in One Lap of America, along with being a multi-time participant in Optima Search for the Ultimate Street Car (OSUSC). In fact, he and the One Lap Camaro even participated in the 1st OUSCI event in 2008, having only 25 miles on the odometer! At the Goodguys Del Mar Spring National's in 2009, James' OLC was nominated as a finalist for 2009's Detroit Speed Muscle Machine of the Year.  With this racing pedigree and Shipka's commitment to Spectre Performance it seemed only natural for James to be chosen to be part of the Spectre Performance Race Team. And he certainly didn't disappoint this past weekend at OSUSC Pike's Peak International Raceway for the fifth event in the 2016 series. Following an extended break after the 2015 OUSCI, James and the One Lap Camaro came back with a vengeance! Whether proving to himself or the pro-touring community, this husband and father of two beautiful girls, has what it takes to be competitive and is definitely a force to be reckoned with.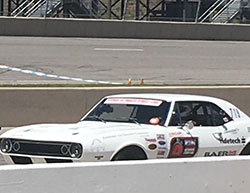 Just 3/10th's of a second off the GTV Class leader, Shipka navigated the Power Stop Speed Stop Challenge with confidence.
Shipka's introduction to muscle cars by all means isn't typical. When asked, it was "alphabetical seating" that was the real instigator! He met his wife, Debbie, in High School, and she actually got him into cars. Together they modified her '77 Ford Mustang II and drag raced it! That's when James would say he literally got hooked on muscle cars.
Ready to push the "One Lap Camaro" to its limits in the Detroit Speed & Engineering Autocross Segment. James gave it all he could to beat fellow competitor and team mate Jake Rozelle. Jake came out on top.
Fast forward through attending university, opening their own speed shop, a wedding, relocating to Florida and back, the time seemed right for another project. But like all projects, this one started out as a plan. "Sure," James says, "it's cheaper to buy a car that's done, but I want to know it's secrets". So in 2005 James and Debbie, decided to pick up a first-gen Camaro. Originally intended to be a Pro-Street car, Shipka's "roller", bought off eBay, almost sight unseen, showed up in worse shape than anticipated. He soon discovered this car needed virtually everything. It was then, at that moment, he set his sights on building a pro touring car.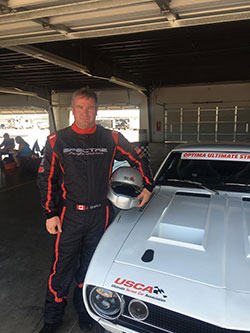 Spectre Performance Race Team Driver James Shipka takes Second Place in the GTV Class Overall at Optima Search for the Ultimate Street Car at Pike's Peak International Raceway.
To James, the One Lap of America represented the ultimate test of performance, reliability, and drivability, so he chose to build a car that would be competitive in North America's most challenging cross-country rally. To succeed, the car would need to balance power and performance with dependability. "It would also need to have equal parts track and highway manners. After all, you're talking about a week-long race that incorporates 3,500 highway miles with road course, autocross, drag race, skid pad, and circle track elements," shared James. This decision has been a good one for Shipka and Spectre Performance. Not only does this Spectre Performance Race Team driver know how to maneuver around a road course, he knows a thing or two about a fast yet technical auto cross like we saw at Pike's Peak International Raceway. Deftly and precisely showing the mesmerized onlookers how to make his way through the sea of cones. Perhaps his years of experience driving in the snowy Canadian winters have come in handy as well, when it came to the speed stop challenge and stopping in a 20 by 40-foot box sans drama.
Consistent, competitive, driven and reliable are just a few words that come to mind when we think of James Shipka, his One Lap Camaro and Spectre Performance.