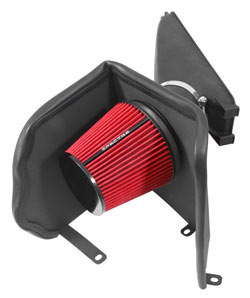 Spectre 9009 Performance Intake System for the Toyota 4Runner 4.0L, Tacoma 4.0L, and FJ Cruiser 4.0L
In the world of trucks, Toyota's are revered for their reliability and capability. The 2005-2011 Toyota Tacoma 4.0L is a tough little truck that can do almost anything, and keep doing it for a very long time. The 2003-2008 Toyota 4Runner 4.0L is a family friendly SUV that can go from the cul-de-sac to the wilderness, without skipping a beat. And the 2007-2009 Toyota FJ Cruiser was designed to conquer any type of terrain on planet Earth. From driving up the side of a mountain, to crossing a desert 5,000 miles away, the FJ Cruiser can take you places that most people can only dream about. Despite their differences, all of these remarkable trucks are powered by the Toyota GR-Series 4.0L V6, which uses dual overhead camshafts and VVT-i variable valve timing to make 236-hp and 266 lb-ft of torque. But if you'd like to extend the capability of this already capable engine, the Spectre 9009 Performance Intake System can increase horsepower, and make your Toyota 4.0L V6 come alive.
To combust gasoline and make power, an engine needs a steady supply of air to inject into the cylinders. Without oxygen, the gas simply wouldn't burn. Air is funneled from outside the engine compartment, through the intake system, and into the throttle body where it mixes with the gas. Getting from outside the truck and into the cylinders is quite a journey, and the air looses a some of its oxygen-rich potency along the way. It has to first flow through a restrictive paper air filter, then into the narrow factory intake tube, where it gets pushed over accordion-like elements as the tube curves around to the throttle body. These uneven surfaces and tight bends cause the air to swirl around and heat up. This results in inconsistent waves of warm air, which prevents the engine from efficiently burning the gasoline inside the cylinders. To extract more of the available energy/horsepower in a drop of gas, you need a steady flow of oxygen-rich cool air to mix with it. And that's where the Spectre 9009 Performance Intake System comes in.
Spectre 9009 Performance Air Intake System designed for the Toyota 4.0L VVT-i V6
To reduce airflow restrictions and turbulence, the Spectre 9009 Air Intake System replaces the long factory intake tube with an injection molded airbox cover that mounts directly to the side of the throttle body (where the paper air filter used to be). This cover attaches to a black powder coated heat shield that was designed to keep warm engine bay air from entering the system. A synthetic Spectre performance air filter sits behind that heat shield, and funnels a high volume of cold air directly into the throttle body. With such a short, low restriction airflow path, the air stays colder, and turbulence is significantly reduced. This design also allows for a hassle-free installation that can be done in about 90 minutes, using just a few simple hand tools.
The Spectre 9009 Performance Air Intake System is street legal in all 50-states, and the additional cold air that it provides will allow your Toyota 4.0L V6 to make more horsepower from roughly the same amount of fuel. It also sharpens the throttle response, because the engine is able to make that extra horsepower, lower in the rev range. In addition to increasing performance, the Spectre performance air filter offers superior filtration and engine protection in dusty / dirty conditions. And even better, when the reusable air filter gets dirty, you can just clean it out and keep going.
Spectre Performance also makes lots of other performance parts and accessories for your 2003-2008 Toyota 4Runner, 2005-2011 Toyota Tacoma, or 2007-2009 Toyota FJ Cruiser. To see our entire line of Toyota performance parts, click here to Search by Vehicle, or click here to find a Spectre Performance dealer near you.
Closeup of the Spectre 9009 Air Intake on the Toyota 4.0L VVT-i V6
The Spectre 9009 Air Intake Kit fits the following vehicles:
2011 TOYOTA TACOMA 4.0L V6 F/I - All
2010 TOYOTA TACOMA 4.0L V6 F/I - All
2009 TOYOTA TACOMA 4.0L V6 F/I - All
2009 TOYOTA FJ CRUISER 4.0L V6 F/I - All
2008 TOYOTA TACOMA 4.0L V6 F/I - All
2008 TOYOTA FJ CRUISER 4.0L V6 F/I - All
2008 TOYOTA 4 RUNNER 4.0L V6 F/I - All
2007 TOYOTA TACOMA 4.0L V6 F/I - All
2007 TOYOTA FJ CRUISER 4.0L V6 F/I - All
2007 TOYOTA 4 RUNNER 4.0L V6 F/I - All
2006 TOYOTA TACOMA 4.0L V6 F/I - All
2006 TOYOTA 4 RUNNER 4.0L V6 F/I - All
2005 TOYOTA TACOMA 4.0L V6 F/I - All
2005 TOYOTA 4 RUNNER 4.0L V6 F/I - All
2004 TOYOTA 4 RUNNER 4.0L V6 F/I - All
2003 TOYOTA 4 RUNNER 4.0L V6 F/I - All