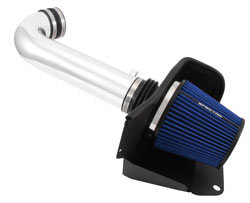 The Spectre air intake system comes complete with filter, heat shield, and polished aluminum intake coupler, as well as all the necessary hardware for a quick and simple installation.
It's hard to believe but the 5.7-liter Hemi V8 engine has been in production since 2003, which is a longer run than even the first generation of Hemi engines in the 1950s. But then, why change what's not broken? The 5.7-liter "Eagle" engine is based loosely on the all-conquering Hemi race engine of the 1960s. Updates were suggested by some of the same engineers who worked on the second generation "Elephant" Hemi. While not a pure Hemi like it predecessors, the 5.7-liter engine is pretty close. The exact alterations that make it superior to earlier Hemi engines are what provide the performance gains, specifically the squish area within the combustion chamber and the accommodation for two spark plugs. In fact, the combustion chamber somewhat resembles that of the 500 CID "Hemi" top fuel race motor.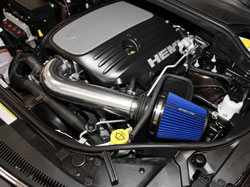 There's no doubt you mean business when you lift the hood of your 5.7-liter Hemi Grand Cherokee or Durango with a Spectre intake system installed.
And if there's one thing known about Hemi engines, it's how well they respond to upgrades, particularly ones that feed the engine more air, like the Spectre 9021B intake system.
Designed from the beginning to feature a Multiple Displacement System (MDS), the system shuts down four cylinders of the 5.7-liter Hemi when driving at cruising speeds in order to improve fuel economy and reduce emissions. Both the 2011-2016 Jeep Grand Cherokee and 2011 - 2014 Dodge Durango feature the MDS function.
For Jeep Grand Cherokee and Dodge Durango owners who are seeking both more horsepower and torque from their Hemi MDS, whether using eight cylinders or four, we have a solution. For less than the cost of an upgraded electronic control unit or high performance exhaust system, a Spectre air intake system can increase both in your Hemi-powered SUV.
And while you'll need an expert to recalibrate your engine's ECU if you add a high-performance module, there's no need to do so with an air intake system. Instead, the Spectre 9021B air intake system for Hemi-powered Cherokees and Durangos brings performance increases that can be achieved by a DIY installation that takes around 90 minutes with simple hand tools and with no need to re-calibrate engine electronics.
The Spectre 9021B air intake system moves the air intake away from the hot engine and protects it with a heat shield so only cold, fresh, outside air can reach the air filter. Cooler air is denser, carrying additional oxygen prompting your ECU to add more fuel, increasing horsepower. You've probably noticed the effect when driving your vehicle on a cool morning.
The system utilizes a seven-inch, non-woven, synthetic filter media to help protect your engine from harmful dirt, dust, and debris. The kit comes with the reusable free-flowing air filter, velocity stack, mandrel-bent polished aluminum intake coupler, and a black powder coated heat shield to help prevent hot engine air from entering the intake inlet.
While the Spectre 9021B cold air intake system for Hemi-powered Cherokees and Durangos comes with a blue filter, however Spectre Performance also offers 9021K, which comes with a black filter, and 9021 which comes with a red filter. All three versions offer the same outstanding airflow and filtration capabilities, they're available in different colors to meet customers' preferences.
Spectre air intake systems come complete with all the necessary clamps, screws, and bolts for the look of an OE installation. OEM brackets and hardware are used so that no holes need to be drilled, making for a quick and easy installation. The kit also accommodates all factory emissions and vacuum lines.
The 9021B, 9021K, and 9021 fit the following vehicles:
2016 Jeep Grand Cherokee 5.7L V8
2015 Jeep Grand Cherokee 5.7L V8
2014 Jeep Grand Cherokee 5.7L V8
2014 Dodge Durango 5.7L V8
2013 Jeep Grand Cherokee 5.7L V8
2013 Dodge Durango 5.7L V8
2012 Jeep Grand Cherokee 5.7L V8
2012 Dodge Durango 5.7L V8
2011 Jeep Grand Cherokee 5.7L V8
2011 Dodge Durango 5.7L V8
Not legal for sale or use on any pollution controlled motor vehicle in California or states adopting California emission procedures. See spectreperformance.com for CARB status on each part for a specific vehicle.