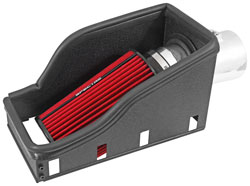 The Spectre 9979 performance intake system is designed for the Ford 6.7L diesel

The 2011-2016 Ford F-250, F-350, F-450, and F-550 Super Duty Powerstroke diesel trucks are the best-selling heavy duty American trucks by a country mile. Sure, the Ram might look like a shrunken Peterbilt, and the GM HD twins might have fancy bun warmers and more chrome than Elvis' last Cadillac. However, your blue-oval thoroughbred will likely outlast and out work those lesser mules, while costing you a lot less to feed over time. But what's wrong with having some extra power to go along with all that practicality? With some additional giddy up, you can get more work done, and get home faster. So meet the Spectre 9979 performance intake: your ticket to a more productive and entertaining day.

The 6.7L PowerStroke engine makes power by injecting air and diesel into the cylinders, then compressing the mixture until it explodes. The great big turbo that spools up every time you lay into the throttle, is there to deliver an additional air charge to the cylinders. Since oxygen acts as the catalyst during combustion, the extra air coming from the turbo helps your Ford 6.7L diesel to create a much hotter detonation, which burns the fuel more completely and creates more horsepower/torque from a relatively small amount of fuel. The reason that a Ford Super Duty can get such exemplary fuel economy, is because diesel contains more energy/btu's than gasoline. So if you make it burn hotter, the engine will be able to extract more power without consuming much more fuel (provided you go easy on the throttle). And to turn the preverbal heat up, you're going to need a Spectre 9979 performance intake system.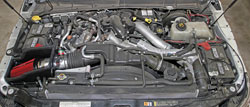 The Spectre 9979 performance intake increases airflow so your Powerstroke can make more power

To feed that big Powerstroke turbo, air is drawn in through a hole in the factory air box, then it's forced through a thick paper air filter (which clogs and restricts airflow as it gets dirty), and into a narrow plastic intake tube, where it bounces around before finally reaching the turbo compressor. This journey causes the air to heat up and become turbulent, reducing the oxygen molecules and ultimately, the amount of power that the engine can make with it. A Spectre 9979 performance intake on the other hand, replaces the OE air box with a black powdercoated heat shield that's designed to seal against the underside of the hood and prevent warm engine bay air from entering the system. Inside of the heat shield is an oversized Spectre Performance air filter, which is connected to a polished aluminum intake tube that has integrated fittings for all of the factory sensors. The pre-oiled Spectre air filter uses a multi-layer synthetic material that can trap and hold dirt inside the sticky fibers for up to 25,000 miles (depending on road conditions) before it has to be cleaned. This unique depth-loading filter not only saves you money on replacement air filters, but it also allows over 50% more power-rich oxygen to reach the turbo.



Save time and money on Ford SuperDuty maintenance with a Spectre 9979 intake

Thanks to its low-restriction design, the Spectre 9979 performance intake system is able to provide the 6.7L Powerstroke with more air, that's both cleaner and cooler. A difference you'll instantly notice because of the faster throttle response and increased pulling power, especially at low and high RPMs. So between the additional power, and the superior engine protection afforded by that reusable Spectre air filter, this is one easy-to-install performance upgrade that you can't ignore.

The Spectre 9979 is designed to fit the following vehicles:

2016 FORD F550 SUPER DUTY 6.7L V8 Diesel Engine - All Models
2016 FORD F450 SUPER DUTY 6.7L V8 Diesel Engine - All Models
2016 FORD F350 SUPER DUTY 6.7L V8 Diesel Engine - All Models
2016 FORD F250 SUPER DUTY 6.7L V8 Diesel Engine - All Models
2015 FORD F550 SUPER DUTY 6.7L V8 Diesel Engine - All Models
2015 FORD F450 SUPER DUTY 6.7L V8 Diesel Engine - All Models
2015 FORD F350 SUPER DUTY 6.7L V8 Diesel Engine - All Models
2015 FORD F250 SUPER DUTY 6.7L V8 Diesel Engine - All Models
2014 FORD F550 SUPER DUTY 6.7L V8 Diesel Engine - All Models
2014 FORD F450 SUPER DUTY 6.7L V8 Diesel Engine - All Models
2014 FORD F350 SUPER DUTY 6.7L V8 Diesel Engine - All Models
2014 FORD F250 SUPER DUTY 6.7L V8 Diesel Engine - All Models
2013 FORD F550 SUPER DUTY 6.7L V8 Diesel Engine - All Models
2013 FORD F450 SUPER DUTY 6.7L V8 Diesel Engine - All Models
2013 FORD F350 SUPER DUTY 6.7L V8 Diesel Engine - All Models
2013 FORD F250 SUPER DUTY 6.7L V8 Diesel Engine - All Models
2012 FORD F550 SUPER DUTY 6.7L V8 Diesel Engine - All Models
2012 FORD F450 SUPER DUTY 6.7L V8 Diesel Engine - All Models
2012 FORD F350 SUPER DUTY 6.7L V8 Diesel Engine - All Models
2012 FORD F250 SUPER DUTY 6.7L V8 Diesel Engine - All Models
2011 FORD F550 SUPER DUTY 6.7L V8 Diesel Engine - All Models
2011 FORD F450 SUPER DUTY 6.7L V8 Diesel Engine - All Models
2011 FORD F350 SUPER DUTY 6.7L V8 Diesel Engine - All Models
2011 FORD F250 SUPER DUTY 6.7L V8 Diesel Engine - All Models


---
---