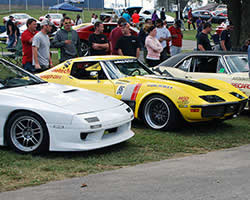 The Holley LS Fest offers participants a chance to take part in drag racing, autocross, the 3S challenge, a show-n-shine and more; with the hopes of being crowned the Grand Champion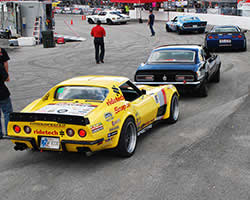 Worth noting is that Chris Smith's 4th place finish in the Holley LS Fest autocross was out of 114 competitors, including the autocross-only racers along with the Grand Champion participants
The Holley LS Fest is a celebration of everything and anything powered by the incredible General Motors LS engine. The Holley LS Fest offers participants a chance to take part in drag racing, autocross, the 3S challenge, a show-n-shine and more. The Holley LS Fest takes place at Holley's home town track; the historic and beautiful Beech Bend Raceway Park in Bowling Green, Kentucky. New for 2015 the NCM Motorsports Park joins LS Fest as the venue for the newly added Track X challenge. The Track X challenge, as well as the drag racing, autocross, and 3S challenge were all part of the Grand Champion competition. Event and class champions are crowned as well as an overall event champion for those that compete in multiple events.
Chris Smith and the Spectre Performance equipped ridetech 48-Hour Corvette were onsite for the 2015 Holley LS Fest. The Spectre intake powered 48-Hour Chevy Corvette continues to perform as great as ever, and Chris Smith is making the most of his competition time in preparation for the upcoming Specialty Equipment Market Association (SEMA) show and the Optima Ultimate Street Car Invitational (OUSCI) in Las Vegas, Nevada. Chris Smith entered the Holley LS Fest with hopes of earning the Grand Champion title. While the drag racing, autocross, and 3S Challenge were able to be run with no issues at the Beech Bend Raceway; the Track X challenge at the National Corvette Museum Raceway had to be cancelled due to damp and dangerous weather.
The competition was so fierce in the autocross event, and the times so close, that Chris Smith finished in a 4-way tie for 4th place with a time of 33.2. Worth noting is that this 4th place finish was out of a total of 114 competitors, as it included the autocross-only competitors along with the Grand Champion participants. Chris Smith and the Spectre sponsored 48-Hour Corvette brought in a 10th place finish in the drag race part of the Grand Championship and an 11th place finish in the 3S Challenge. Out of nearly 100 Grand Champion contenders, Chris and the 48-hour Corvette outfitted with a Spectre Performance custom air intake system brought home an excellent 5th place finish overall.
| | | |
| --- | --- | --- |
| The Holley LS Fest takes place at Holley's home town track; the historic and beautiful Beech Bend Raceway Park in Bowling Green, Kentucky | The competition was so fierce in the Holley LS Fest autocross event, and the times so close, that Chris Smith finished in a 4-way tie for 4th place with a time of 33.2 | Out of nearly 100 Holley LS Fest Grand Champion contenders, Chris and the 48-hour Corvette with a Spectre Performance air intake brought home an excellent 5th place finish overall |