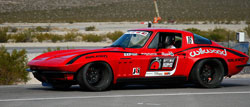 Brian Hobaugh's 1965 Chevy Corvette
"It started with my dad," recalled San Ramon, California native, Brian Hobaugh. "He started auto-crossing when I was six-years old. I watched him auto-cross a couple different Camaro's. In 1983 he purchased the Corvette that we race right now."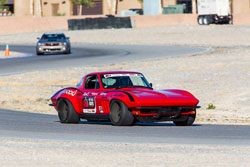 1965 Chevy Corvette driven by Brian Hobaugh at the Ultimate Street Car Challenge
The Corvette was a perfect fit for the Hobaugh family, as the original owner purchased the car with intentions of auto-crossing. Hobaugh's father was confident this would be the best car for the class in which he ran.
Although one would suspect Brian was excited about the Corvette, little did he know at such a young age, he would eventually make a few modifications here and there and display it at a SEMA show.
When asked why he chose the 1965 Corvette as a project car, he said, "We've had the car for 30-years, and it's part of the family. In the last two years, it's gone through a transformation. Not a major one; but a slight transformation from what it has been."
"The car has been beautiful since 1965," explained Hobaugh. "It's never needed a restoration. We're the fourth owners and all of the owners have kept it pristine. It's been well taken care of since day one."
That being said, very few changes were necessary to prepare the ride for showing purposes. According to Brian, a new paint job was the most radical of modifications. Going with a red body, they opted to coat the wheels and exterior chrome components black.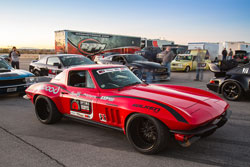 This 1965 Chevy Corvette was displayed at the 2013 SEMA show
"It's not a major modification mechanically, but visually, it's a major change," explained Hobaugh. "However, the color of the car has had an impact on everyone's attitude.When it was a red Corvette with a chrome bumper, people liked it. But something as simple as blacking out everything has made the younger guys really look at the car where they maybe didn't so much before. The exact same car with a color change has gone from, hey that's a nice Corvette to a car people will turn around and stare at for long periods of time. People didn't do that to this extent two years ago."
Although the most noticeable change took place on the outside, Hobaugh did make a few mechanical modifications as well. Having been originally purchased with auto-cross racing in mind, the car has always been maintained to perform.
The car was already equipped with a 364 cubic inch smallblock, juiced up with a high-performance cam. It came off of the showroom floor with a mechanical fuel injection system. To ensure optimal performance, they went with a computer controlled modification, equipping the Corvette with an Accel EFI engine Management System. A TPI intake and runners were also added during the previous modification.
However, a few mechanical changes have been recently added. Hobaugh upgraded with GLI shocks. Brodix aluminum heads provided the builder with extra horsepower.
Having previously installed a cold air intake system to the ride, Hobaugh was pleased with her performance. However, he wasn't satisfied with the makeshift tubing system connecting the engine to the cold air intake.
Referring to the recent improvement, Hobaugh said, "We used Spectre tubing to get from the radiator support to the throttle body," he recalled. "This was my first experience with Spectre parts."
After experiencing the benefits of a variety of custom tubing options, Brian Hobaugh stated, "Spectre has great products. The tubing lends to the opportunity to build a custom intake, regardless of design."
"It's really difficult to make a custom inlet," he ensured. "And with all of the different sizes, angles and bends, Spectre made the modification real easy. It aesthetically looks better. And even though I have no Dyno numbers to prove it, I'm sure it performs better."
Throughout the years, countless hours have been devoted to keeping Brian Hobaugh's 1965 Corvette in tip-top condition. But the fruits of their labors were recognized when he displayed the car at the recent SEMA 2013 show, at Las Vegas, Nevada.
"I wouldn't consider the changes we recently made to the car as a classic build, like you purchase a stock car and modify it. It's literally been a transformation from stock to where it is now that has taken nearly 50 years."
One would suspect that Brian Hobaugh gleamed with pride when his 1965 Corvette turned heads at SEMA 2013, and rightfully so. However, the car is still dazzling car enthusiasts, as it was previously featured in Chevy High Performance, and is featured in this month's issue of Popular Hot Rodding magazine. The Corvette was also a finalist in the Good Guys Street Machine of the Year.
Although SEMA 2013 is behind him, Brian Hobaugh has no intentions of putting his 1975 Corvette on the back burner. When asked if he had any projects planned for the near future, the muscle car enthusiast concluded, "The Corvette will be back, it will be in the Optima booth at SEMA 2014."
Browse all Spectre automotive products by category at SpectrePerformance.com. While you are there use the Products by Vehicle Search to find Spectre performance products specifically made for your vehicle. To find a Spectre dealer near you use the Spectre Dealer Locator.