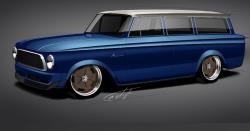 The Suzy Bauter 1963 Rambler will be on display at the Spectre Performance booth at SEMA 2017

In 1958, a young CEO named George Romney decided to kill off the Nash and Hudson brands in order to save American Motors from extinction. AMC's car line was too outdated to keep pace with the big three automakers, so Romney spent what little money the company had, to develop a new compact car called the Rambler. Because the Rambler was based on an old Nash design, this left AMC with plenty of money to advertise the virtues of owning an economy car. By 1960, the Rambler was the third best-selling car brand in the United States, and Romney had become a household name in the process. Prior to AMC, no automaker had ever used their CEO as the public face for the company. This shrewd PR move allowed George Romney to convince Americans that his new Rambler was far superior to those "big, bulky, gas-guzzling dinosaurs", which ironically earned him the nickname 'dinosaur hunter'. Sales continued to soar, and Motor Trend described the 1963 Rambler American as "a straightforward, proven design with no nonsense - something for everyday folks." More than 50 years later, a PR consultant named Suzy Bauter decided to buy a 1963 Rambler American 440 Wagon, and now she's on a mission to convince people that a Rambler can outrun the dinosaurs on the autocross circuit.



Suzy regularly competes in autocross events with her 1968 Chevy Camaro

As a little girl in San Mateo California, Suzy liked to hang out and watch her brother and his friends work on their cars. She took auto shop in high school but wound up with a finance degree working on Wall Street. Years later, she changed careers and started doing PR in the oil and gas industry. "I wanted a change, and I thought that PR would give me more time at home. But it really didn't." She said. A few years later, her husband Rodney Prouty started competing in autocross events on the weekends, and Suzy would help him work on their 1968 Camaro. It didn't take long for her to get hooked on the sport, and soon she was competing alongside her husband.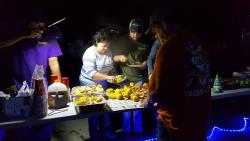 "At a recent Goodguys event, Spectre had tents for us to pit at and a big barbecue for everybody"

"In autocross, we help each other out, we root each other on, we cookout in the campground, it really is a family. And I've been fortunate. I lived all my life in California and had a big motorsports family. Then a few years ago, we decided to move to Indiana and suddenly I had no more autocross family. I had to go to my first event by myself because my husband was working. And by the end of the weekend, I had five new friends, that are still my friends along with several more." This immersion in the world of motorsports also inspired a career change, so Suzy left her job in the oil industry and started doing PR for motorsport companies like SCCA, Big Red Camaro, Evolution Driving School, Autocross Guys, and Pro-Touring.com. She continued: "Spectre has always been very grassroots in motorsports. They would pull their rig in, and you knew that they would be there to support you. Or just root you on. I will be a loyal Spectre customer for the rest of my life, just because of the support that they have given to my motorsports family." 



Suzy's SEMA show car started life as a plain-Jane 1963 AMC Rambler American 440 Wagon

Around the same time that Suzy started doing PR in the motorsports world, she also decided that it was time to build her own car. "I've been autocrossing our Camaro for a couple of years, and I decided that I wanted my own car. And I really wanted a wagon. I thought I wanted a Ford Falcon wagon because we had one when I was a kid. I thought: it's small enough, I can fit a V-8 in it. You know, make a cute little autocross car out of it. But Falcons became really hot the year that I decided I wanted one (2010). So, I started looking at alternatives, then I stumbled upon this Rambler on Craigslist." She wound up buying a 1963 AMC Rambler American 440 Wagon, with a straight body, and an 80 horsepower 3.2L flathead 6 in the trunk. "Originally, I thought I would rebuild the flathead, put a little wider tire on it, and drive it with the three on the tree. But after about a year of autocrossing, I realized that the expected 125 horsepower of the rebuild, wasn't going to cut it. So, I have a beautiful restored flathead six still wrapped up in the garage."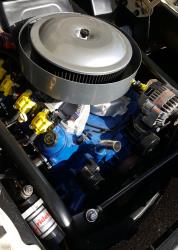 This 2017 SEMA Show car will be powered by a 5.3L Chevy V8 with a Spectre air filter and fuel rail

Suzy Bauter was not a mechanic or fabricator by trade, but she had helped her husband work on their 1968 Camaro over the years. "I'm fully capable of doing stuff like electrical and upholstery, and bolt-on stuff," she said. For the Rambler SEMA build however, she's had to get a lot more involved in the build. "We've moved across the country twice since I started building this car. When I talked to Spectre and they said they would put it in their SEMA booth, that was kind of the final push. This year was the year the car needed to be done."

Suzy decided to replace the AMC straight-6 with a Chevy 5.3L V8, which she tuned to produce an estimated 360-hp. Some of the modifications include a Spectre fuel rail, fuel regulator, crank case breather, and a high-flow intake system. That's backed up by a modified 700R4 transmission with a TCI Autocross valve body, and the whole drivetrain has been moved back into the firewall 7-inches to achieve better weight balance. Underneath, she and Rodney welded in a first-gen Camaro front subframe, complete with a custom suspension from Suspension Geek. A fifth-gen Camaro independent rear suspension and differential were used out back. And all four corners will be getting big Baer Pro+ 6P brakes, Viking adjustable coilovers, and 18x10.5 US Mags wheels wearing sticky BFG Rival S tires.



Suzy Bauter welding suspension components on her Pro-Touring 1963 AMC Rambler

Because of the wide tires and suspension setup, significant fender flares had to be added. This will result in an aggressive Pro-touring look, which will be set off by a custom color scheme by Best of Show Coachworks. And since, as Suzy put it, "There isn't a single aftermarket thing for a '63 Rambler wagon," she's adapted universal-fit components from Spectre, including the front spoiler, door handles, and the throttle cable.  

Thanks to its sub-3,000lb curb weight, low center of gravity, and autocross tuned suspension, the Suzy Bauter 1963 Rambler American 440 Wagon SEMA show car should be a serious contender when she begins campaigning it in SCCA Solo, Goodguys AutoCross, and Optima Autocross events across the Southeast and Midwest. We at Spectre can't wait to watch Ms. Bauter become the next 'Dinosaur Hunter' on the autocross circuit later this year. In the meantime, go check out her '63 Rambler Wagon in the Spectre Performance Booth at the 2017 SEMA Show in Las Vegas, Nevada.

---
---