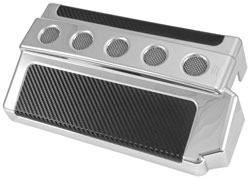 The Spectre chrome fuse box cover is engineered to be as durable as it is attractive.
The designers of today's muscle cars have stretched and pulled, added aggressive creases and folds, and updated these magnificent cars' appearance to look like something from well into the future. While at first glance, the Camaro, Challenger, Charger, and Mustang have a passing resemblance to their 1960s forbearers, they appear much more carnivorous in appearance – as if they might eat the earlier models.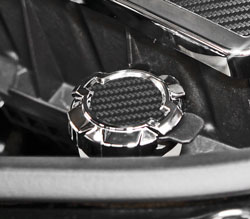 Even replacing the windshield washer cap on your 2010-2015 Camaro can have a positive impact on appearance.
Chevy's muscle car's exterior sheet metal, in our example here, is clearly based on the 1969 Chevy Camaro. Since its reintroduction into the Chevy product line in 2010, the Camaro took on a more aggressive appearance. The interior as well is a huge jump ahead from 1969. Even fans of Star Trek (whose final episode was broadcast June 3, 1969 or Star Date 5928.5, just for reference) would probably look on the current Camaro's interior with awe, especially the dashboard and its wide-ranging functionality.
Where these modern muscle cars come up short against their earlier brethren is under the hood. While in 1969 the engine and any upgrade parts, ordered from the factory, installed by the dealer, or aftermarket, were in plain view when the owner of a Nixon-era Camaro popped the hood. Today you open the hood of a modern Camaro and you're met with a nondescript sea of black plastic, with little to catch the eye.
If this is the dilemma you face with your 2010 – 2015 Camaro, Spectre has a solution for you. It's a series of caps and covers, available in a range of finishes, that add luster and sparkle when you lift the hood at the next cruise night or wherever you like to show off your car.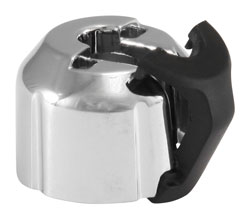 Spectre brake line caps securely snap into place and tidy up the appearance of your Camaro's underhood brake line fittings
These caps and covers are designed to fit directly on top of the OEM part so that you needn't worry about an aftermarket replacement cap or cover stripping, failing, or leaking because Spectre components utilize the factory caps as their base. So you know there'll be no interference with any mechanical functionality or cause any issues with your new vehicle factory warranty.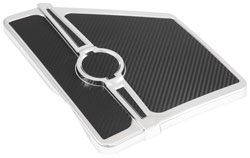 Add this stylish accent to your 2010 – 2015 Camaro air box without even having to remove it from the car.
Parts available today from Spectre include the following: 42752, a four- piece brake fitting cover set; 42753, a brake fluid reservoir cover; 42739, a five-piece cap cover kit; 42737, a fuse box cover accent; 42736, a washer fluid reservoir cap; 42734, a radiator cap cover; 42735, an oil cap cover; 42732, a brake fluid cap cover; 42733, a coolant reservoir cap cover; 42751, a dipstick handle cover; and 42731, an air box cover accent.
These components are designed and tested on numerous different Camaros to check fit, they're heat tested both in the lab and on the road to make sure they can withstand the brutal environment under the hood, and finish testing is done to make sure the shine lasts through everyday driving and normal cleaning with approved products.
Furthermore, Spectre offers their covers in a wide variety of colors and finishes. You can choose from a sleek modern design, or a classic dimple finish. Both are available in a range of four colors: silver, chrome, black, and bronze. That provides 8 different options between finish and colors so that your Camaro will always stand out.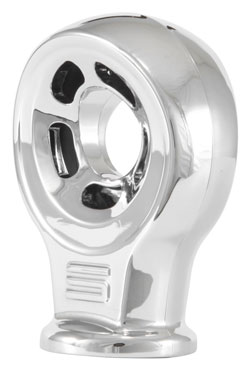 Just one click installs this cover over your original equipment dipstick.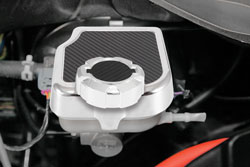 The brake reservoir cover hides the enormous plastic tank and adds a dimension of style to your 2010 – 2015 Camaro. Add to it the brake reservoir cap cover and you've got a winning combination.
And even though these upgrades make a big impact when you pop the hood, they make only a small impact on your wallet. Over half of all the products in the line are priced at $15.99 or less, and the most expensive part is only $79.99, which is for the five-piece cap cover set. It's pretty unlikely that you'd be able to add that level of under hood interest for that kind of budget.
But wait, we haven't forgot Ford and Mopar fans. Under development are a series of caps and covers in the same colors for 2011 – 2014 Ford Mustang GT and 2009 – 2015 Hemi-powered Dodge Charger and Challenger. You can expect to see these products on the market later this year.
Applications
2015 CHEVROLET CAMARO SS 6.2L V8 F/I - All
2015 CHEVROLET CAMARO 3.6L V6 F/I - All
2014 CHEVROLET CAMARO SS 6.2L V8 F/I - All
2014 CHEVROLET CAMARO 3.6L V6 F/I - All
2013 CHEVROLET CAMARO SS 6.2L V8 F/I - All
2013 CHEVROLET CAMARO 3.6L V6 F/I - All
2012 CHEVROLET CAMARO SS 6.2L V8 F/I - All
2012 CHEVROLET CAMARO 3.6L V6 F/I - All
2011 CHEVROLET CAMARO SS 6.2L V8 F/I - All
2011 CHEVROLET CAMARO 3.6L V6 F/I - All
2010 CHEVROLET CAMARO SS 6.2L V8 F/I - All
2010 CHEVROLET CAMARO 3.6L V6 F/I – All