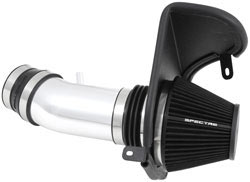 The Spectre 9003K intake kit can boost 6.4L Hemi power by an estimated 21 HP.
Of the first generation of Hemi engines, that ran from 1951 through 1958, the engine selected by enthusiasts and professional racers alike was the Chrysler FirePower 392 CID V8. In its most highly tuned form, it was available from the factory with an output of 380 horsepower, which was an enormous amount of power for 1958. And when you see photos of old "slingshot" dragsters, they were running the iron-block 392 V8 until the 426 came along.
Spectre air intake 9003K offers an amazing gain in performance with simple installation that can be done in around 90 minutes.
With the development of the new 6.4 liter Hemi, which works out to 392 CID, Chrysler embraced the heritage of that early performance motor. And while the modern 6.4 liter Hemi produces prodigious horsepower, it can be substantially increased quickly and inexpensively by a Spectre 9003K air intake system.
The production version of the new 6.4 liter Hemi was launched in the 2011 Dodge Challenger SRT8 with variable camshaft timing as well as MDS in cars with automatic transmissions. The new 6.4 liter Hemi, codenamed "Apache," is based on the third-generation 5.7 liter Hemi.  2015 power output is rated at 485 horsepower and 475 lb-ft of torque.
Amazingly, the 9003K Spectre intake can raise power by as much as an estimated 21 horsepower @ 5962 rpm and torque by 22.6 lb-ft of torque, at 4226 rpm, as achieved on a chassis dyno test of a 2012 Dodge Charger SRT utilizing SAE protocols.
So where does all that power come from? The Spectre 9003K cold air intake system moves the air intake away from the hot engine and protects it with a heat shield so cooler, fresh, outside air can reach the air filter. Cooler air is denser, carrying additional oxygen, prompting your 6.4 liter Hemi ECU to add more fuel, thus increasing horsepower.
The air intake system utilizes a seven-inch, non-woven synthetic filter media to help protect your engine from harmful dirt, dust, and debris. The system comes with the reusable pre-oiled cone filters manufactured using high quality materials including washable synthetic media, urethane, and steel mesh. Also included is the mandrel-bent, polished aluminum intake tube, and black powder coated heat shield to help prevent hot engine air from entering the intake inlet.
Spectre air intake systems come complete with all needed clamps, screws, and bolts for the look of an OE installation. OEM brackets and hardware are used so that no holes need to be drilled, making for a quick and easy installation. The kit also accommodates all factory emissions and vacuum lines.
The 360-degree conical Spectre air filter features non-woven synthetic filter media and is washable and reusable. Further, the synthetic media is less restrictive than traditional paper elements, and assures excellent filtration.
Along with 9003K, which comes with a black filter, Spectre Performance offers 9003B, which comes with a blue filter, and 9003 which comes with a red filter. All three versions offer the same airflow and filtration properties, they just come in different colors based on preference.
Not legal for sale or use on any pollution controlled motor vehicle in California or states adopting California emission procedures. See knfilters.com for CARB status on each part for a specific vehicle.
Applications:
2015 DODGE CHARGER 6.4L V8
2015 DODGE CHALLENGER 6.4L V8
2015 CHRYSLER 300 6.4L V8
2014 DODGE CHARGER 6.4L V8
2014 DODGE CHALLENGER 6.4L V8
2014 CHRYSLER 300 6.4L V8
2013 DODGE CHARGER 6.4L V8
2013 DODGE CHALLENGER 6.4L V8
2013 CHRYSLER 300 6.4L V8
2012 DODGE CHARGER 6.4L V8
2012 DODGE CHALLENGER 6.4L V8
2012 CHRYSLER 300 6.4L V8
2011 DODGE CHALLENGER 6.4L V8