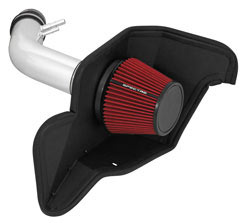 The Spectre Performance 9041 air intake system is designed to increase horsepower and torque without emptying wallets.
The release of the sixth generation Ford Mustang in 2015 introduced some eye-catching changes, upgrading the American modern muscle car to handle like a true sports car. As Ford celebrated their fiftieth anniversary in 2015, changes were necessary to keep up with competitors such as Chevrolet and Dodge. Unlike the previous V6 models, the 3.7L V6 Mustang came equipped with an independent rear suspension, different interior styling, and an overall new look.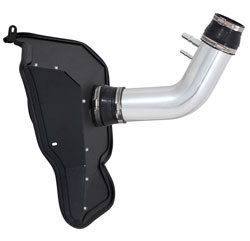 A black powder coated heat shield is included in the Spectre Performance air intake kit to help prevent engine air from entering the intake inlet.
So why would a consumer buy the base model 3.7L V6 package when other options such as the 2.3L EcoBoost or even the GT model are available?  For starters, the price point on both options are significantly more than the 3.7L version of the Ford Mustang, costing approximately $10,000 more in price when considering the GT upgrade. Though some may say that the 300 horsepower and 280 lb-ft of torque are not enough, the 3.7L V6 has plenty of power considering the 200lb weight difference between it and the Mustang GT. For a Mustang enthusiast looking to stand behind the name without the high dollar price point, the 3.7L V6 package was one of the best options available on the market.
As an owner of a V6 Mustang, a consumer still wants the best care and performance from their vehicle. Maintenance like oil changes, brakes and cleaning your air filter are common during a routine check. The proper filtration in your vehicle can make a huge difference in everyday performance and overall cost savings, but upgrading your stock air intake system can result in less restrictive airflow, resulting in improved performance. With 300 horsepower and 280 lb-ft of torque, a consumer can't go wrong in wanting a little extra power for their V6 Mustang.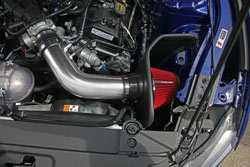 Part number 9041 replaces the stock air intake of 2015-2016 3.7L V6 Mustang models.
When upgrading to a Spectre Performance air intake system, the intake is designed to increase horsepower and torque without compromising engine protection from harmful debris. The Spectre Performance 9041 air intake system is available for 2015 and 2016 Ford Mustang 3.7L V6 models. The kit includes all the necessary boots, clamps, and hardware for easy installation. Installation can be done in the comfort of one's own driveway with the help of basic hand tools for a quick bolt on performance upgrade without emptying your wallet.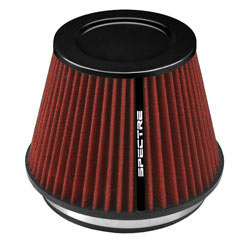 Spectre Performance HPR filter, part number HPR9886, is pre-oiled and ready for immediate use.
The kit also includes a Spectre Performance high performance race (HPR) filter, HPR9886, which is manufactured using high quality materials throughout, including a pre-dyed synthetic filter media that will not fade, top quality urethane, and steel mesh. When your air filter is ready to be serviced, simply remove the filter, clean the filter using the Spectre 884820 cleaning kit and bolt it back on to your Spectre Performance air intake.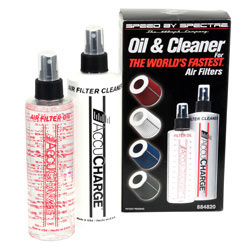 A Spectre HPR reusable air filter can be serviced when dirty, using the Spectre Accucharge air filter cleaning kit and reused again.
Owners of 2015-2016 3.7L V6 Mustangs can rest assured knowing that Spectre Performance warrants all products to be free from workmanship and material defects with a limited 90 day warranty. Since 1983 Spectre Performance has designed and offered unique and innovative parts and components to fuel your car or truck obsession.
Spectre Performance air intake 9041 will replace the stock air filter box and air intake tubes of the following Ford Mustang Models.
2016 FORD MUSTANG 3.7L V6 F/I – All
2015 FORD MUSTANG 3.7L V6 F/I – All
Sign up for the Spectre Performance Newsletter for more on the latest Spectre Performance products.