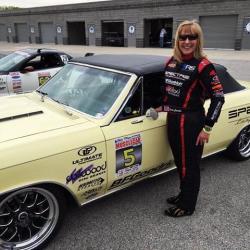 Spectre Performance Team Driver, Lynda Jacobs with her 1966 Chevelle, Wimpy

The history of automobiles and motorcycles being used for drag racing is nearly as long as the history of motorized vehicles themselves and has taken the form of both illegal street racing and as an organized and regulated motorsport. Many of the earliest events were effectively reliability trials, aimed at proving these new machines were a practical mode of transport. Spectre Performance Team Driver Lynda Jacobs was quite literally born into the automotive industry. Her father, Joe Turek, left his mark on her in regards to racing. Joe had a speed shop in the 1950s and 1960s where he serviced high performance vehicles and built chassis for drag cars including his own nitro injected dragster. He was also the president of the United Drag Racers Association, or UDRA, at one time and one of the founding people involved with the Midwest's World Series of Drag Racing.




Spectre Performance Team Drivers, Chris and Lynda Jacobs with Blue Mist and Wimpy

The American muscle car was designed for straight-line speed, and did not have the sophisticated chassis and engineering integrity of European high-performance cars. That is until the concept of the pro-touring car was born; a style of classic muscle car with upgraded suspension components, brake system, drivetrain, and aesthetics, that may include many of the amenities of a new performance car.

Although around several types of motorsports with her family for most of her life, Lynda never really did any performance driving of her own until 2007. She visited the SCCA booth that winter, at the Chicago Auto Show, with her husband, and signed up for their April autocross "Learning Curve" driving school. At the time they had a 2001 Convertible Corvette. After that class both she and Chris, who borrowed Lynda's mom's C6, started hitting every autocross that their local SCCA region had that year, as well as autocrossing for the first time at Goodguys that fall.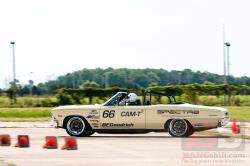 When the sun is out, the top is down, even at the race track!

Lynda purchased her Chevelle, Wimpy, back in 2001 and it was pretty much all stock. Her Lemonwood Yellow 1966 SS 396 convertible was complete with its California black license plate. Sold new in LA, this car had its 360 HP big block, Powerglide automatic, and drum brakes. When she got the Chevelle she had no idea what they would end up doing with it. Mods started with her and her hubby's sights on the Hot Rod Power Tour. A 700R4 trans was installed along with an AGR steering box, 17"/18" American Racing wheels, 4 wheel disc brakes, and a 496 engine. This basic combo remained for many years along with the addition of a complete Global West suspension kit. This is how the car was autocrossed at Goodguys in 2007. In fact some of these items are still on the car today.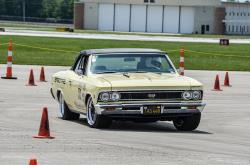 Lynda Jacobs tearing up the autocross course in Wimpy

Once the pro-touring events really started to grow it became obvious that she would need to step things up a little. New Wilwood brakes were added along with the replacement of the factory drum brake spindles. New CNC machined aluminum units went in place with adjustable upper A-arms. The Chevelle rides on a complete set of Viking double adjustable coilovers with DSE front and rear sway bars. In 2013, Randy Johnson at D&Z Customs helped with the installation of a cammed LS3 with FAST EZ EFI 2.0 from Dan at Finish Line Performance. Backed by a new 4L60 trans with TCI controller from Chuck Johnson at Finish Line Transmissions, and the original 12 bolt upgraded with Strange axles and big Ford housing ends by Dave at Competition Fabrication. Competition Fabrication also built the custom bolt in chromoly roll bar which ties right into the convertible boxed frame. Interior upgrades also include Cerullo seats, Crow belts, Ididit column, PCS paddle shifter, Nardi wheel, and Dakota Digital VHX dash. New Weld 18" wheels with 275 Rival S tires all of the way around complete how the car is now. When is comes to Lynda's Chevelle, Wimpy, she and her husband take care of the regular maintenance and getting the car "race and show" ready. She credits the major work being done by her friends over at Finish Line Performance, who have handled all of the upgrades and mods for the past 15 years. Definitely a "team" effort.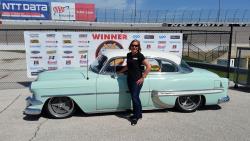 Goodguys Lone Start Hot Rod Nationals Winner, Lynda Jacobs and the 1954 Chevy

Throughout her career as a performance driver, Lynda and Wimpy have successfully competed at Cars and Cones, the Midwest Musclecar Challenge, the Motor State Challenge, North East Muscle Car Challenge, Goodguys Des Moines, Goodguys Columbus, the Chicago Region SCCA autocross series, USCA/OSUSC Road America and OUSCI. She won the 2016 Goodguys Spring Lone Star National Hot Rod Autocross class driving a 1954 Chevy, plus finished in the runner up position at the Chicago region SCCA in CAM-T class in both 2014 and 2016.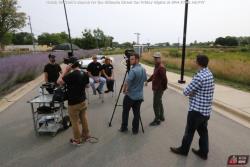 Chris and Lynda Jacobs on set with the crew of the OPTIMA series on MAV TV

The driving duo of husband/wife team, Chris and Lynda Jacobs, first became Spectre Performance brand ambassadors back in 2015. Lynda told us that for a couple of regular working stiffs from the Midwest, "It's an honor to be recognized enough to be involved with these incredible companies. We have been blessed to get help over the years from not only nationally recognized brands like Spectre Performance, but also the Roadster Shop, BFGoodrich, Wilwood, D&Z Customs, Finish Line Performance, CMP (Custom Machine Performance), the list goes on and on." Visibly humbled and delighted she notes that without their support she would not have the opportunities that she does. "It is really cool to see that these companies recognize the value in the opportunities we can provide. The events we attend allow spectators a lot more accessibility than say, a NASCAR race. We can all mingle with the crowds and in some cases, like Goodguys, give people rides and introduce them to what we do. Very difficult to do with just about any other form of motorsports", said Lynda.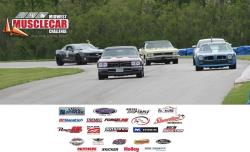 In the thick of it, Lynda and Wimpy at the Midwest Muscle Car Challenge

So what does the 2017 race season hold for Spectre Performance Team Driver Lynda Jacobs? She has been involved with helping out at the Chicago Region SCCA autocross schools, and most recently assisted and instructed at her last Tire Rack Street Survival School and hopes to continue being involved with programs of this type. She recognizes how track awareness can positively affect a drivers performance and ability in their daily driver. Lynda is inspired by other women in the automotive and racing industry, most notably Stacy Tucker for her business and accomplishments as well as fast Mary Pozzi. Both have made her feel that being a lady in competitive motorsports is not only acceptable, but encouraged, and you do not have to be a guy to winner.

---
---