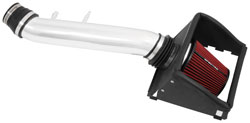 Designed for 3.5L V6-powered Ford F150 pickups the Spectre air intake system adds power and response

The sturdy and proven Duratec 35 3.5L V6 engine was available in 2015 – 2017 Ford F150 models. The Duratec 35 featured a sophisticated design that included double overhead camshafts operating four valves per cylinder heads through direct acting mechanical bucket camshaft tappets. The camshaft were components of the twin-independent variable cam timing (Ti-VCT) system that increased power while improving fuel economy.

Although named Duratech in advertising distributed to the public, it was a clean sheet of paper design internally designated as the Cyclone; it had nothing in common with earlier generations of Duratech engines. The Duratech 35 developed 282 horsepower and 253 lb-ft of torque. Not surprising it was selected by the automotive industry magazine Wards Auto for its 10 Best Engines list.

Introduced in the 13th generation of F150, the Duratech 35 was positioned as the base engine. Above it in the line were the 325 horsepower 2.7L EcoBoost twin-turbo V6 and the 385 horsepower 5.0L V8. For 2018 the 3.5L V6 was replaced by a 3.3L V6 that actually produces more power than the 3.5 – an increase of eight horsepower.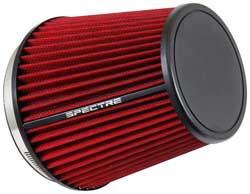 The Spectre HPR air filter utilizes a non-woven synthetic filter media

If you own a 2015-2017 Ford F150 powered by the 3.5L V6 Duratech, consider installing a Spectre 9048 air intake system to make up some of the difference between your truck and more powerful Ford F150 models.

The Spectre 9048 adds performance and response by feeding your Duratech 35 cooler, fresh air than the stock system can provide. Fresh outside air is now fed to an oversized seven-inch tall HPR9892 tapered conical air filter protected within a two-piece heat shield that installs into the space of the factory air box. The HPR9892 is a low-restriction air filter, constructed of a non-woven synthetic filter media.

Once filtered, intake air is directed through a velocity stack into an aerodynamically-verified polished aluminum intake tube that accommodates the factory mass air meter, IAT sensor, and other required hoses. Installation is a straightforward process that can be accomplished in a few hours or less and requires only a few common hand tools and no drilling.

And once you've installed your Spectre 9048 air intake system you've eliminated the need to buy another air filter for the life of your covered 2015 – 2017 Ford F150 powered by the Duratec 35 3.5 L V6 engine. The only maintenance required is a simple service you can do all by yourself. That's because the Spectre HPR9892 air filter element is washable and reusable.

The Spectre 9048 is designed to fit the following vehicles:

2017 FORD F150 3.5L V6 Fuel Injection - Exc. Turbo
2016 FORD F150 3.5L V6 Fuel Injection - Exc. Turbo
2015 FORD F150 3.5L V6 Fuel Injection - Exc. Turbo


---
---