Spectre Replacement Air Filters are engineered to outperform ordinary OEM-type paper filters
Stock Replacement Air Filters
Spectre Performance offers vehicle-specific high-airflow OE stock replacement filters designed and manufactured to provide a perfect fit and are available for a wide range of applications including many of the cars, trucks and SUVs on the road today. Spectre Performance replacement air filters are manufactured with a synthetic filter media that typically outflows the disposable paper filters that came with your car. In addition, Spectre Performance Stock Replacement air filters are built to last with a tough urethane frame and synthetic filter material that is reinforced with a steel mesh. The filter comes ready to install with the synthetic filter media already pre-oiled and ready for use.
Spectre Performance replacement air filters meet or exceed international standard for intake air filtration so don't sacrifice engine protection to gain performance.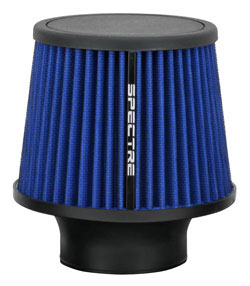 Spectre clamp-on cone style air filters utilize low-restriction, washable oiled synthetic media
Clamp-on Universal Filters
Spectre Performance designs and manufactures Clamp-On Air Filters to cover a wide range of air intakes, including diesel applications. Spectre Clamp-on Air Filters are a line of universal filters that come in a variety of sizes, heights, and colors to fit your specific application. Spectre Performance Clamp-on Air Filters are engineered for increased flow and greater performance. This includes filters to replace more costly filters that may be on your vehicle right now.
Spectre Performance offers many different styles of clamp-on conical air filters with flange openings ranging from 2.5 inches up to 6 inches, measured on the inside diameter. Spectre Performance clamp-on conical air filters are manufactured using high quality materials throughout including low-restriction washable synthetic media, urethane, and steel mesh. Many filter sizes are available in your choice of red, blue, black or white colored filter media, to best match your vehicle or application.
To clean and freshen a Spectre Performance it's advised to use a Spectre AccuCharge Air Filter Service Kit. The AccuCharge system features markings on the bottle for precise measuring and an easy-to-use squirt top for effortless and accurate application. The AccuCharge system comes complete with a 12 oz. pump spray bottle of cleaner and an 8 oz. bottle of specially-formulated filter oil with absolutely no petroleum products or animal fats.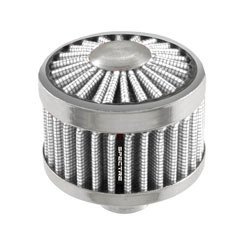 Spectre Breather Filters feature chrome-plated steel top and base, and come pre-oiled, ready to use
Breather/Crankcase Vent Filters
When you think of good engine breathing you're normally considering intake systems. However, efficient crankcase breathing is an equally important function of any engine. If an engine's breathing system is blocked or restricted, the crankcase pressure will find a way to equalize in any number of ways including out through weak seals, the oil dip stick tube, or past the oil rings. While all that's going on, impurities like water vapor and acids created through the combustion process will build up and cause sludge, which in turn increases engine wear.
For most engines the standard emissions control system will manage this chore, but in aggressive street motors as well as those built for motorsports applications, increased crankcase ventilation must be added. These highly-tuned engines with higher compression ratios, higher oil pressures and higher maximum revs demand improved crankcase ventilation, not to mention that aggressive motorsports cam grinds reduce the amount of vacuum available to relieve the pressure inside the crankcase.
To help vent the crankcase without causing any of the problems mentioned, Spectre Performance offers a line of breather filters to clamp directly to metal or plastic tubing, making them ideal for filtering the air going in and out of not just your engine's crankcase, but also for use on transmission and differential vents as well. Spectre Performance breathers come with air filter media, or screen mesh and are made with a pre-dyed synthetic media for lasting color.
Note: Breather/Crankcase Vent filters are legal in California only for racing vehicles which may never be used, registered, or licensed for use upon a highway. See spectreperformance.com for CARB status on each part for a specific vehicle.

---
---